Article
Making history: QBE reflects on 60 years in aviation insurance
In October 1960 The Australian Aviation Underwriting Pool (AAUP) opened its doors with a mission to provide local insurance to a growing Australian market. Fast forward 60 years and the venture, now part of QBE Insurance, has evolved to become Australia Pacific's largest aviation insurer, says QBE Australia's Head of Aviation, Michael McNamara.
From revolutionising tourism and training the next generation of aviators, to pioneering work in the aero-medical and aerial firefighting industries, QBE's aviation customers have made a mark on history, says McNamara.
"Our customers play an important role in connecting and supporting Australian communities and economies, and we've been lucky enough to play a supporting role," says McNamara who cites the Royal Flying Doctors Service, Alliance Airlines, Field Air & Airwork, among many other of its long-time customers.
"We're also a long-time supporter and insurer of the Historical Australian Restoration Society and have worked with them to transport and protect some of Australia's most historically significant planes."
McNamara says the team have also helped customers through some of the more turbulent times of the last six decades. From natural disasters and economic recessions to major claims events, and most recently, the COVID-19 pandemic.
"Recent months have been some of the most difficult in aviation history. We've been working closely with our broker partners and customers and supported more than 300 aviation policy holders with our relief measures since April this year."
McNamara said the team remained committed to protecting and supporting its customers through this chapter and well beyond. "We wouldn't be here without our customers, people and partners; we're looking forward to making history together for many years to come."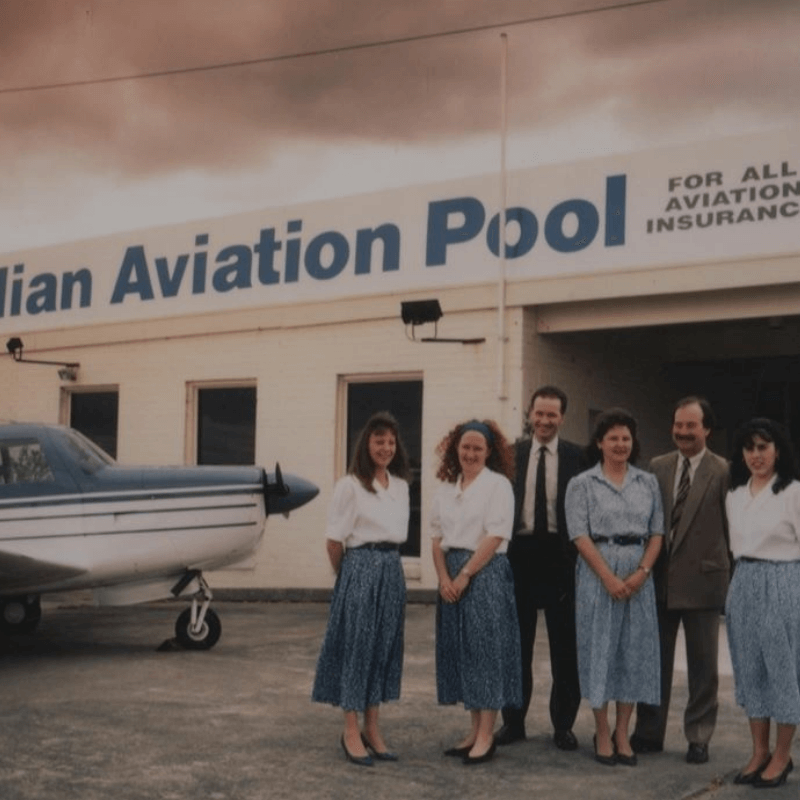 AAUP team circa 1990
Taking off in the jet age – a look back
On 1 October 1960 AAUP officially took flight, establishing its headquarters in Melbourne's Queen Street at a pivotal point in aviation history, says McNamara.
"The first Boeing 707 had made an appearance on Qantas's Sydney to San Francisco route just one year prior, so it was the start of the modern-era jet age, and the presence of smaller operators was also growing quickly."
Before AAUP's establishment, local aviation insurance had been supplied almost exclusively out of London. AAUP set out to change that, and quickly built a strong initial book of business which included major airlines including Qantas and Ansett through to regional providers, private operators, flying schools says McNamara.
Among the AAUPs fifteen founding members was The Bankers and Traders Insurance Company, known today as the B in QBE Insurance. QBE would go on to acquire AAUP in 2001 and acquire AAIG in 2002, to take its place as Australia's largest aviation insurer.
"Today, QBE insures more than 8,000 customers and 15,000 aircraft across almost every industry imaginable."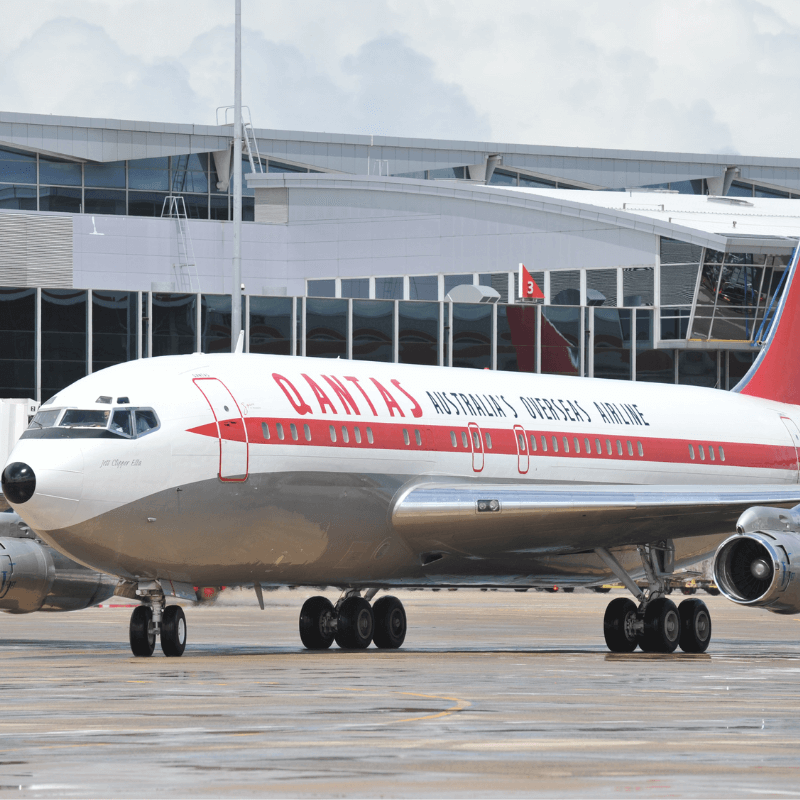 Original 1960's Qantas Boeing 707 donated by John Travolta to the Historical Australian Restoration Society and insured by QBE.
Doing things differently
From the very beginning the business established itself as a leader, with a reputation for "doing things differently" and a genuine commitment to customers, says McNamara.
The launch of AAUPs Plane Words Policy in the 1980s exemplified the team's unique understanding of the industry and approach to doing business.
"The simplified language was a major departure from the traditional London wordings. It made insurance more accessible and transparent, and formed the basis for the policy wordings we see today," says McNamara.
"Since that time, the team has remained focused on being easy to do business with and building relationships based on trust and understanding."
"It's our people who have made QBE stand out, their commitment to our customers, partners and the industry is unparalleled", says McNamara.
"We don't just insure the industry – we're part of it. Many of our people over the years were, and to this day are, trained pilots and engineers and between us we have hundreds of years of aviation experience under our belts."
McNamara made special acknowledgement of QBE Aviation team's longest standing members Graham Price (40 years), Julian Fraser (38 years), Tania Weiser (32years), Warwick Jones (31 years), Cynthia Racioppo (30 years) and Debra Moon (25 years).
Creating safer skies
Improvements in technology, air traffic control and pilot training have made the industry safer since the early days, but keeping customers safe is still the priority, says McNamara.
"We've supported dozens of safety initiatives since the beginning and are part of all of the industry's major bodies. We were also first insurer to formally reward customers who demonstrate a professional commitment to safety by offering rebates to customers whose pilots complete proficiency programs."
In 2012, QBE continued its safety mission with the launch of its QBE Airmanship Program in partnership with Matt Hall, a former Royal Australian Air Force fighter combat instructor, international aerobatic competitor and the first Australian to be selected to compete in the Red Bull Air Race World Championship, says McNamara.
"The program supports aviators with training and resources and seeks to create a culture of professionalism that keeps pilots and their passengers safe." Matt has conducted close to 50 workshops across the country since we commenced the program back in 2013, says McNamara.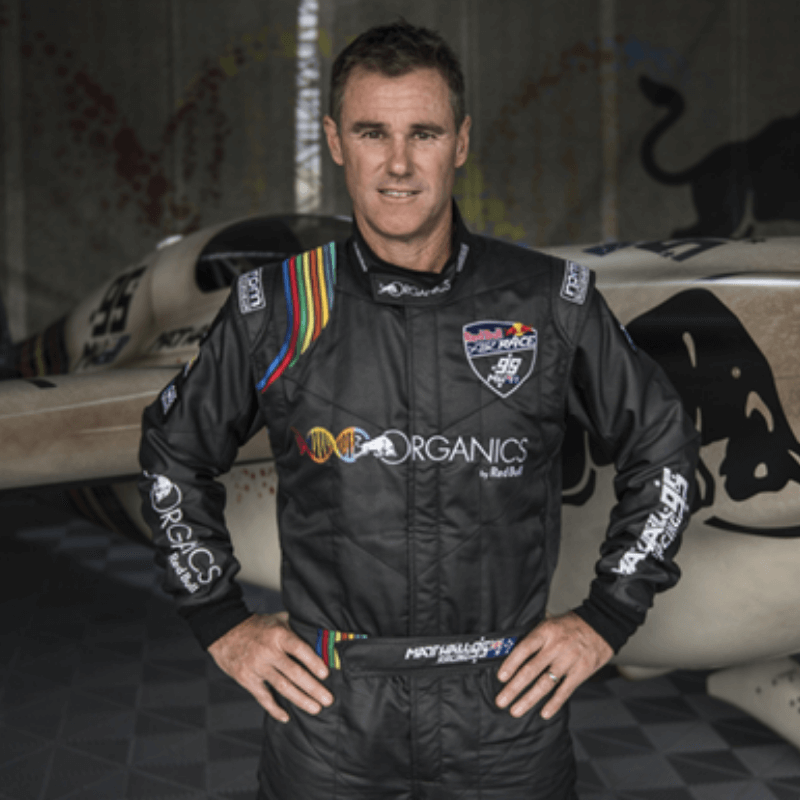 QBE Airmanship Program Ambassador Matt Hall
Key dates in QBE's aviation history
1960 – AAUP commences operations in Australia, providing aviation insurance to a local market
1980 – The Regional Aviation Association of Australia launches with AAUP among its founding members
1980 – AAUP commences underwriting in Asia
1981 – AAUP develops the industry's first plane words aircraft policy wording
1988 – AAUP sponsors the first Australian International Airshow in Richmond, NSW
2001 - 2002 – QBE acquires AAUP and AAIG and becomes Australia's largest aviation insurer
2010 – The Aerial Application Association of Australia (AAAAs) launches the Aerial Improvement Management System (AIMS) with the support of QBE
2010 – QBE sponsors the first Australian designed and manufactured aircraft's flight around the world and helps raise funds for malaria
2010 – Basic Aviation Risk Management (BARS) launches with QBE among its founding members
2012 – QBE launches its Airmanship Program alongside Red Bull Air Race Pilot and Ambassador Matt Hall
2013 – QBE sponsors Ryan Campbell's record-breaking flight around the world (at age19)
2015 – QBE sponsors Mike Smith's solo navigation around the world in a single engine float plane – a world first
2016 – QBE sponsors Lachlan Smart's record-breaking flight around world (at aged 18)
2018 – QBE launches dedicated drone cover product following a boom in use in UAV technology
2019 – Matt Hall wins the Red Bull Air Race Championship with support of sponsorship partner QBE
2019 – QBE opens an aviation office in New Zealand
2020 – QBE celebrates 60 years in aviation and is the Australia Pacific's largest aviation insurer.
Find out more about QBE's aviation insurance