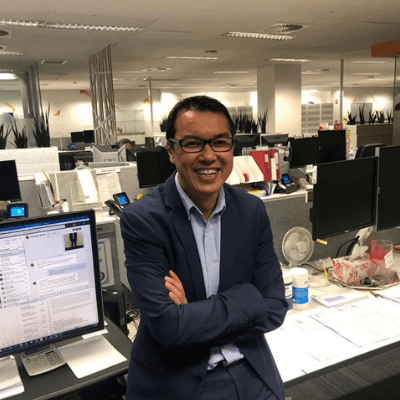 QBE Workers Compensation case manager Chan Doan feels proud when he reflects on just how far injured worker Rebecca Smith1 has come.
"It's cases like this that make my work as a case manager worth it and make me feel proud to do what I do," says Chan. "For me, it's all about helping injured workers get back to work. It's a high-pressure job with lots of parties involved, but it's also very rewarding."
Review and treatment success
Rebecca was employed by Personnel Contracting as a labourer when she injured her foot at work. An unsuccessful surgery left her with a debilitating condition called chronic regional pain syndrome. The pain was so bad that she couldn't even wear a moonboot because of the discomfort.
When Chan became Rebecca's case manager he worked to understand her situation. He realised quickly her entire treatment plan needed a re-think.
"When the file transitioned over to me, we reviewed all of the providers, their various treatment plans and results achieved to date as part of the handover process. We identified an opportunity to work with some health providers who've obtained great results elsewhere in our portfolio treating similar injuries," explains Chan, who has a vocational rehabilitation background.
"As one example, I arranged for her to see one of the leading ankle and foot specialists in our region who specialises in this sort of injury."
Rebecca underwent another surgery with the aim of addressing the chronic regional pain syndrome. Chan also arranged for Rebecca to be treated by a specialist physiotherapist who worked with her for around nine months to help her recover.
"In the end, the pain became manageable," says Chan. "Things got to a stage where Rebecca was able to wear sneakers again - something she hadn't been able to do for two years."
Find out more about QBE's Workers Compensation insurance
Getting work ready
Now that she could manage her pain with her everyday activities, Chan was able to help Rebecca, whom he categorises as "highly motivated", to navigate her return to work.
With the ongoing support of her employer and their broker Chan arranged a workplace-based trial to improve her skills and capacity. She accessed training and coaching to help her prepare for job interviews and overcome other challenges, including dyslexia.
Because of her injury, returning to her previous role as a labourer wasn't an option, so she set her sights on office-based roles. After 12 weeks of preparation she successfully secured full time employment as a receptionist for a fencing company.
Finalising the claim
Rebecca's job offer meant Chan was now in a position to finalise the workers compensation claim so she could start her new role with the claim behind her.
"Our role and QBE's philosophy is all about trying to get the injured person back to work and back into the community.
"Communication is key and we often find that although everyone is striving for a positive outcome that the message can get mixed up or lost along the way. It's extremely important for an injured person and their employer to communicate and understand each other's position. Achieving this mutual understanding often helps the injured person to stay motivated and engaged with the recovery process, as in this case.
"This one was a complex claim, but the broker and employer were very supportive and we had a strong relationship with them throughout the process," says Chan.
From the employer's point of view
Chan has approached several challenges in this claim with an exceptional level of professionalism and management whilst maintaining a degree of empathy for the worker.
"Chan was always working towards resolving this claim with the best possible outcome for all involved.
"He worked though the vocational rehabilitation and work trials, further treatment and one more surgery (that was a huge success), then finally engaging Career Management Services to get the worker job ready, all the while keeping in regular contact with both the worker and Personnel Contracting.
"It is his outstanding attention to the claim, his regular detailed communication to us, and his strategies with realistic time frames that we wish to recognise and applaud him for.
"We know that it is because of Chan's efforts that this claim finally able to come to a fair and reasonable settlement and we commend him for this."
Fleur Schroeder
Injury Management Co-ordinator
Personnel Contracting.
Find out more about QBE's Workers Compensation insurance or talk to your QBE Business Relationship Manager.
---
1
Injured worker's name changed for privacy reasons.