Article
Emerging people risks facing businesses: 2022
As employers begin transitioning employees to a new way of 'working with COVID', a number of challenges will emerge
From individual concerns about the prospect of returning to the workplace to increased possibility of injury, businesses need to be aware of the risks they are facing
By helping staff form new habits, a transition to a new way of working can be a success.
Over the past two years, new working practices have been established out of sheer necessity. The way in which we all work has been affected to some degree – from COVID-safe practices in the workplace to full-time working from home – and this year is likely to see yet another shift.
Just as the country at large is moving towards a 'living with COVID' mentality, 2022 will see employers move towards a 'working with COVID' approach.
And while this is understandable and a natural step in establishing a longer-term way of living in a pandemic, it brings with it a raft of risks – both on a people as well as an operational level.
"Another change to people's lifestyles is going to play havoc, but it's something that is coming," says Stephen Truman, National Risk Manager at QBE.
"People have become used to having an ultra-flexible lifestyle – they've become used to not having to rely on after school care for their children and being able to attend personal appointments without a great deal of organisation with work – and we expect that to change this year as employers move towards an approach designed for working in a pandemic, potentially bringing employees back to the office in various arrangements."
The risks of another change to the way we work
For primarily office-based businesses in which remote-based working is possible, the transition to a more formal hybrid model will need careful consideration, communication and monitoring.
Because while on a simplistic level, returning to practices that were 'normal' three years ago may seem an easy thing to do, in reality people, and the world, have changed forever.
Working through the pandemic has naturally brought different experiences to different people – some will have enjoyed the flexibility, others will be keen to get back to face-to-face working. Some will be anxious about the commute and the stress and exposure that brings, others less so.
"Will people really want to be sitting on a crowded train?" asks Truman. "Are people going to want to start in the office earlier to avoid peak times? But then, does that change peak time?
"There are a lot of concerns that people are going to have about coming into work, and employers will need to be flexible."
Mental health will continue to be a major challenge this year, and it's incumbent on businesses to provide the suitable level of support to their staff as they adapt to yet more change.
How businesses tackle these challenges will be a critical factor in their ability to retain – and attract – talent.
"Retention of talent is a key issue this year," says Deb Corden, Key Accounts Manager, People Risk, at QBE.
"There didn't seem to be too much movement of people during the first 18 months or so of the pandemic, but more recently more and more people have been switching jobs.
"Take the broker market, for example. Recently, I've seen people who've been at companies for more than ten years leaving for a new role, and people are now going to be more inclined to take a look at what else is out there."
Because of remote working, that sense of community and culture that's established by face-to-face working has been eroded, says Truman.
"People are not as attached to the business they're working for because their business is now, effectively, their desk," he says.
Staff shortages and burnout
Of course, there are a huge number of businesses that don't have the luxury of deploying staff to work remotely should the need arise. Hospitality and retail, for example, are two industries that have traditionally relied on face-to-face interaction and, as these businesses are now – hopefully – less affected by lockdowns, they can look forward to a future more certain than 18 months ago.
However, a significant challenge continues in the form of staff.
Typically, these industries rely heavily on overseas students and visitors, as well as students moving to and from different areas in the country – and with border restrictions still in strong force, labour shortages are going to be a major hurdle.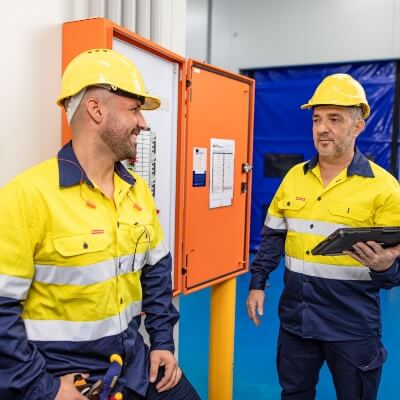 "There's a serious risk of not being able to get the staff, and as a consequence burning out the staff who are there," says Corden.
"Some are working extraordinarily long hours, and that's going to lead to physical danger, burnout and mental health problems, too."
Similarly, businesses that simply cannot operate remotely – think mining, construction and those reliant on human production lines – face similar challenges and risks.
A further risk for people coming back into a physical working environment after time out is injury. Manual handling tasks that they were well accustomed to in 2019 may be more challenging today as people are no longer conditioned to perform them. Retraining on tasks is likely to be a necessity.
"More muscular stress injuries from those tasks, while trying to cover the shortage in staffing, is likely to increase the challenges employers are facing," says Corden.
Helping to create a new way of working
In order to successfully transition to a new way of working, Truman says employers need to help employees establish new habits.
"For example, we may want to get into the habit of working two days a week from the office," he says.
"To help with that, invite the employee to let you know what their habit is going to be."
After that first habit is established, Truman says, the second new habit can be introduced.
"We've had a tough time, but now is the time to rebuild and begin the transition towards a new way of working.
"By inviting employees to individually form new habits, rather than enforcing a dictatorial mandate of 'this is how it is now' you bring people back in on their terms."
Of course, over the coming months and years, people risks are going to evolve and new ones emerge: and by keeping on top of what these risks are, and what they mean for the business, SMEs can be in a strong position to tackle whatever comes their way.
Brokers can add value to their interactions with customers by understanding the emerging risks facing businesses and by helping guide them through the changing landscape.