Article
Water damage: Does my home insurance cover that?
Unwanted and escaped water entering your home can cause serious damage to property and possessions
Your home insurance can cover many incidences of water damage, however if damage has resulted due to existing damage or lack of maintenance, then your cover may be compromised
Regularly maintaining your property can reduce the chances of an incident occurring and can help ensure that when you need to claim you are covered.
Water leaks and flooding can cause all sorts of damage in the home – but does your home insurance policy cover you for any damage that occurs? Here are some questions relating to water-related damage which we're commonly asked about our QBE Home Insurance and QBE Contents Insurance policies.
Does home insurance cover me if a pipe bursts in my home?
Yes, if water suddenly or unexpectedly escapes from a water main or pipe, your home insurance covers repair of any damage that the escaped water causes. However, repairing the damaged pipe may not be covered.
"It's always good to remember to turn off water at the mains if you're leaving your property vacant for any length of time," says Angelo Colosimo, QBE National Product Manager – Householders. "If a pipe did burst and you are away, the damage could be significant."
Does home insurance cover water damage in my kitchen/bathroom if it hasn't been updated in a long time?
If water damage is caused by a lack of maintenance – for example, damaged grout or sealant or damaged flexi hoses – then your home insurance might not cover the water damage.
"It's important to check periodically for signs of deterioration, discoloration or corrosion," says Colosimo. "By conducting regular maintenance you can prevent things deteriorating to such an extent that it causes damage."
Does home insurance cover a tap leaking over an extended period of time?
A leaking tap would be a problem that's visible and preventable, so there could be some issues with cover for any damage caused.
Does home insurance cover a tree root impacting the pipes under my home and blocking the pipes/causing flooding?
Yes, if tree roots unexpectedly block your pipes then any consequential damage to property caused by escaped water is specifically covered. The damage to the pipes caused by the tree roots is not covered though.
Does home insurance cover my hot water system breaking?
General wear and tear is not covered by your home insurance, so your hot water system breaking wouldn't be covered, unless it was broken by an insurable event happening, such as a storm.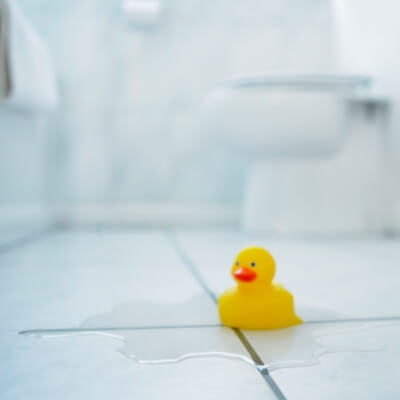 "However," explains Colosimo, "your home insurance will cover you from water unexpectedly escaping from the hot water unit and causing damage – but it won't cover repairs to the unit itself."
Does home insurance cover my dishwasher or washing machine leaking?
Generally, your home insurance will cover any damage caused by an appliance unexpectedly leaking, but not the repair of the appliance.
Does home insurance cover a big storm damaging my home and water getting in?
Storm damage is an insurable event, and damage caused to your home by a storm is generally covered. However, ensuring the maintenance of your home is essential.
"If the damage occurred is due to a lack of maintenance, for example, downpipes being clogged up with leaves and water damaging the property due to that, then your insurance cover could be compromised."
Does home insurance cover damage from water escaping from my shower recess/shower base?
No – this is a specific exclusion under most home insurance policies, as a correctly constructed and maintained shower recess or base will not allow water to escape.
Does home insurance cover my unit suffering water damage from a leak in a neighbouring unit?
In this situation a body corporate may be responsible for covering this, and it will differ from state-to-state. "If in doubt," Colosimo advises, "always put in a claim so we can advise you through the process."
Does home insurance cover accidentally leaving a tap running?
Yes – if you leave a tap running and, for example, the bath overflows, then the resultant damage will usually be covered under your home insurance policy.
"That would generally be deemed an accidental incident and therefore, covered by your insurance policy," explains Colosimo.
Does home insurance cover me if my roof leaks?
Again, this one comes back to maintenance. If, for example, your roof leaks during a storm because of the damage the storm has caused, then that would generally be covered. If your roof leaks due to cracked tiles that you have neglected to fix, or a general lack of maintenance, then it may not be covered.
"It's often dependent on whether the loss could have been prevented," says Colosimo. "It's a good idea to periodically inspect your roof, especially after a hailstorm, for example, to check for any damage and get it fixed before the next rainfall or storm."
The importance of home maintenance
Your home insurance is there to help you after an event occurs – and there are plenty of things you can do beforehand to reduce the chances of day-to-day damage occurring.
"Insurance is there for those events such as fire or storms, or accidents that happen that you just can't control," says Colosimo.
"It's not a warranty for products that fail or wear out, and it's not a substitute for correct maintenance. It's really important that as a homeowner you conduct regular maintenance around your home to avoid those preventable incidents and damage."
When you've looked after the little things, your home insurance policy can give you peace of mind about those big things you simply cannot do anything about.
Find out more about QBE Home Insurance and make sure you've got the right amount of cover to look after your home and possessions.