Article
Cybercrime and ransomware on the increase
Cybercrime and ransomware attacks are on the increase and organisations need to do more to combat the threat from external and internal attackers, according to a recent global report into data breaches.
The Verizon Data Breach Investigations report found 75% of breaches were perpetrated by outsiders and 51% involved organised criminal gangs.
QBE NSW Product Lead, Financial Lines, Ben Richardson said the report shined a light on the growing threat of cybercrime and cyber espionage.
"Almost all businesses use data and interface with the internet in some way which means they're vulnerable to cyber attack.
"This report shows cyber threats are not going away and if anything, are growing for all business owners, whether small or large."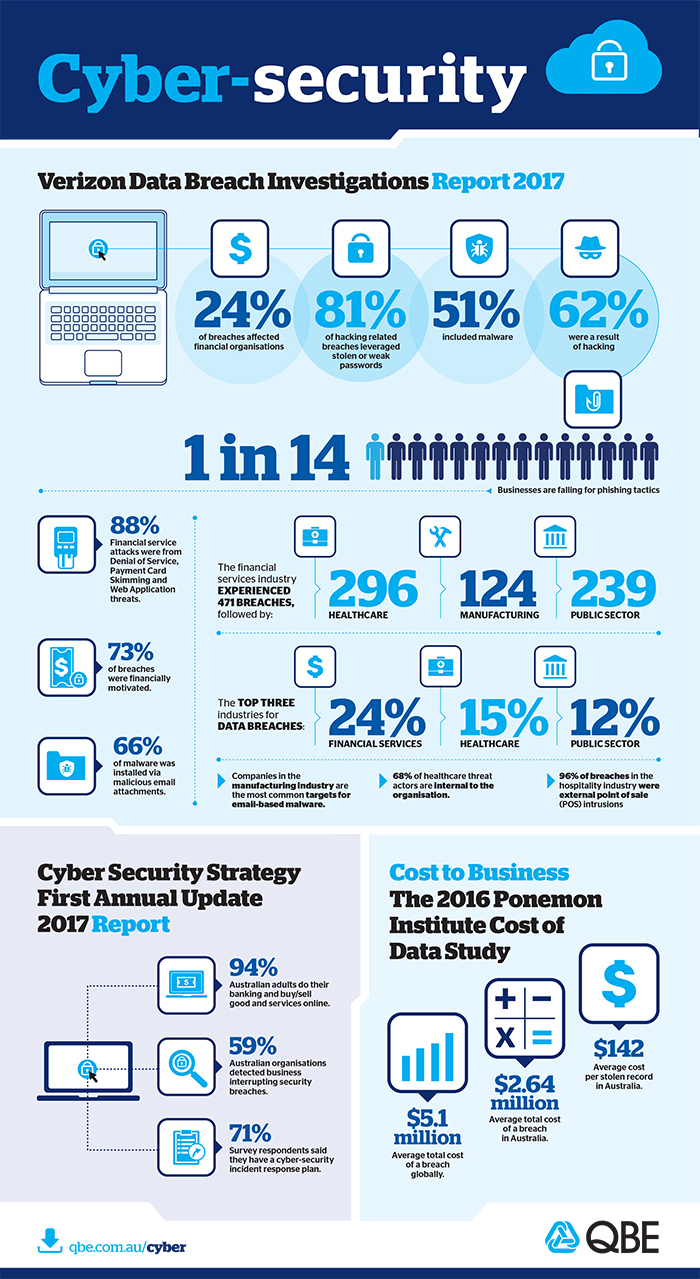 Businesses continue to be tricked
The Verizon report found many businesses are still falling for the same tactics, including phishing.
Where phishing successfully opened the door, malware was then typically put to work to capture and export data or take control of systems, according to the report.
Ensuring effective risk mitigation techniques are absolutely key for organisations who need to be ready to tackle the evolving threat of cybercrime, Richardson says.
"It's all in the planning, there's no such thing as perfect security, but you need to have a plan for what you'll do if something does happen and know how to escalate the threat appropriately. Businesses need to be able to trigger that plan as soon as possible."
Key recommendations
Richardson recommends all organisations, including SMEs, consider protection, detection, and response measures within their business plans.
"How can you proactively protect your business and IT systems, while ensuring you can detect and respond to threats as soon as possible?
"Ultimately, there's no way you can eliminate cyber exposure because it's always changing, but you can mitigate it and there's a strong need to continue to update your mitigation efforts regularly – avoid the set and forget mindset," he added.