Article
Three QBE stars named Insurance Young Guns
Insurance Business Magazine's annual Young Guns list recognises the very best young talent in the Australian insurance industry. This year, QBE is proud to have three of its emerging stars recognised.
Harleen Bhasin, Ben Richardson and Sarah Ellis are hugely valuable members of the QBE team, and have deservedly been recognised for their talent.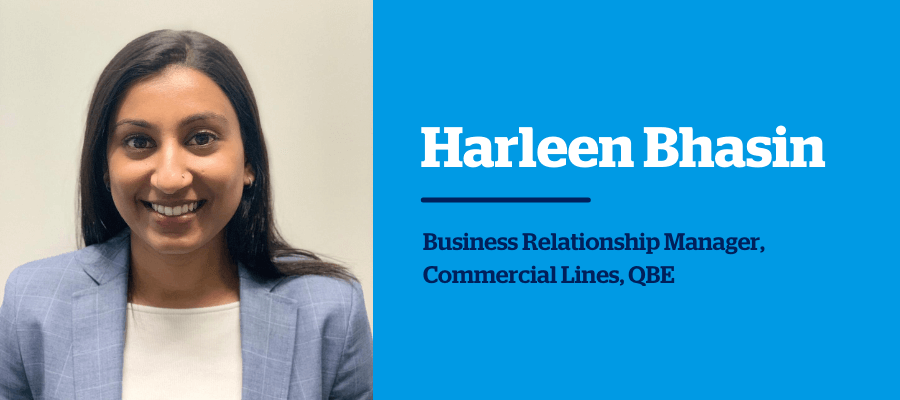 Harleen Bhasin, Business Relationship Manager
For Business Relationship Manager (BRM) Harleen Bhasin, insurance has been a field where she has learnt key relationships skills. For her, it's been all about networking, effective communication and building relationships –something she's had to purposefully develop since joining QBE's graduate program as an Underwriter back in 2015.
"Back in university, I was the quiet little achiever who knew the answers but never put her hand up," she laughs.
"Today, networking is certainly one of my strengths. When I began working at QBE, I gained my confidence, I had managers and leaders who supported and encouraged me. When I moved into a sales role, my networking went through the roof.
"We're all human; I take the approach that if you're genuinely curious and actively listen to the person you're talking to, you can form a connection."
Last year, Harleen was seconded into a leadership role and has seized the opportunity, excelling when faced with the challenge of leading a team remotely. Unsurprisingly, leadership is an area she's focused on developing, and she's made a commitment to herself to be 'in the thick' of an MBA within the next three years.
"I always want to improve and learn," she says. "I'm curious and find it really interesting learning new things. I am very open with my manager about my ambitions and wanting to continue my development – I regularly tap my leaders on the shoulder and ask them to share their experience, and work together to explore learning opportunities – as well as coming up with my own new initiatives to run with."
It's an enviable drive and passion that she currently puts to good use working in her BRM role, delivering service excellence for one of QBE's key national authorised representative partners – a portfolio that's grown more than 30 per cent under her guidance.
"It's come with a whole new set of challenges, but it's hugely enjoyable," she says.
Harleen's leader, National Partnership Manager John Schroder, says "Harleen is a highly respected and valuable team member within our business. She has a tremendous passion for her job and this is evident in how she engages with brokers and her colleagues. She respectfully challenges thinking, she regularly advocates and pushes for innovation of processes and practices, and regularly volunteers her time to coach and support team members and colleagues looking to learn within the QBE business.
"Harleen is passionate about supporting her customers, and her results are the output of her commitment and reputation within QBE."
As well as playing a growing leadership role within QBE, Harleen has quickly established herself within the wider industry too. She is involved with NIBA's Young Professionals, and regularly attends insurance engagement events, including Women in Insurance and leadership summits.
Within those settings, her networking skills become obvious. For those wanting to tap into Harleen's networking expertise, she says it's simple – but it does needs to be done consciously.
"I quite often spend a moment before I walk into a room to get into the right headspace," she says. "You've got to be positive, authentic, confident and open – this includes your body language – and just go for it! If you get yourself into the right mindset, it comes naturally."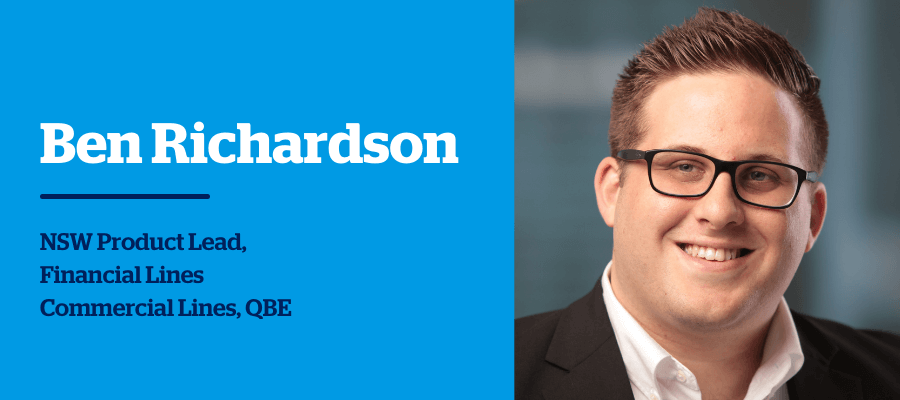 Ben Richardson, NSW Product Lead –Financial Lines
"Insurance is a hidden gem of a career path," says Ben Richardson, QBE's NSW Product Lead –Financial Lines. "Like many people, I fell into it – I was exploring different graduate programs within the financial sector and was fortunate enough to be selected by QBE, and it all went from there."
Fast-forward almost 10 years after being selected as a Financial Lines targeted graduate, and Ben has had an extensive career within QBE to date, including last year being promoted to lead the NSW Financial Lines team.
After spending time specialising in Cyber and ICT products, the promotion to the role in Financial Lines was perfectly timed, for the global pandemic.
"I'd recently taken on some people-management responsibilities at the time, so having that responsibility at a really challenging time for the business was in itself a huge challenge," he says.
"The direct impact of COVID-19 and the ongoing economic consequences since are definitely unprecedented, and the biggest challenge the industry had faced since the GFC."
Being able to think differently, challenge the norm and adapt to changing circumstances are attributes that Ben's colleagues and leaders appreciate, alongside his infectious enthusiasm.
"Ben is confident and articulate in sharing his learned opinion, often challenging our leadership team for continuous improvement," says his leader Scott Luxford, National Manager – Financial Lines, Agencies and Partnerships.
"He has a relentless work ethic that is both admired and revered by our leadership team, and, while relatively new to leadership, as hoped and expected, he has excelled in this endeavor too."
In Ben's role, relationships with brokers and continuous planning are critically important.
"Financial lines exposures can be complex and ever changing, and because of that, those relationships with brokers are key to ensuring the best possible renewal outcome, given there is room for so much change each year."
"This also creates a strong need to plan ahead at all times to ensure you are always prepared for any surprises on the horizon, as we have seen with COVID-19 last year" he says.
Ben is still heavily involved in the technology suite of products at QBE and is playing a significant role in re-vamping QBE's Information Communication and Technology (ICT) product.
"I find underwriting the technology sector really interesting, as it continues to evolve at a rapid pace and further integrated into everything we do in our daily lives.
"Technology is one of the fastest-changing areas of insurance, and as such the product needs to keep pace." he says.
"We're exploring upgrades for our ICT product to meet the current landscape, whilst also looking ahead to ensure we are equipped to adapt to the exposures of tomorrow."
"I'm looking forward to bringing this to life and launching it to market."
Scott Luxford, National Manager Financial Lines, Agencies and Partnerships says Ben has excelled in his new role and as a leader.
"Ben has a relentless work ethic and is always seeking continuous improvement. His fresh thinking, passion and solution-focused mindset is admired by his peers and the leadership team."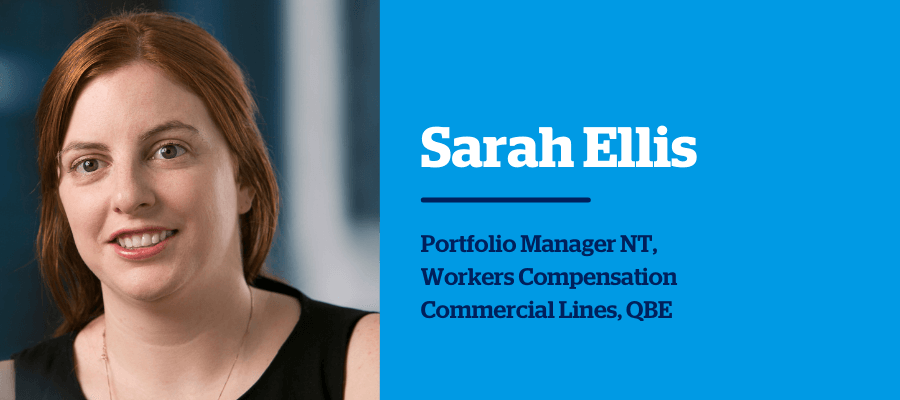 Sarah Ellis, Portfolio Manager – Workers Compensation
Midway through her university studies to become an English teacher, Sarah Ellis took a job at a QBE call centre in Perth to help finance her education. Fast-forward 13 years, and while her teaching degree is well and truly on the back burner, Sarah's blazing an insurance trail in the Northern Territory.
After progressing through QBE's ranks – from Direct Claims to Underwriter via Case Manager – Sarah was offered the opportunity in 2018 to move to Darwin to take up the role of Portfolio Manager, which encompasses assessing, pricing risk, client risk management, portfolio analytics and reporting, as well as people management.
"When the role came up, a few people asked if I'd considered moving to Darwin, and I said 'No!'," she says. "I decided to apply for the job not really knowing what Darwin was like – I'd never been here before – but it's been a great decision.
"Darwin is a social place, everyone's really nice and it's a beautiful place to live. On a professional level, it's a great job – it's one of those roles where you're involved in everything," she says. "One day I'll be working on strategy and analysing our portfolio performance, the next I'll be travelling to Alice Springs to meet brokers."
Sarah has thrown herself into life in Darwin. As well as being Vice President of the NT Young Insurance Professionals (YIPS), Secretary of AILA NT, committee member of the Nominal Insurer and ICA representative of the NT Scheme Monitoring Committee, she also volunteers with Kookaburra Kids, a not-for-profit that supports the children of families with mental-health issues.
"As soon as I moved here I joined the YIPS committee because I knew it'd be a great way to jump in and meet people from other companies, and to get to know brokers on a personal and social level as well.
"With Kookaburra Kids, once a month we do something fun with the kids, such as going to the movies or ice-skating, and we also help educate the kids that mental-health challenges are normal."
Sarah's primary insurance focus is workers' compensation, which she finds very rewarding.
"There have been a lot of innovations over the past few years," she says. "For example, QBE has worked with Monash University on behavioural insights, and as a result of that we've changed the language in all of the letters we send out. We've also partnered with different companies to provide additional mental health and exercise support, and use AI to put the right case manager on claims.
"The opportunity with workers comp is often to help someone get their life back, and it's really good to work for a company that sees that and takes a holistic approach to getting them better."
Sarah's leader, Regional Underwriting Manager – Workers Compensation Colin Chilcott, says the performance of QBE in the NT is testament to her work.
"In an economy that has been struggling recently, QBE's NT performance and market presence in 2021 is outstanding," he says.
"I'm really pleased with Sarah's move into the regulatory space, with appointments to the Scheme Monitoring Committee and Nominal Insurer. Sarah is now well-established in the NT market and has truly developed her external network."