Article
A motorcycle gear guide
Investing in good gear is the most important part of riding a motorcycle.
The right gear could protect you from preventable injuries and will make for a safer, more enjoyable ride keeping you comfortable and sheltered from the elements.
In September, Minister for Roads, Maritime and Freight Melinda Pavey announced the launch of a world first rating system for motorcycle clothing.
MotoCAP will give clothing two separate rating systems for protection and comfort, considering performance in abrasion resistance, seam strength and impact protection, while the comfort rating is based on how comfortable the clothing is when it's worn in the Australian climate.
QBE's Customer Service Manager for Motorcycle Operations, James Canny, says making decisions about the type, brand or style of gear to buy will largely depend on your preferred motorcycle riding style.
Canny has over 27 years' experience in the motorcycle industry as an instructor, examiner, superbike racer and road user.
Although budget is a factor, Canny's overarching recommendation is to invest in quality gear because it will last longer and will ultimately be safer and more comfortable.
Here's a couple of considerations for the essential gear:
1. Motorcycle helmet
How much is your head worth? Canny suggests ensuring your motorcycle helmet is fit for safety, longevity and comfort. For motorcycle riders in Australia, it's essential your helmet complies with the standard AS/NS 1698.
"The first helmet I purchased 27 years ago was for $120 and it lasted no more than six months. The interior lining wore out pretty quickly," he says.
"I've also found that very inexpensive helmets can feel claustrophobic or constrictive. It's important to feel as comfy as possible otherwise discomfort can reflect in your riding and take your focus off the road."
2. Motorcycle jacket
The golden rule of motorcycle gear is to ensure you have a second skin, Canny says.
"Like helmets, top range jackets are worth investing in. I bought a top of the range motorcycle jacket years ago and I still wear it every ride."
The more expensive jackets will also be made from quality fabrics that are breathable, insulated, waterproof and wind-proof, he says.
"You want to have a jacket that's versatile for all types of weather so you're never uncomfortable or distracted if there's a sudden change while you're riding."
In Australia, motorcyclists often face the challenge of riding in the heat which often leads to the decision to wear less gear and bare skin which can be really dangerous."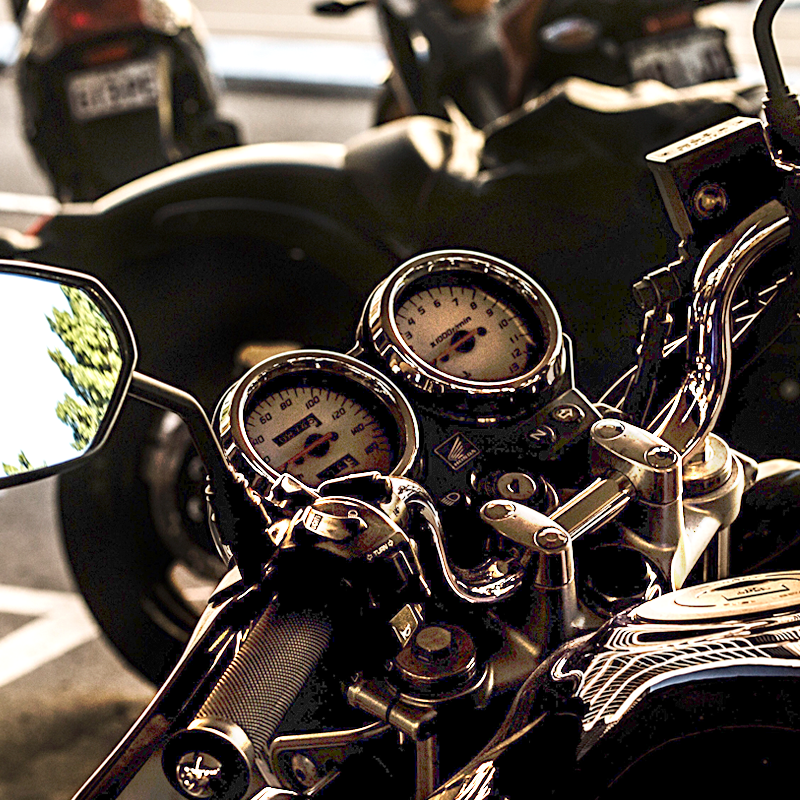 3. Motorcycle gloves
Major considerations for picking the right motorcycle gloves include thick leather, good coverage and flexibility so you can easily manoeuvre the clutch, brake levers and throttle controls.
"The right gloves will be snug but not too tight. You want to ensure they won't slip off in the case you fall off your motorcycle, but your fingers need to have enough room to use the controls, such as the front brake" Canny says.

4. Motorcycle boots
Coverage is often overlooked with motorcycle boots. Canny says to be sure your boots completely cover feet and ankles.
"The main idea of boots is to stay on your feet if you do come off the bike. Shoes, sneakers or slip on boots are no good. Laces can get caught around gearshift levers or your rear brake lever."
5. Motorcycle pants
In most cases, the more you spend, the more comfortable you will be in motorcycle pants because of the quality of the fabrics.
"Leather does not to tear against bitumen and this makes a huge difference compared to other materials like jeans," Canny says.
Having a second skin is the most important thing.
"If you're not fully protected, you're not going to feel as safe and it reflects in your riding," he adds.
*Our competitive price offer
We guarantee to beat our competitors' prices on motorcycle insurance policies (excluding our Platinum Cover). This also applies to existing QBE motorcycle insurance policies that are on renewal. This offer is based on our standard price compared to competitors and other conditions may apply. This offer is valid for the first 12 months of insurance only, after this premiums will be charged at the competitive QBE standard rate. We only agree to beat the price of APRA authorised insurers who hold an AFSL issued by ASIC. The guarantee does not apply to any free offers of insurance.