Press Release
QBE North America Launches Integrated Advantage for Financial Institutions
Single Team, Single Business Unit Delivers a New Approach to Solving Complex Risks For Customers
New York, NY ― QBE North America, an Integrated Specialist Insurer, today announced the launch of QBE Integrated Advantage for Financial Institutions—a new powerful approach to meeting the needs of financial institutions customers.
The dedicated business unit goes far beyond a traditional industry vertical approach. It offers customers access to a single team organized under a dedicated leader that comprises financial institutions professionals in Underwriting, Claims, Global Risk Solutions, Distribution and Product. The QBE Integrated Advantage for Financial Institutions team is led by Stacey Meade, Senior Vice President, and offers streamlined access to products and services that meet the unique exposures of financial institutions businesses, including asset managers, banks and insurance companies.
"Most of the industry takes a cross sell approach to verticals. We have gone down a unique path putting multiple product underwriting under a single team and single business so that we can take a holistic approach to the customer," said Russ Johnston, Chief Executive Officer, QBE North America.
Breaking Down Silos
This represents a significant change in how we work with the brokers in our limited and preferred distribution network to serve their financial institutions clients today. We are breaking down the silos, taking a holistic view of the industry and providing more proprietary solutions. We are committed to this industry and will continue to invest in talent and product expansion to deliver a differentiated experience to our customers.
Through a unique point-of-contact model, businesses can work with one team to save time and resources and simplify the process of securing end-to-end insurance coverage. When a claim arises, customers will have access to a dedicated contact.
"With QBE, financial institutions can gain confidence that they are protected with an end-to-end solution that no other carrier can match. Our Management Liability, Professional Liability, General Liability, Property, Workers' Compensation, Umbrella and Auto solutions cover the evolving risks of a financial institution, so our customers can focus on their businesses," said Meade. "Everything is backed by our claims promise to provide the expertise, service, technical knowledge and guidance our customers need to resolve their claim and continue working towards their goals."
QBE Integrated Advantage for Financial Institutions is distributed through the company's limited and preferred network of agents and brokers and offers tailored, multiline solutions that can include: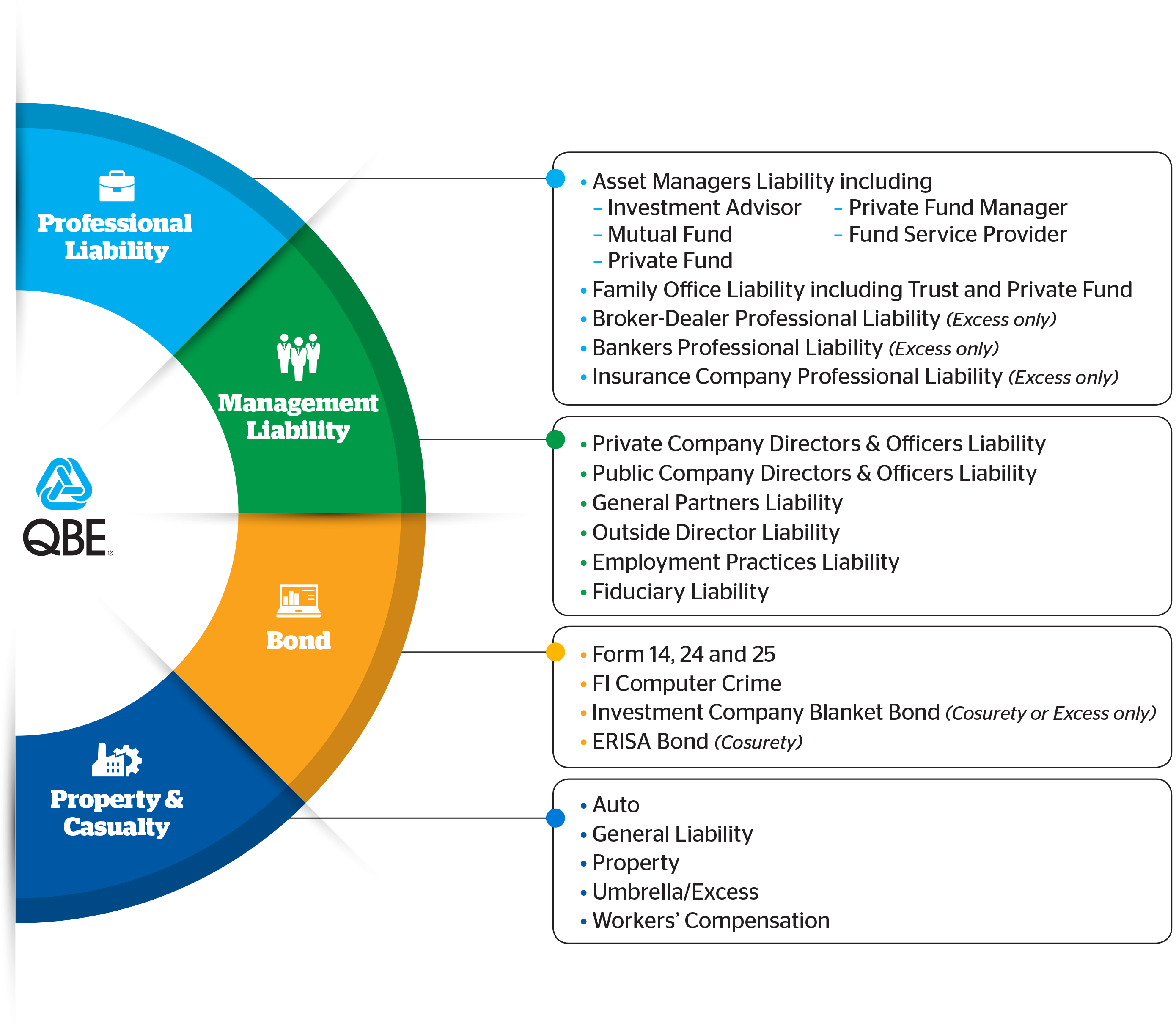 To learn more, visit the QBE Integrated Advantage for Financial Institutions.
About QBE
QBE North America, an integrated specialist insurer, is part of QBE Insurance Group Limited, one of the largest insurers and reinsurers worldwide. QBE NA reported Gross Written Premiums in 2017 of $4.6 billion. QBE Insurance Group's 2017 results can be found at www.qbe.com. Headquartered in Sydney, Australia, QBE operates out of 31 countries around the globe, with a presence in every key insurance market. The North America division, headquartered in New York, conducts business through its property and casualty insurance subsidiaries. The actual terms and coverage for all lines of business are subject to the language of the policies as issued. QBE insurance companies are rated "A" (Excellent) by A.M. Best and "A+" by Standard & Poor's. Additional information can be found at www.qbe.com/us, or follow QBE North America on Twitter.
Contact: Jaime Bruck, Lead Communications Partner, QBE North America, 646.341.8042, jaime.bruck@us.qbe.com