Press Release
QBE North America Announces The Solution for Cyber Risk
New York, NY – QBE North America, an operating division of QBE Insurance Group Limited now offers The Solution for Cyber Risk. This Privacy & Network Security offering is the latest addition in the company's continued Specialty Insurance expansion.
Cyberattacks, including privacy violations and breaches of network security, are becoming more sophisticated, more dangerous, and more prevalent. Billions of dollars are lost every year repairing systems hit by such attacks. The Solution for Cyber Risk is a comprehensive product suite that addresses these potentially devastating exposures, and protects businesses in the event sensitive or protected data is compromised.
The Solution for Cyber Risk can help customers be proactive in mitigating the risk of security breaches, and respond quickly if such an event occurs. The Solution for Cyber Risk includes access to our eRiskHub® portal, powered by NetDiligence®. eRiskHub® helps organizations combat cyber losses through online, mobile-friendly access to loss control expertise, risk management tools, cyber risk news and education, and breach response guidance.
"Most organizations will experience a data breach at some point, whether from a computer glitch, a hacker, or an unfortunate employee mistake. The costs of such an incident can be steep and long-lasting, including losing customer confidence and shareholder value," said Steven Anderson, Vice President and Product Executive – Privacy & Network Security. "To address these risks, QBE has created a custom privacy and network security solution that will minimize them, and help safeguard their organizations from cyber vulnerability."
Coverages contained in the new policy include:
privacy and network security liability
media liability
data breach notification costs
restoration costs
regulatory defense and penalty costs
public relations costs
forensics costs
credit monitoring costs
business interruption and extortion.
"As an integrated specialist insurer, QBE is committed to building the strongest partnerships with our customers in niche markets where our expertise and capabilities can meet their needs," said Jeff Grange, President, Specialty Insurance, QBE North America. "The Solution for Cyber Risk provides a solution for the rapidly morphing, proliferating, new and emerging cyber risks that confront policyholders everyday. Beyond insurance, we provide the critical loss prevention and mitigation tools our customers need to fully ensure their security, now, and in the future."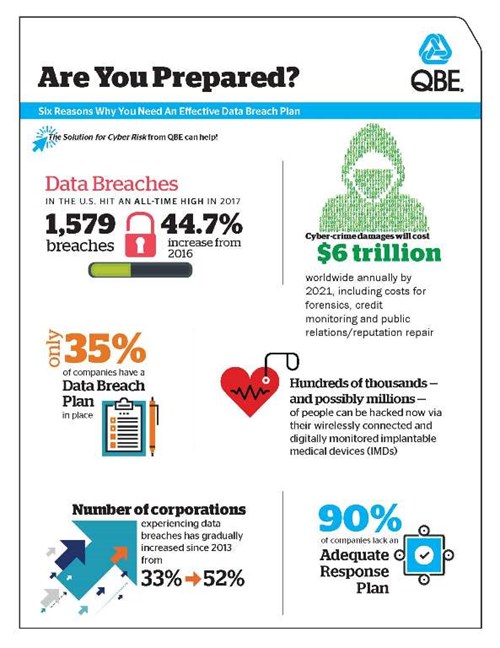 About QBE
QBE North America is an integrated specialist insurer, which is part of QBE Insurance Group Limited, one of the largest insurers and reinsurers worldwide. QBE NA reported Gross Written Premiums in 2017 of $4.6 billion. QBE Insurance Group's 2017 results can be found at www.qbe.com/us. Headquartered in Sydney, Australia, QBE operates out of 31 countries around the globe, with a presence in every key insurance market. The North America division, headquartered in New York, conducts business through its property and casualty insurance subsidiaries. QBE insurance companies are rated "A" (Excellent) by A.M. Best and "A+" by Standard & Poor's. Additional information can be found at qbe.com, or by following QBE North America on Twitter.
Contact
Jaime Bruck, Lead Communications Partner – Specialty, 646.341.8042, jaime.bruck@us.qbe.com