Press Release
QBE receives When Work Works Award
By sitecore\admin
---
21 May 2017
New York, NY – QBE North America was recently honored with a 2017 When Work Works Award from the Families and Work Institute and the Society for Human Resource Management.
QBE offers its employees a wide variety of benefits solutions and flexible work arrangements to help them balance their responsibilities at home and at work, including: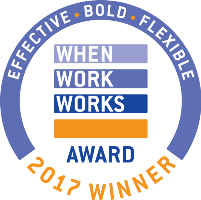 Work arrangements such as compressed work weeks, flextime and virtual workdays.

Flexible parental leaves and guidance for employees and managers to prepare for parental leave and to confidently return to work.

Mother's milk shipping.

Competitive paid time off, personal leave and employee recognition programs.

Back-up child care, elder care, pet care, and housekeeping services.

Special needs assistance to help find solutions for exceptional kids.

Educational advice to assist parents with raising their children from infancy through preparation for college.

Family adoption financial support.
"QBE believes that incorporating these integrated workplace strategies makes our company stronger by supporting our employees to meet their professional and personal demands," said Russ Johnston, QBE North America Chief Executive Officer. "These resources and solutions are available if and when our employees need them, to help navigate the events, challenges and joys they may experience in and outside of work. We're proud to be recognized by the Families and Work Institute and SHRM for these efforts!"
"Considering that 78 percent of employers report difficulty recruiting employees for highly skilled jobs and 38 percent report difficulty recruiting for entry-level hourly jobs, When Work Works Award winners have leveraged this recognition opportunity to distinguish themselves as exemplary employers that offer new or enhanced options that help them attract and retain top talent," said Ellen Galinsky, president of the Families and Work Institute, the original creator of this award, and senior research advisor at SHRM.
"These winners have reinvented their workplaces in ways that benefit business and employees alike and are reaping the benefits in terms of employee job satisfaction and retention," said Cassidy Solis, senior advisor, workplace flexibility, at SHRM.
For more information about the When Work Works initiative and the When Work Works Award, visit whenworkworks.org.
About QBE
QBE North America is part of QBE Insurance Group Limited, one of the largest insurers and reinsurers worldwide. QBE NA reported Gross Written Premiums in 2016 of $4.6 billion. QBE Insurance Group's 2016 results can be found at www.qbe.com/us. Headquartered in Sydney, Australia, QBE operates out of 37 countries around the globe, with a presence in every key insurance market. The North America division, headquartered in New York, conducts business through its property and casualty insurance subsidiaries. QBE insurance companies are rated "A" (Excellent) by A.M. Best and "A+" by Standard & Poor's. Additional information can be found at www.qbe.com/us, or follow QBE North America on Twitter.
Contact
Peter Scott, Lead Communications Partner, 212.894.7781, peter.scott@us.qbe.com