QBE Insurance (Fiji) Limited - Subsidiary Company
Queensland Insurance established an agency presence in Suva in 1899 and a branch in 1906. In 1974, Queensland Insurance (Fiji) Limited was formed as a subsidiary of QBE. Our company's name was changed to QBE Insurance (Fiji) Limited in 2004.
Today, we focus on providing business insurance solutions to the corporate sector. Our team has the expertise to deal with complex and emerging exposures, including Professional Indemnity, Directors & Officers' Liability, and Marine Cargo insurance. With more than a century's worth of local knowledge and experience, we work with intermediaries to provide specialist insurance solutions tailored to individual needs. We remain one of the country's most trusted insurers.
View QBE Fiji's Key Disclosure Statements below.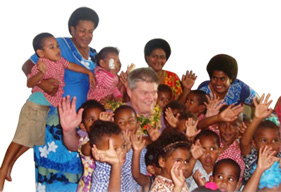 QBE in the community
Helping provide education to disadvantaged children
More than 40 visually impaired children now have better access to education and rehabilitation after QBE Fiji helped in the purchase of Braille equipment. QBE also assists with the running costs of the School of Blind, including the costs of transporting students from home to school and back. The school offers a diverse range of initiatives to help the disadvantaged children gain social and physical skills that will support their integration into society.
QBE volunteers participate in various activities with the children and have even had an opportunity to experience a day in their life.
Additionally, QBE Fiji has supported a number of projects run by charities and educational institutions, including:
Enabling several children with hearing impairments to attend the Fiji School for the Deaf by paying for their school and boarding fees
Restoring the school building of the Lomolomo village kindergarten, which was badly damaged by the tropical cyclone Evan, as well as providing the children with a new playground area
Making a donation to Save the Children to assist in the purchase and distribution of stationery packs to underprivileged children
Giving financial assistance via the Foundation for the Education of Needy Children for the education of several children coming from low socio-economic environments
Key Disclosure Statements
Key Disclosure Statements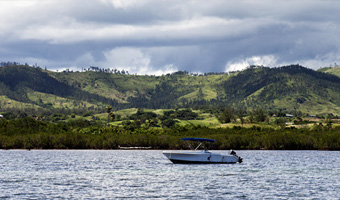 Made possible
Breathing new life into a resort
QBE Fiji is insuring the construction of a new luxury resort, including a large number of guest rooms, villas, residential sites, and a stunning golf course at Momi Bay.
Located on the magnificent Coral Coast of Viti Levu, the project was originally earmarked to be a five-star resort. Excavations were carried out to reclaim a lagoon surrounded by man-made islands before work was stopped. With new investment flowing in, development of the luxury resort is now back on track.
QBE is providing support for the Momi Bay development with Contract Works cover for the US$170 million-plus project.
Privacy Policy. We use a small number of cookies on this website to make the website as useful as possible. None of these cookies collect any personal information. To find out more about these cookies and how to control their use, see our Privacy and Cookies Policy.
Ok, I agree