QBE Insurance (International) Pty Limited - Branch Office
QBE has been serving clients in French Polynesia since 1971, when we entered the market via an agency relationship. QBE established a branch office in French Polynesia in 1993.
Our team's local knowledge and excellent service standards resulted in QBE earning a significant share in a very competitive market. Today, we serve the needs of a large spectrum of business clients ranging from small- to medium-sized enterprises to the larger corporate sector. A high level of autonomy also enables us to offer flexible solutions tailored to the individual needs of our clients, particularly in Commercial property, General liability and Engineering insurance cover.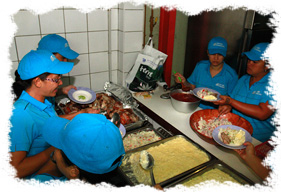 QBE in the community
Bringing hope to mothers, children
Young single mothers and children with Down syndrome are two of the groups that directly benefit from QBE French Polynesia's support of the Restoring Hope and Fare Heimanava charities.
In addition to providing financial assistance to these two worthwhile organisations, QBE French Polynesia has supported several other charitable groups including: the Red Cross; the SOS Village d'Enfants, which assists children from families that live below the poverty threshold; Life without Drugs, which targets drug addiction among young people in Tahiti; and the Arii Heiva Rau organisation, which helps students in difficulty integrate into the workforce.
The QBE team in French Polynesia has also raised funds, which were matched by the QBE Foundation, for the Tevaiete shelter for the homeless.
Made possible
Facilitating a smooth shopping experience
QBE insures all the large shopping centres and supermarkets in Tahiti, as well as a large number of smaller shopping outlets.
The most recent addition to the Tahitian retail landscape, Pacific Plaza, opened its doors in December 2014 close to Papeete's residential area. Pacific Plaza houses one of the largest retail groups in the world, multiple boutique shops, a food court, and a multi-storey parking area. The Plaza has created full-time employment opportunities for the local population, giving the area a much-needed economic boost.
QBE French Polynesia provides Property, Business Interruption and Liability insurance to the shopping mall as well as a significant number of its tenants.
Privacy Policy. We use a small number of cookies on this website to make the website as useful as possible. None of these cookies collect any personal information. To find out more about these cookies and how to control their use, see our Privacy and Cookies Policy.
Ok, I agree