QBE Insurance (PNG) Limited - Subsidiary Company
QBE entered the Papua New Guinea market in 1899 as The North Queensland Insurance Company. Now known as QBE Insurance (PNG) Limited, we have three offices: the principal office in the capital Port Moresby, a second in the regional centre of Lae, and a third office in Kokopo.
As a result of a series of acquisitions completed in 1998, 2001 and 2012, the company became the country's leading general insurer and gained access to a pool of talented local staff. We now have a well-respected management team that includes mostly PNG citizens. This has allowed us to better assess risks in the local market and develop flexible business insurance solutions. We have built expertise in specialist areas such as Marine, Property, Liability and Workers' Compensation cover.
In recent years, we have become significantly more involved in meeting the emerging needs of professionals as well as medium and large commercial entities that face highly complex and variable exposures. In addition we are developing a unique suite of personal lines insurance products. Our team is committed to providing a prompt and efficient service to our broker intermediaries and direct customers.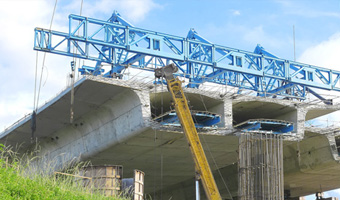 Made possible
Improving access to the airport
QBE insured a large road upgrade project, including a new flyover designed to improve access to the international airport.
Port Moresby saw a significant transformation with the construction of the Kumul four-lane flyover at Jackson's International Airport, one of the largest projects in the region. This project included the upgrading of almost six kilometres of road connecting the capital city with the airport. This helped reduce traffic congestion, trim down travelling time and provide travellers and business people with an improved driving experience.
QBE's Contractors' All Risks insurance provided cover the US$100 million project.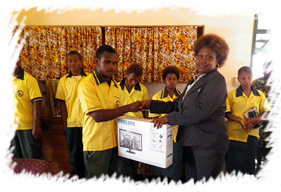 QBE in the community
Powering young students
Students at the Malabunga Secondary School (MSS) in the East Britain province no longer have to interrupt their studies due to power outages after QBE PNG donated and installed a new generator at the school. In addition to supplying the powerful generator to help resolve power, water supply problems and lighting issues, QBE PNG also donated 10 computers to MSS.
QBE PNG has also donated funds to the Blood Bank at Port Moresby's General Hospital to contribute to the health needs of patients requiring transfusions.
Privacy Policy. We use a small number of cookies on this website to make the website as useful as possible. None of these cookies collect any personal information. To find out more about these cookies and how to control their use, see our Privacy and Cookies Policy.
Ok, I agree