About QBE Vietnam
After opening a representative office in Vietnam in 1995, QBE later formed a joint-venture insurance company with a local bank. In 2005, the company became a 100% foreign-owned subsidiary of QBE Insurance (International) Limited.
With our head office in Ho Chi Minh City and a branch office in Hanoi, QBE Vietnam focuses on providing business insurance solutions to the corporate sector as well as for individuals. We work with professional insurance brokers and agents to provide international-standard products and claims services, particularly in the areas of professional lines, liability, marine, engineering, property, and specialty insurance. QBE Vietnam also provides facultative reinsurance support to the Vietnamese insurance market for large infrastructure projects and large property accounts.
Our Purpose
We give people the confidence to achieve their ambitions
Everyone has ambitions and goals – both personal and professional. We give people the confidence to achieve them by helping them manage risks so they can focus on the outcome they desire, not the potential barriers holding them back.
Our Vision
To be the insurer that builds the strongest partnerships with customers
Our customers are defined very broadly. This means there are many different stakeholder groups we are committed to building the strongest partnerships with – they include our major trading partners, brokers, agents, insureds, policyholders, claimants as well as our most important asset, our own people.
As part of our commitment to be the insurer that builds the strongest partnerships with customers, QBE reviewed the composition in various Asian markets to better understand how to add more value for our stakeholders. This review led to the development of the QBE Asia Pacific profitable growth strategy.
As part of our growth strategy, QBE Vietnam is focusing on expanding our core business. In particular, QBE Vietnam aims to become a leading specialty insurer in marine, liability, professional lines, product protection, construction all risk, and erection all risk products.
QBE Vietnam is committed to be a leading provider of property and casualty insurance products to large corporations as well as SMEs through insurance intermediaries.
We place a high value on relationships and service. Whether working with an intermediary, a local customer or a reinsured company, the partnership we create is equally important. At QBE Vietnam, we endeavour to be efficient and to operate with the utmost integrity in providing essential insurance solutions and excellent claims services.
We are committed to helping with the further development of Vietnam as well as continuously strengthening our products and services to improve our competitive position and to assist our customers in a rapidly changing socio-economic environment.
2015 - QBE launches extended warranty cover in Vietnam
2011 - Establishment of QBE Foundation
2010 - QBE Vietnam completes various license amendments to consolidate licenses, increase capital and to widen its customer base
2005 - QBE divests its share in the joint-venture company and purchases another foreign insurer in Vietnam, with QBE Vietnam becoming a 100% foreign owned company with a Head Office in Ho Chi Minh City and a Branch office in Hanoi.
1999 - QBE establishes a joint venture with the Bank for Investment and Development of Vietnam (BIDV), a Vietnamese State Bank with its head office in Hanoi.
The joint venture establishes a branch office in Ho Chi Minh City.
1995 - QBE establishes a representative office in Hanoi
At QBE, we have been playing an active role in the communities in which we operate since our founding. In 2011, the QBE Insurance Group formalised its community work by launching the QBE Foundation.
The Foundation's philosophy is to support charities that help people overcome disadvantages, strengthen their abilities, and help them live more independently, successfully and productively.
Our objectives include making a difference in key areas that align with QBE's vision and values. We also seek to drive employee engagement by developing networking and a strong team-based culture. We strive to maximise the return and impact for any collection, distribution and allocation of philanthropic resources.
Since its establishment, the QBE Foundation has donated more than VND200 million to local charity organisations in Vietnam. Through the Foundation's initiatives, QBE aims to make a difference in the lives of underprivileged children, youth and the elderly.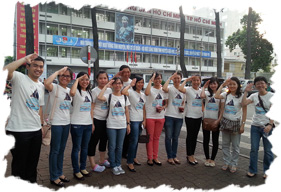 Supporting underprivileged students
Some 150 underprivileged students in the Can Gio Island district received gifts for the new school year in September 2014. In affiliation with Vietnam Red Cross, QBE Vietnam provided the students with school books, note books, food and milk.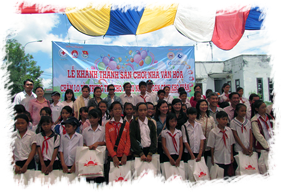 Helping low-income families
Children from low-income families in Ben Dao Can Gio can now enjoy a new Cultural Community Centre with the help of the QBE Foundation. The Centre was officially opened during the Moon Festival in August 2014, with QBE staff taking part in the day's activities.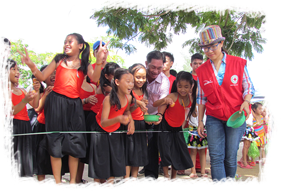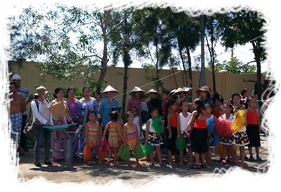 Caring for the elderly
More than 200 seniors at in Ho Chi Minh City benefited from a QBE-sponsord healthcare event in September 2014. The facility provides general medical and financial support for the elderly.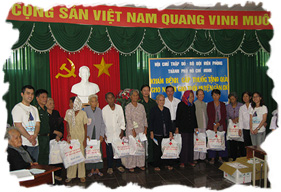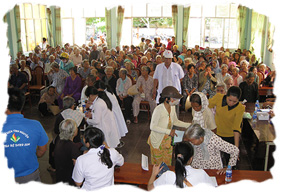 Supporting the disabled
Some 175 individuals at the Thuy An Centre in Hanoi have benefited from QBE Vietnam's support. The Centre is a nursing home for the elderly and for orphans with disabilities. QBE Vietnam also extends helping hands to people with disabilities and special needs through our support of the Red Cross Society.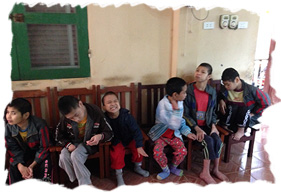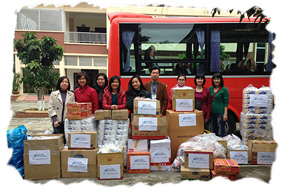 Building a stronger, simpler QBE
Privacy Policy. We use a small number of cookies on this website to make the website as useful as possible. None of these cookies collect any personal information. To find out more about these cookies and how to control their use, see our Privacy and Cookies Policy.
Ok, I agree