About QBE Vietnam
After opening a representative office in Vietnam in 1995, QBE later formed a joint-venture insurance company with a local bank. In 2005, the company became a 100% foreign-owned subsidiary of QBE Insurance (International) Limited.
With our head office in Ho Chi Minh City and a branch office in Hanoi, QBE Vietnam focuses on providing business insurance solutions to the corporate sector as well as for individuals. We work with professional insurance brokers and agents to provide international-standard products and claims services, particularly in the areas of professional lines, liability, marine, engineering, property, and specialty insurance. QBE Vietnam also provides facultative reinsurance support to the Vietnamese insurance market for large infrastructure projects and large property accounts.
Our Purpose
QBE - enabling a more resilient future
At QBE we're driven by our purpose of enabling a more resilient future – helping those around us build strength and embrace change to their advantage.
We've been cultivating resilience since 1886, when our founders started a marine insurance company to give early pioneers a safeguard against uncertainty.
Today, we're still giving our customers confidence to explore, innovate and take measured risks, secure in the knowledge they're covered by a strong insurer.
For our communities, our purpose drives us to build resilience and enrich lives. We are incredibly proud of our global disaster relief partnerships with Red Cross and Save the Children, through which we are investing to improve the capacity of local communities to prepare, anticipate, respond and recover from disasters.
Our approach to sustainability forms an essential part of our ability to deliver on our purpose and make a positive and impactful contribution to the environments, economies and communities in which we operate.
Our Vision
To be the most consistent and innovative risk partner
At QBE, we're striving for greater consistency across everything we do. Our aim is to do things more consistently than our competitors, whether it's in the experience we provide our customers and partners, the performance of our business or the values that connect our people.
Innovation represents our focus on continuous improvement and growth. This includes developing new and innovative products and experiences and continually evolving to make it easier to do business with us.
We believe being the most consistent and innovative risk partner will see us build the strongest partnerships with customers and partners but, importantly, it will also see us deliver more value.
2022: QBE Asia named Insurance Business Asia List, Top Insurance Workplaces 2022, Asia
2022 : Launch the digital platform B2B2C on Home Plus Protection.
2019 : Launch the Cyber and Data Security
2015 - QBE launches extended warranty cover in Vietnam
2011 - Establishment of QBE Foundation
2010 - QBE Vietnam completes various license amendments to consolidate licenses, increase capital and to widen its customer base
2005 - QBE divests its share in the joint-venture company and purchases another foreign insurer in Vietnam, with QBE Vietnam becoming a 100% foreign owned company with a Head Office in Ho Chi Minh City and a Branch office in Hanoi.
1999 - QBE establishes a joint venture with the Bank for Investment and Development of Vietnam (BIDV), a Vietnamese State Bank with its head office in Hanoi. The joint venture establishes a branch office in Ho Chi Minh City.
1995 - QBE establishes a representative office in Hanoi
At QBE, we have been playing an active role in the communities in which we operate since our founding. In 2011, the QBE Insurance Group formalised its community work by launching the QBE Foundation.
The Foundation's philosophy is to support charities that help people overcome disadvantages, strengthen their abilities, and help them live more independently, successfully and productively.
Our objectives include making a difference in key areas that align with QBE's vision and values. We also seek to drive employee engagement by developing networking and a strong team-based culture. We strive to maximise the return and impact for any collection, distribution and allocation of philanthropic resources.
Since its establishment, the QBE Foundation has donated more than VND200 million to local charity organisations in Vietnam. Through the Foundation's initiatives, QBE aims to make a difference in the lives of underprivileged children, youth and the elderly.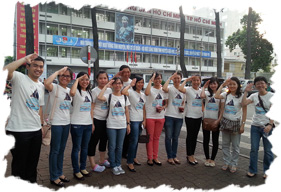 Supporting underprivileged students
Some 150 underprivileged students in the Can Gio Island district received gifts for the new school year in September 2014. In affiliation with Vietnam Red Cross, QBE Vietnam provided the students with school books, note books, food and milk.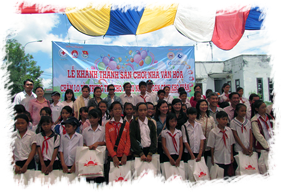 Helping low-income families
Children from low-income families in Ben Dao Can Gio can now enjoy a new Cultural Community Centre with the help of the QBE Foundation. The Centre was officially opened during the Moon Festival in August 2014, with QBE staff taking part in the day's activities.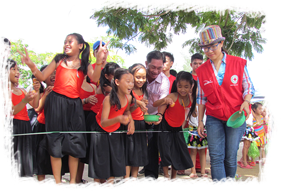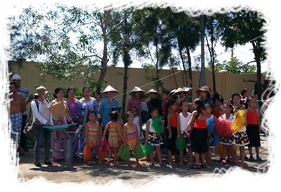 Caring for the elderly
More than 200 seniors at in Ho Chi Minh City benefited from a QBE-sponsord healthcare event in September 2014. The facility provides general medical and financial support for the elderly.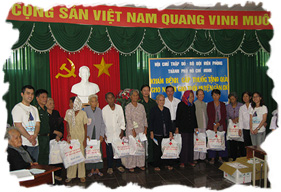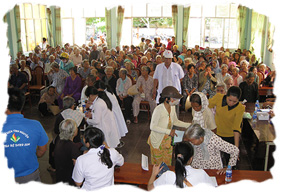 Supporting the disabled
Some 175 individuals at the Thuy An Centre in Hanoi have benefited from QBE Vietnam's support. The Centre is a nursing home for the elderly and for orphans with disabilities. QBE Vietnam also extends helping hands to people with disabilities and special needs through our support of the Red Cross Society.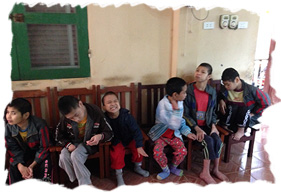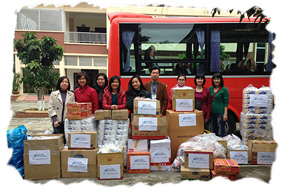 QBE - enabling a more resilient future
Privacy Policy. We use a small number of cookies on this website to make the website as useful as possible. None of these cookies collect any personal information. To find out more about these cookies and how to control their use, see our Privacy and Cookies Policy.
Ok, I agree