The regulatory landscape is changing, and healthcare and insurance costs continue to escalate. Because of this, employer interest in self-funding employee healthcare coverage is rapidly expanding.
One solution for increasing the effectiveness of a self-funded program is writing medical stop loss coverage in a captive. Single parent and group captives have proven successful in reducing fixed insurance expenses, delivering transparency and often captures underwriting profits and investment returns that would otherwise revert to an insurance company, ultimately reducing the cost of risk.
The QBE Captive Curve is our all-encompassing captive service model that removes barriers to entry and allows for frictionless movement to new strategies. From large employers in need of value-based catastrophic risk financing, to employers looking for an open group captive program, our stop loss model provides ease and stability. Our program, Agora, is a great starting point for advisors and employers to gather as they begin their self-funded and captive journeys. Pick your position, QBE has the right medical stop loss solution for you.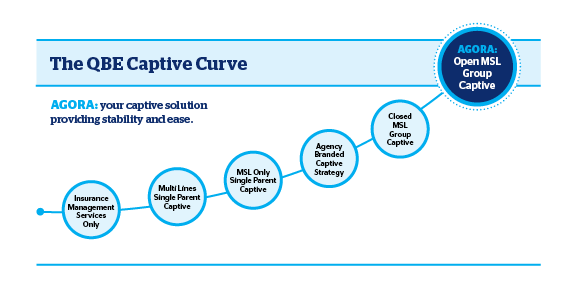 Desired opportunities
Each captive is unique and represents a distinct opportunity. QBE's expert team will evaluate each risk, however our preferred structures are:
Single-parent captives
Heterogenous and homogenous group captives
Services
Captive risk assessment
Full underwriting capability
QBE fronting policy or reinsurance cover
Program management services to include:

Underwriting support
Policy issuance
Monthly bordereaux
Medical risk management
Reserve management
Claims adjudication / explanation of reimbursement
Block analysis
Preferred business profile
QBE specializes in underwriting single-parent and industry-specific group captives. Our preferred, but not exclusive, industry classifications include:
Healthcare
Hospitals
Higher education
Energy
QBE has an expert team, complemented by a fully integrated program management system, which allows us to work efficiently to deliver our services at an elite business level. Our Account Management, Claims administration and Risk Management teams are fully integrated into our underwriting process which creates agility in responding to the unique needs of our customers.
Downloads