6
QBE in the community
The QBE Foundation was established in 2011 to reflect our company's involvement, commitment and investment in the communities where we do business, and where our employees live and work.
And it's a global effort. QBE Foundation support for organizations and employee volunteerism is carried out around the world throughout QBE's operations in Australia, Asia Pacific, Europe, Latin America, and North America.
The QBE and AcceliCITY Resilience Challenge
In these difficult times, we recognize a need to build more resilient and risk-adverse cities. To help toward that end, we have developed a unique collaboration to encourage entrepreneurs across the United States whose ventures can effectively manage and respond to an evolving environment of physical, economic, and social risk. Learn more here.
Employee involvement
The foundation funds charities – nominated by our employees – dedicated to helping people overcome disadvantages, strengthen their abilities and live more independently, successfully and productively. These charities provide:
Educational opportunities, such as reading programs, training programs and scholarships;

Work opportunities, including skill development, internships and micro-financing;

Work-ready initiatives for individuals and groups;

Health and well-being programs
Our company allows paid time off for employees to be involved in volunteer activities, and offers payroll deduction and matching donations for foundation-supported organizations.
The QBE Foundation has awarded grants to many charities across the United States. Because the foundation supports only charities recommended by our employees, outside grant proposals are not accepted.
A QBE employee provides career advice to a youth during a service project with Boys & Girls Clubs of America.
QBE employees donate their time to help build a house with Habitat for Humanity.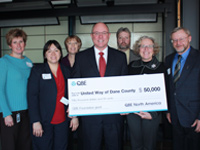 QBE employees present a check to The United Way of Dane County.