Article
Addressing Companies' Top Concern about COVID-19: Employee Safety
By Moire Morón, Assistant Vice President – Claims Practice Leader, QBE North America
COVID-19 has changed our lives and significantly impacted the way many of us work. With so many unknowns about the pandemic and its longevity, businesses are facing unprecedented challenges. For many, the initial challenge was how to function with all or most of their workforce operating remotely. Now companies are strategizing on how to bring employees back safely and in accordance with applicable rules and regulations.

In fact, when it comes to worries about pandemic risk, employee safety ranks as the top concern among mid-sized companies, according to QBE North America's Mid-Sized Company Risk Report. As states begin to reopen and businesses begin to resume onsite functions, this concern is significant, as many are conflicted about how to prevent and resolve the many challenges that lie ahead.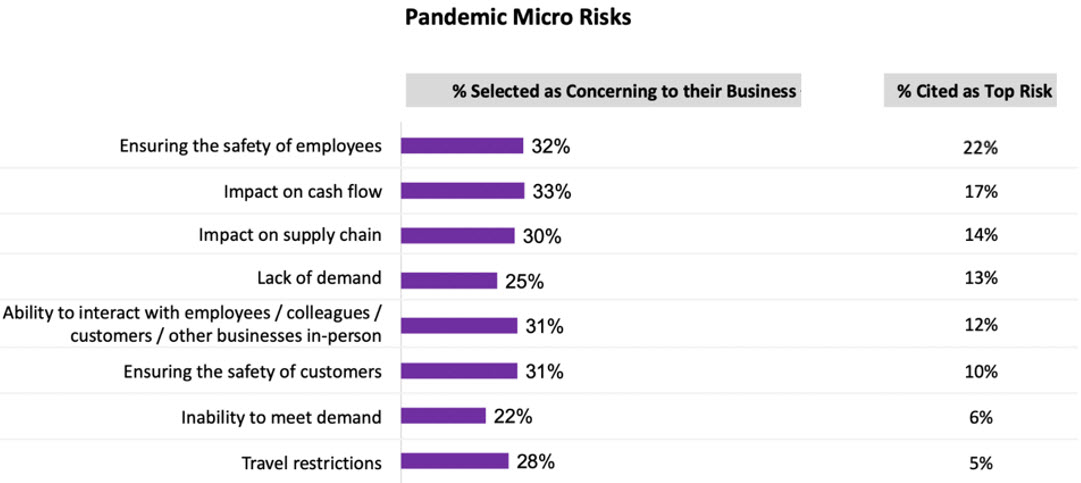 Questions around physical safety, privacy of employees, and potential employment practices issues must be considered in the context of the many different rules. For instance, if an employee is reluctant to return to the office due to a pre-existing condition, companies must consider how to evaluate that request in accordance with the Americans with Disabilities Act. If an employee needs to quarantine upon returning from a virus "hot spot," employers need to consider sick leave benefits in accordance with the Families First Coronavirus Response Act (FFCRA). If an employee in the office tests positive for COVID-19, companies must consider how to balance that employee's right to privacy with the other employees' need to know. These issues must be addressed, while still maintaining employee morale and productivity.

Fortunately, resources exist to help guide the return-to-work process. For more information, please refer to the Equal Employment Opportunity Commission (EEOC), Center for Disease Control (CDC), the Americans with Disabilities Act (ADA), or Families First Coronavirus Response Act (FFCRA) website. Additionally, employers who partner with QBE have access to QBE's Business Resource Edge, a complimentary service that helps executives manage employment practices and liability risk. Here is a sample of the questions that often get asked about bring employees back to work during COVID-19.

While there are many uncertainties, one thing remains clear: QBE is with you.