The QBE AcceliCITY Challenge sources global start-ups with innovative technological solutions that address the complex environmental, social and economic challenges faced by cities.
2023 QBE AcceliCITY Resilience Challenge
Challenges
Primary Challenge:
Our Primary Challenge is open to entrepreneurs globally, whose ventures utilize smart city solutions to address risk, equity, and sustainability in our urban environments.
Along with the benefit of partnering with a leading insurer, winners will receive publicity, resources, and mentorship. Prizing includes:
$100,000 toward a pilot project with the winning City of AcceliGOV
$25,000 prize for QBE AcceliCITY East People's Choice winner (Eastern Hemisphere)
$25,000 prize for QBE AcceliCITY West People's Choice winner (Western Hemisphere)
In addition to our Primary Challenge, this year we are excited to offer two breakout tracks. For these tracks, QBE will look to identify entrepreneurs whose solutions speak to our business focus, as well as our commitment to sustainability. All breakout track applicants will also be considered for the Primary Challenge.
Insurance (Commercial Property):
The primary causes of property damage are fire, water and wind. As a leading commercial property insurer, QBE is constantly searching for new and innovative ways to mitigate these risks, in an effort to better support and protect our clients.
To this end, our Insurance Track is available to entrepreneurs whose innovations provide sustainable, loss mitigation solutions for the Commercial Property sector. We are searching for solutions that will allow us to identify or minimize potential hazards more quickly, lessen the effects of property damage, decrease business disruption or home evacuation caused by property damage, as well as other creative solutions to property insurance challenges.
Prizing includes: $25,000 for the Insurance Track winner
Where applicable, the winner will also receive the additional benefit of customized support from QBE, such as operational support, access to data, analytics and advice on use cases and implementation planning from QBE experts, such as QBE Ventures, Underwriting, Actuarial, CAT modeling and a risk assessment to be completed by QBE.
Agriculture:
Small, independently owned farms face a myriad of risks in today's marketplace. NAU Country, a subsidiary of QBE North America, is a dedicated multi-peril crop insurer passionate about serving the American farmer.
In alignment with our desire to protect farmers and our customers, our Agriculture Track is available to entrepreneurs whose innovations provide sustainability solutions for the small to mid-size farming community. We are open to a variety of solutions for farmers, such as Agtech, distribution channel solutions, risk management, data tracking and more. We service a variety of traditional and organic crops and welcome solutions in those areas as well.
Prizing includes: $25,000 for the Agriculture Track winner
Timeline
The QBE AcceliCITY Resilience Challenge is conducted virtually over several months of intensive and immersive learning and growth. From our unique B2G curriculum, mentoring, and engagements with city leaders to a distinguished panel of global leaders, QBE AcceliCITY propels participants toward greater and faster success.
In addition to the web-based curriculum (offered in EST and AEDT time zones), publicity, resources, mentorship and support will be provided. Please note, all special/pitch events will be held in EST. Below is a look at the 2023 program timeline
April 1-30: Applications Open
June 1: Semi-finalists announced
June 6-Sept 8: Accelerator program (web-based curriculum)
Aug 28-Sept 1: Smart-up Week
Sept 25: Finalist Announcement
Oct 2-5: Finalist Bootcamp
Nov 2: Final Pitch Event – Winners selected
About Leading Cities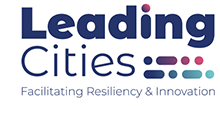 Leading Cities is a Boston-based global non-profit founded by Dublin, Boston, Barcelona, Rio de Janeiro, Lyon, Hamburg, Lisbon, Zapopan, Vancouver, and Haifa. It was built on the philosophy that cities, which for the first time represent most of the world's population, are essential to overcome our great challenges—climate change, human equity, and technology development. Originally established in 2008 at Northeastern University, it later spun off as an independent organization expanding beyond research to advance government sustainability and resiliency. Since then, Leading Cities has evolved to provide a wider range of services for governments, start-ups, and corporations. To connect its global networks, LaunchPad 11 was launched as the first metaverse ecosystem for Smart & Resilient City innovators by clustering entrepreneurs, investors, and decision-makers. Its signature program, the QBE AcceliCITY Resilience Challenge, is considered one of the Top 5 Govtech accelerators in the world.
Contact
For questions, contact QBE Foundation Manager Josie Barnett or the Leading Cities team.