The QBE AcceliCITY Challenge sources global start-ups with innovative technological solutions that address the complex environmental, social and economic challenges faced by cities.
Applications
Applications for the QBE AcceliCITY Resilience Challenge 2022 are now closed. To view and learn more about the QBE AcceliCITY Resilience Challenge 2022 Winners click here.
About Leading Cities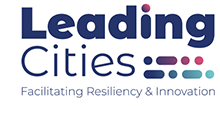 Leading Cities is a Boston-based global non-profit founded by Dublin, Boston, Barcelona, Rio de Janeiro, Lyon, Hamburg, Lisbon, Zapopan, Vancouver, and Haifa. It was built on the philosophy that cities, which for the first time represent most of the world's population, are essential to overcome our great challenges—climate change, human equity, and technology development. Originally established in 2008 at Northeastern University, it later spun off as an independent organization expanding beyond research to advance government sustainability and resiliency. Since then, Leading Cities has evolved to provide a wider range of services for governments, start-ups, and corporations. To connect its global networks, LaunchPad 11 was launched as the first metaverse ecosystem for Smart & Resilient City innovators by clustering entrepreneurs, investors, and decision-makers. Its signature program, the QBE AcceliCITY Resilience Challenge, is considered one of the Top 5 Govtech accelerators in the world.
Contact
For questions, contact QBE Foundation Manager Josie Barnett.