Every day, cyber risks continue to become more complex and sophisticated. Unfortunately, perfect security doesn't exist. Most companies will experience a data breach at some point, whether from a computer glitch, a hacker, or an unfortunate employee mistake. The costs of such an incident can be steep and long-lasting, including losing customer confidence and shareholder value. Organizations can also be fined or named in class action lawsuits. Thankfully, there are ways for smart companies to minimize those risks.
QBE has created a privacy and network security solution to meet the needs of clients and help alleviate the costs associated with cyber exposure. Our solution can help your customers be proactive in mitigating the risk of security breaches and responding quickly if one does occur.
Types of coverage
| | |
| --- | --- |
| Insurance Type | Coverage |
| Privacy and network security liability | Covers third-party claims arising from a failure of the insured's network security or a failure to protect data. Insurance also responds to regulatory actions in connection with a security failure, privacy breach, or failure to disclose. |
| Event management | Responds to a security failure or privacy breach by paying costs of consumer notifications, public relations and other services to assist in mitigating a cyber incident. Forensic investigations, legal consultations and identity monitoring costs for victims of a breach are included. |
| Business interruption | Responds to a substantial disruption of an insured's business operations caused by a network security failure by reimbursing for operating expenses and lost income. |
| Cyber extortion | Responds to the threat of calculated security attacks against an organization by an intruder attempting to coerce money, securities, or other valuables. This includes monies paid to end the security threat and the cost of an investigation to determine the cause. |
| Cyber media | Addresses the liability faced by companies that distribute media content via their website. Coverage provided for numerous perils including copyright infringement, trademark infringement, defamation and invasion of privacy. |
Capacity
$10,000,000
Target classes
Business to business information/support services
Professional services
Business to consumer information/support services
Real estate
Communications
Technology/hardware
Construction
Technology – services, other
Risk management solution
QBE partners with NetDiligence® to offer your customers responsive guidance when they need it most. The eRiskHub® portal, powered by NetDiligence, is a one-stop-shop to help your customers strengthen their cyber defenses and respond effectively to data breaches, network attacks and other security issues.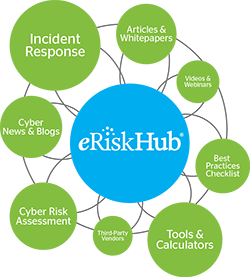 * Actual Coverage is subject to the language of the policies as issued.
Downloads
Cyber (pdf)