Our approach to materiality considers how our business creates value for all stakeholders across the short, medium and longer-term horizons. Aligned to the Global Reporting Initiative (GRI) Standards, we assess our economic, environmental and social impacts across the value chain (including positive, negative, actual and potential) on stakeholders, society at large and on our business.
The results of our materiality assessment inform our sustainability approach, strategic priorities and reporting. In 2021, we undertook a comprehensive materiality assessment, with the assistance of a third-party consultant to ensure continued independence and rigour in our process.
The following provides an overview of the key aspects of the methodology: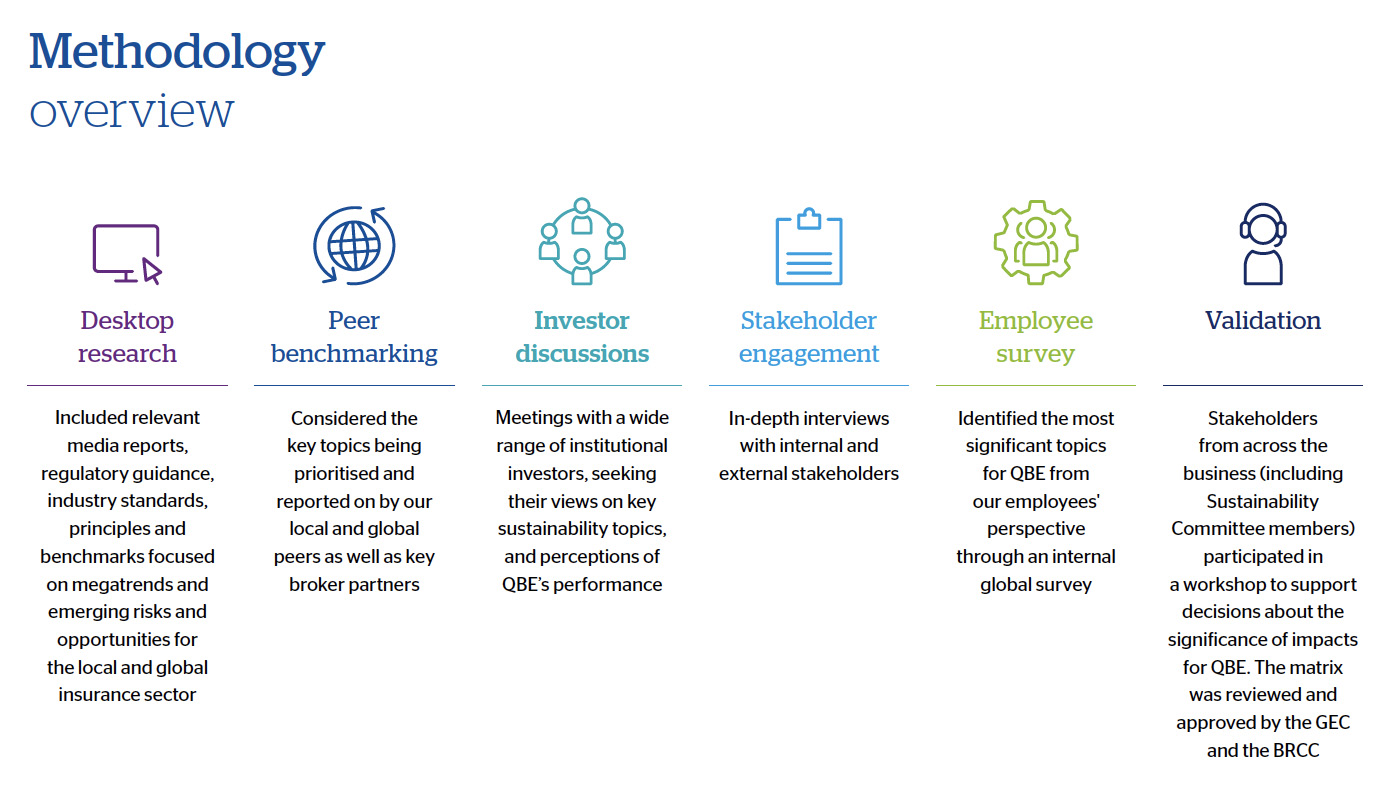 Sustainability topics were identified using both internal and external inputs. This involved gathering perspectives from a wide range of sources and included internal and external stakeholder engagement. We continue to align our materiality process to:
the GRI Reporting Principles for defining report content and report quality including Stakeholder Inclusiveness, Sustainability Context, Materiality and Completeness;
AccountAbility's AA1000 AccountAbility Principles (AA1000AP) 2018 of Inclusivity, Materiality, Responsiveness and Impact; and
The United Nations Sustainable Development Goals (SDGs).
As part of the process, we engaged a diverse range of stakeholders including investors, employees, community groups, industry associations, business partners, suppliers and think tanks. Our stakeholders were selected to ensure balance and coverage between themes and topics. Stakeholders participated in one-on-one interviews with an independent facilitator, enabling a discussion of the issues ranked as most significant by each stakeholder. The process enabled us to understand our stakeholders' unique needs, expectations, perceptions or concerns.
As part of our broader approach to sustainability, we also regularly consult with our stakeholders to help us identify risks and opportunities to gain the insights we need to ensure that our strategy, initiatives, products and services continue to meet our stakeholders' needs.
The sustainability topics identified were mapped to our Sustainability Framework to ensure coverage of the risks and opportunities relevant to us as an international insurance and reinsurance company.
The identified topics were reviewed, consolidated and prioritised. The results of this review were used to update our materiality matrix. Each topic was positioned on our revised materiality matrix consistent with the three different stages of relevance and maturity:
Prioritise – Topics of high importance to our stakeholders, with a significant impact on the environment, economy and society. These require significant management and strategic focus.
Maintain – Topics of strategic significance for which we have well-established management processes. Stakeholder interest in these topics may vary.
Monitor and Manage – Topics of increasing relevance to us, or of significance to particular stakeholder groups, warranting further analysis and management.
On completion of the revised materiality matrix, an internal validation workshop was held with the Sustainability Committee, and other senior internal stakeholders, to test and validate the assumptions used, and the outcomes. This considered the impacts of each topic in the short, medium and longer-term and the potential influence on stakeholders' perception.
The final outcomes were then presented to, and approved by, the GEC and BRCC.
To find out more about our priority material topics for 2021, please refer to our 2021 Sustainability Report.