Article
The state of motorcycle theft in Australia and how to prevent it
Is motorcycle theft common?
In short, yes.
More than 8,000 motorcycles per year are stolen in Australia, according to the National Motor Vehicle Theft Reduction Council (NMVTRC).
In 2017 to 2018, there were 115 different motorcycle makes stolen compared to 98 in 2007/08, adding to the complexity of stolen motorcycle investigation and recovery.
NMVTRC's research also revealed more than half of all stolen motorcycles are not recovered and two in three are stolen from residential locations.
And despite comprising only 4% of registrations, motorcycle thefts now amount to one in six of all stolen vehicles in Australia.
Motorcycle theft in Victoria
A total of 2,062 motorcycles were stolen in Victoria in 2017/18, based on NMVTRC's research, an increase of 17% since 2013/14.
Of the total stolen, 62% of motorcycles were less than 10 years old.
Yamaha, Suzuki, Kawasaki, KTM and Honda were the top five motorcycle makes that comprised 65% of all thefts.
Melbourne city was the top location for thefts with 110 stolen bikes in total.
The motorcycle recovery rate in Victoria is currently 35% compared to 45% nationally, according to NMVTRC's research.
Motorcycle theft in New South Wales
In 2017 to 2018, the Sydney suburb of Redfern was the top location in New South Wales for theft, with 23 stolen motorcycles, according to NMVTRC.
However, New South Wales in total had 1,865 stolen motorcycles, an increase by 23% since 2013/14.
Suzuki, Yamaha, KTM, Honda, Kawasaki were the top five stolen motorcycle makes, comprising 71% of total thefts.
Less than half (45%) of motorcycles stolen in New South Wales are recovered and 22% of motorcycles stolen nationally occurred just in New South Wales (compared with 25% of motorcycles stolen in Western Australia).
In New South Wales, 69% of motorcycles were stolen from a residence and 75% were registered.
Motorcycle theft in Western Australia
In Western Australia, 2,093 motorcycles were stolen in 2017/18 and 64% of those stolen were less than nine years old, according to NMVTRC.
KTM, Honda, Kawasaki, LongJia and Yamaha were the top five stolen motorcycle makes and 72% were stolen from a residence.
Ellenbrook was the top location for theft in Western Australia with 37 stolen motorcycles.
Motorcycle recovery in Western Australia is currently 52% compared to 45% nationally.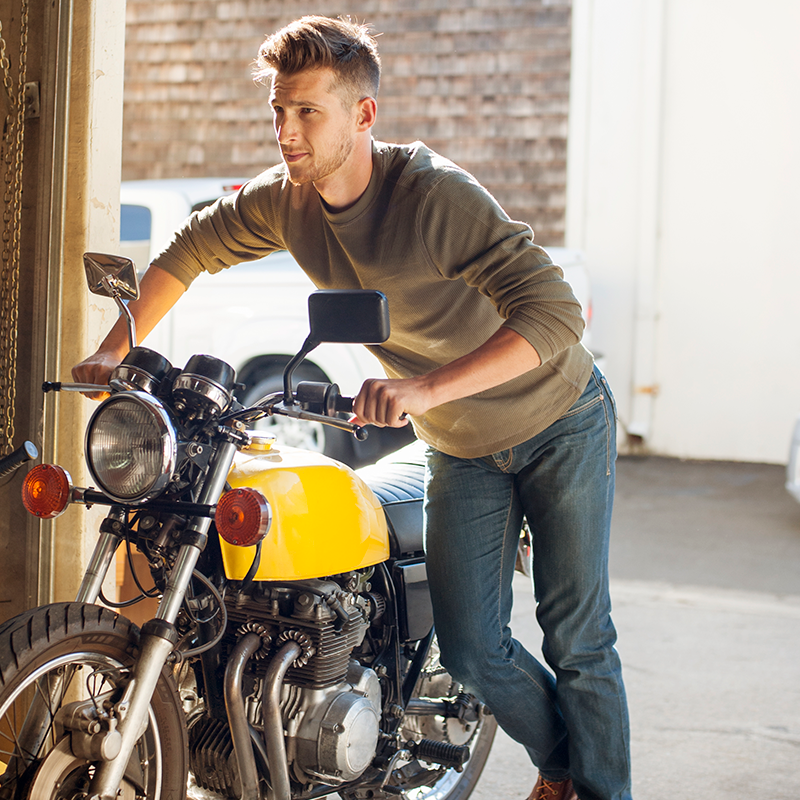 How to prevent motorcycle theft
In thinking about how to stop motorcycle theft, QBE Motorcycle product specialist, Peter Margin, says there's certain actions motorcycle owners can take to help keep their bikes safe.
"Parking wisely, physically securing your motorcycle and making smart purchasing decisions should all be fundamental parts of your overall approach to protecting your motorcycle's security," he explains.
1. Park your motorcycle wisely
With research showing that most motorcycles are stolen from residential locations, Margin suggests people should conceal where they store their motorcycle at home as much as possible.
"Try to store your motorcycle next to a fixed object or anchor that can't be easily moved in a locked garage or behind locked gates. It's also clever to use a motorcycle cover," he says.
2. Have the right tools for protection
"Most importantly, make sure your motorcycle is insured and keep a record of your Vehicle Identification Number (VIN) number. This is a unique code made up of 17 characters and numbers to identify your motorcycle," Margin says.
Motorcycle owners should also consider having a manual device to lock your motorcycle up securely. A disc lock, thick chain and padlock or a U-lock are some examples, according to Margin.
"It's also a good idea to invest in an alarm for your motorcycle lock. If your motorcycle is attempted to be stolen, at least the burglar will be startled, or a passing person or neighbour may be alerted. In the best case scenario, the burglar may not even attempt theft if they see the alarm initially," he adds.
3. Be smart about your motorcycle purchase
Be careful about purchasing your motorcycle in the first place. If you're buying your motorcycle from a private seller, do a proper background check, says Margin.
"To make sure your motorcycle isn't listed as stolen, as written-off or not under finance, you can conduct a Personal Property Securities Register (PPSR) check.
4. Insure your motorcycle
How does motorcycle theft insurance work?
There's a range of options when it comes to choosing the best policy* for your needs.
Comprehensive
Covers damage to your motorcycle, other people's vehicles and property and additional extras:
Accidental damage
Theft
Fire
Motorcycle apparel
Travelling expenses
Emergency accommodation
Lifetime repair guarantee
Legal Liability, Fire and Theft
Covers damage to other people's property (legal liability), plus fire and theft
Legal Liability
Only covers damage to other people's property
Fire and Theft
Only covers fire and theft.
"Remember that in NSW, QLD and ACT, you need to purchase Compulsory Third Party (CTP) insurance on top of any of these covers," Margin adds.

*This is the QBE Motorcycle product disclosure statement & policy wording (QM838-0217).