Press Release
Aussie travellers urged to redefine YOLO attitude
By sitecore admin
---
22 Dec 2016
QBE data reveals injury and illness top the list for claims from overseas travellers
Cost of medical treatment abroad can cost tens or even hundreds of thousands of dollars
Holidaymakers urged to plan ahead and ensure they have adequate cover
Holidaymakers are being urged to redefine their YOLO (you only live once) attitude as new data from QBE reveals illness and injury tops the list of claims for overseas travellers.
The findings come as a timely reminder that things don't always go to plan and could prove costly without adequate insurance coverage.
New analysis of QBE claims made by international travellers since 2015 reveals the number of medical claims made up 40 per cent of the total - 58 per cent more than those made for travel delays and associated costs, and more than double those related to baggage theft, loss or damage.
Claims for lost, stolen or damaged mobile phones (10 per cent) and cameras and accessories (four per cent) rounded out the list.
Nicole Smith, Head of QBE Assist, which provides 24 hour emergency assistance to travel insurance policy holders, said: "We literally only live once, so instead of using the slogan to justify taking risks, use it instead as a reminder of what's at stake – whether that be long term damage to your health or bank account."
QBE's data showed medical treatment abroad doesn't come cheap, sometimes even for relatively simple procedures. Some recent claims costs included $33,000 to treat an allergic reaction to seafood in San Francisco and $12,000 for treating a cut leg after slipping on wet tiles in Thailand.
Ms Smith said: "One incident involving just a four hour admission to investigate leg and back pain in Hawaii, racked up a whopping $45,000 bill, for which the traveller would have been liable without cover."
More complicated and serious cases can run into the hundreds of thousands of dollars. Another recent case involved a couple who were knocked off a motorbike in Thailand, which led to life-altering injuries for one of them. The total cost of managing the injury, care and getting them home safely has exceeded $250,000.
Ms Smith said: "Venturing overseas over the summer break may be a fantastic opportunity. But things don't always go to plan and often that's far more worrying when you're far from home.
"A lost bag or mobile phone or cancelled flight will certainly put a dampener on an overseas holiday, but ending up in a foreign hospital sick or injured is most people's worst nightmare."
Smith said researching your destinations and keeping emergency contact details and policy numbers on hand can make that process smoother, should something go awry.
"It's not as fun as planning day trips or restaurant visits, but it doesn't take long and could prove invaluable should something go wrong. Knowing who to call, how to get help and what your insurance covers could alleviate a lot of the stress in an unfortunate situation and potentially save you money.
"The last thing you want on top of that is a huge bill to come home to. However, the cost is only one aspect. When you're overseas, there are a number of issues you can face including standard of care, language barriers, contacting family and friends or getting consular support – that's where we come in to provide total support in any emergency. QBE Assist is here 24 hours a day, seven days a week to give expert advice if the trip of a lifetime doesn't go to plan."
QBE advises all overseas holidaymakers to ensure they have adequate travel insurance, suited to their destination of choice and the type of holiday they're planning.
"For example, Japan's become very popular for ski trips, so it's important to ensure you have cover for those activities, remembering that most basic travel insurance doesn't cover sports like skiing and snowboarding."
Smith said gathering information and getting in touch with your insurance provider as soon as possible would help ensure your claim is approved.
"Above all else – removing yourself from danger is the first priority, but in any event, it makes it much easier if you assist us by gathering information at the time of loss, report losses to authorities, take photographs as evidence and ask witnesses for the contact details. In an emergency contact emergency services and, if admitted, to hospital the sooner you contact QBE Assist the sooner we can help."
QBE Assist Safe Aussies Abroad Guide will help avoid holiday hassles in an emergency:
Research your destination and any current travel warnings
Check you have the correct travel insurance
Make sure you know the local equivalent to Triple 0 in case you need emergency services while abroad
If you fall ill or are injured, try to obtain a medical report and hold on to any receipts for treatment and copies of any documentation given to you by the medical provider
If you have an existing condition, check you're covered
In the event of a theft or other loss, try to obtain a police report. If this is not possible obtain a witness statement or loss report from the hotel, transport provider or venue where the loss occurred
If you lose your passport, contact your local Australian consulate
Make copies of all your travel documents and send them to yourself, save on your phone and email to them to a friend
Your travel plans can be registered via http://smarttraveller.gov.au
Counting the cost – recent claim costs for international travellers
$33,000 AUD for an allergic reaction to seafood - USA
$29,500 AUD for a viral infection - Ecuador
$45,000 AUD for leg and back pain investigations- 4 hour admission – Hawaii, USA
$10,000 AUD for gastroenteritis - Germany
$12,000 AUD for lacerated leg- tripped on wet tiles – Thailand
$252,000 AUD for severe injuries - motorcycle accident - Thailand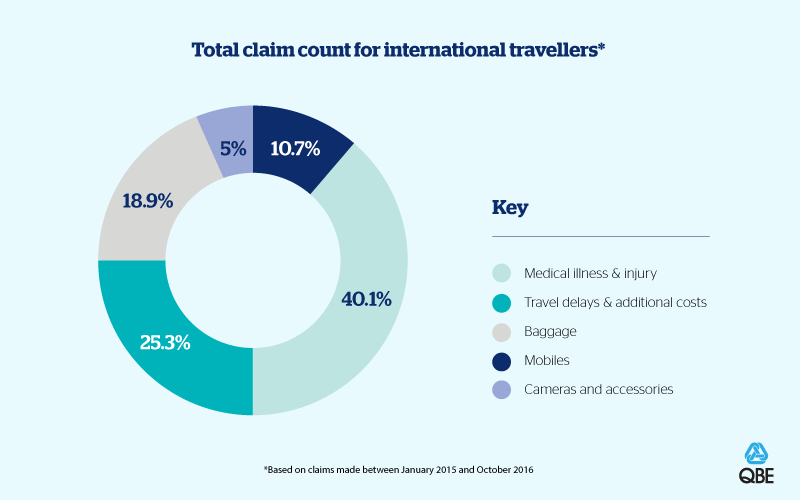 About QBE Assist
QBE Assist was established specifically to provide emergency assistance for QBE customers travelling anywhere in the world who are injured, ill or have travel plans thrown into chaos.
The team of medical and insurance experts provide specialist assistance such as liaising with the local medical teams to assess and monitor your condition, arranging emergency transport home, sourcing interpreters for non-English speaking locations, providing emergency funds and passing on urgent messages to family or friends.
For further information and case studies, please contact:
Kate Sinclair
Senior External Communications Specialist
QBE Australia
Phone: 02 9375 4882/0435 688 785
Email kate.sinclair@qbe.com
Samantha Baden
Senior External Communications Specialist
QBE Australia
Phone: 02 92397889/0466 567 442
Email samantha.baden@qbe.com