Article
Digital drivers' licences: How does it affect NSW road rules?
Digital drivers' licences are here for New South Wales residents.
You can now use your phone to show your driver's licence to police and as ID for pubs and clubs. To access your digital driver's licence you'll need to download the Service NSW app to your smartphone.
But how does this affect the road rules associated with mobile phone use while driving?
The rules around this are clear.
You can only use your mobile phone to open your Digital Driver's Licence after being requested to do so by a police officer. It's illegal to touch your phone before the police officer asks you to.
In NSW, drivers who use a mobile phone illegally will be penalised five demerit points. And during double demerit periods, drivers who break the rules will be penalised 10 demerit points, according to Transport for NSW1.
So if you're pulled over, don't automatically reach for your phone in the same way you might if you were about to present your regular driver's licence. Instead wait for the police officer to ask you for your digital driver's licence before you touch your phone.
Mobile phone rules in NSW
Essentially, you aren't allowed to touch your phone at all while you're driving, according to Transport for NSW2.
Drivers can make or answer a call, play music and use a navigation or GPS system while you're driving, but only if you can use these functions without touching any part of the phone.
This means using Bluetooth, voice activation or the controls in your vehicle are all okay.
Your phone must also be in a fixed cradle that doesn't block your view of the road.
Drivers cannot use phones for anything else, including texting or audio texting, emailing, social media, video messaging or chat or taking photos.
Transport for NSW says if you want to use any of these functions, your car has to be parked and out of the line of traffic. You can't touch your phone waiting at traffic lights or in traffic.
Drivers are only allowed to hold a phone to pass it to a passenger.
Mobile phones are a large contributor to distracted driving in Australia and one of the most common causes of car accidents.
Putting your mobile phone out of reach in a fixed cradle, in the glovebox or your bag are some of the ways to stay safe on the road.
How to get a digital licence
Download the Service NSW app
Register with your email address
Enter your licence details, including your address, licence number and the number on the back top left of your licence card into the app
Who accepts the digital licence?
NSW police officers and other licence checkers will accept your digital licence just as they would your plastic licence card.
They can scan the QR code and visually inspect the features to see if it's valid.
Bars, pubs, restaurants, hotels, convenience stories and petrol stations are some examples of places or venues that may also ask for proof of identity.
Given that the digital licence and the app is new technology, Service NSW has recommended you also carry your plastic licence card because it may take some time before all organisations will be ready to accept the digital driver's licence.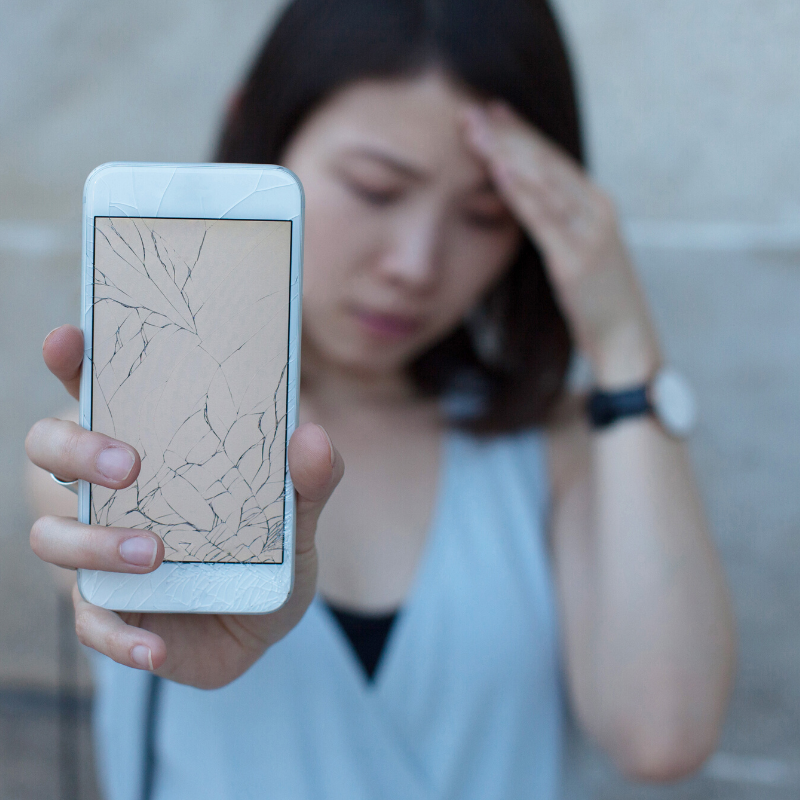 Cracked or damaged phone screen?
A cracked phone screen may affect the ability for certain organisation's to accept the digital driver's licence, says Service NSW. So make sure you've also got your plastic licence card on hand if your phone screen is compromised in any way.
Service NSW has said they've built strong partnerships with identify theft and cyber security experts to ensure their security measures are comprehensive enough to protect your privacy and identity at all times – much like the measures taken for internet banking apps.
What happens if your phone is lost or stolen?
Your digital driver's licence is protected by your phone's PIN and your touch ID if available, and your Service NSW app PIN.
To report a stolen or lost phone, you can contact PoliceLink on 131 444 or create a
Police report online
via The NSW Police Force Community Portal, where you can track your report and receive status updates online. You'll just need to link your
MyServiceNSW Account
to the NSW Police Force.
---
1https://roadsafety.transport.nsw.gov.au/stayingsafe/mobilephones/know-the-rules.html
2https://roadsafety.transport.nsw.gov.au/stayingsafe/mobilephones/know-the-rules.html