Article
Risky business: insuring the gig economy
The number of people working in the gig economy is growing significantly
While offering plenty of positives, working in the gig economy has inherent risks, including gaps in workers compensation coverage
Through group personal accident insurance schemes, gig-economy workers can access affordable, tailored cover.
Whether it's a spare-time side hustle or a way of working to which someone's fully committed, the gig economy – otherwise known as the on-demand economy – essentially refers to any kind of casual, short term work.
It's a term used to capture people working in a non-traditional way, maybe via digital platforms such as Airtasker or working on a freelance basis, engaging with businesses job by job. From delivery drivers to doctors, exercise professionals to Etsy store owners, professional services to IT contractors, there is a wealth of Australian professional people working in this way – 3.3 million of them1, in fact.
For many people, it's a choice that facilitates the lifestyle they desire. For others, it's a means to an end. One thing's for sure, though: it's serious business.
Data shows that between 2015 and 2019, the value of the gig economy grew nine-fold to $6.3bn2, and at the last count 62.8 per cent of businesses in Australia were sole traders3.
Add to that the impact of the pandemic – which saw an actual unemployment rate of 7.4 per cent in June 2020 (a 21-year high) and an effective unemployment rate of 15 per cent in April 20204 – and those figures are likely to be higher as people seek alternative ways of working in the future.
"With the pandemic we've seen a rapid shift in what work looks like," says Janette O'Neill, QBE's Head of Sustainability.
"There are clearly lots of benefits for gig workers around how they utilise their time, where they choose to work and how they make their money. It also provides flexibility for employers as they're not locked into long-term contracts.
"But then there are also a lot of risks."
The risks of working in the gig economy
While the freedom of working in the gig economy is understandably attractive, it comes at some cost.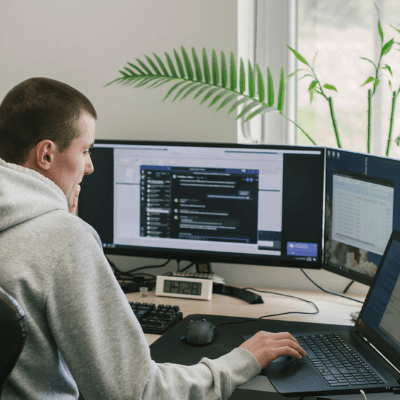 Of course, the certainty of employment simply isn't there. And as well as the regular salary and superannuation contributions, the other benefits of employment are foregone – annual leave, personal and sick leave, long-service leave, parental leave and carer's leave, for example.
And then there are insurances.
Employees would usually be covered by their employer's professional indemnity and public liability policies, for example. And then there's workers' compensation, which gig-economy workers in Australia currently fall outside of5.
"Many people going out on their own and working in this way probably aren't too aware of the insurance side of things," says Sharron Sykes, QBE's National Underwriting Manager – Australia. "But navigating the insurance needs – particularly when it comes to workers' compensation – is very challenging."
Sole traders cannot cover themselves as an employee for workers' compensation, and contractors need to check with each individual employer about whether they're covered under the employer's scheme6.
Group personal accident insurance for gig-economy workers
Of course, one of the ways gig-economy workers can protect themselves is by taking out their own insurance – and Group Personal Accident and Sickness insurance, part of the QBE Accident and Health suite, can provide the required cover.
Group Personal Accident and Sickness insurance can provide group cover to companies or common interest groups. By identifying groups of workers via membership groups or associations, tailored coverage can be created.
"One of the benefits with accident and health products is that it can be much more flexible than workers' compensation," says Sykes.
"Workers' compensation is quite fixed around the benefits that can be provided, as determined by the relevant state legislation, whereas with accident and health we can actually ask people what's keeping them up at night – we want people to understand that we're insuring one of their most important assets, which is their income."
For people working in the gig economy, the profession's membership body or industry association is a good first port of call to enquire whether there's a group personal accident insurance scheme for gig-economy workers in that profession.
"You could take similar cover out as an individual, but it's going to be much more beneficial to be part of a group-purchasing arrangement because you'll get the economies of scale around pricing and the level of cover you'll receive," says Sykes.
And if the relevant membership groups or associations don't have this type of arrangement, just ask. After all, it's just another aspect of the ever-changing world of work in which we belong.
Income protection insurance is another important consideration for those working in the gig economy – after all, their ability to earn relies completely on their physical and mental ability to do the work.
Creating a sustainable future for the gig economy
The world of work has changed significantly, and new challenges – such as ensuring gig-economy workers have the requisite level of insurance cover – will emerge along the way.
"A few years ago, if people talked about the future of work, they usually referred to the building and the way employees worked together within that building," says O'Neill. "Now it's far broader than that."
The gig economy is an important way of working and can help businesses and the individual – and potentially help society as a whole.
"By supporting ways of work that have low barriers to entry, we create more opportunity and support social and economic wellbeing." says Sykes.
And for those who are grabbing those opportunities, it's vital they have an insurance safety net to protect them – because the one that's there in traditional employment simply isn't on offer when you're going it alone.
Find out more about QBE Group Personal Accident and Sickness Insurance
---
1
https://www.abs.gov.au/statistics/labour/earnings-and-work-hours/characteristics-employment-australia/latest-release
2
https://actuaries.asn.au/Library/MediaRelease/2020/MediaReleaseGigEconomyGreenPaperFinal161220.pdf
3
https://www.asbfeo.gov.au/sites/default/files/ASBFEO%20Small%20Business%20Counts%20Dec%202020%20v2.pdf
4
https://www.mckinsey.com/industries/public-and-social-sector/our-insights/the-next-normal-for-australian-industries-and-workforces
5
https://www.arpa.org.au/documents/item/447#:~:text=They%20are%20less%20likely%20to,insurance%20in%20gig%20economy%20roles.
6
https://business.gov.au/risk-management/insurance/business-insurance