Article
Insurance essentials for retail businesses
From theft to falling over, there's plenty of risk in retail
Public liability insurance is highly recommended
Follow this checklist to make sure your retail business is covered.
While it's exciting to set up shop, you'll want to have the right insurance cover in place should things go wrong.
Imagine a customer falling over and injuring themselves, a nasty storm damaging all your stock, or a break-in that leaves you without your computers.
It's the stuff that keeps you awake at night – which is why it's important to protect everything you've worked so hard for.
Here's a few tips to make sure you have everything you need in your insurance shopping basket.
Buy your public liability insurance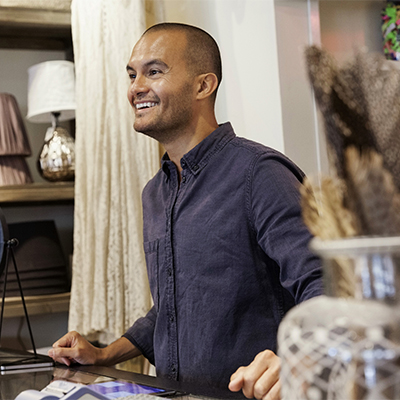 Public liability insurance – also known as business liability insurance – is the first item on your list. When you own a shop, it's your responsibility to protect the people that visit.
If someone trips and injures themselves in your store, gets sick from the food you're selling or is hit by falling stock, public liability insurance can cover you.
In 2021, the most common level taken out by retailers was $20 million*.
Cover your stock for theft
Whether you're selling shoes, sheets or snacks, if you're in retail, your products are your business – and if they go walkabout, it can be a major setback.
Our claims data tells us burglary is the number one insurance claim in retail*, so it makes sense to ensure you've got the goods covered.
Consider glass cover
If you've got a shopfront, you've got a shop window. Glass cover can help reduce the impact of any breakage – accidental or deliberate. That way, you can continue to attract customers through that all-important window shopping.
And money cover too
Despite the shift to contactless payments, theft of money is still a threat. So if you keep cash in your store, you can take out insurance to cover it.
Look at building and contents cover
Just like you take out insurance for your lounge and TV in your home, it's important to insure the building and contents of your retail store. It can cover you for the physical loss or damage of your building and what's inside it.
Weigh up business interruption
We've recently seen the impact weather events can have on Australian businesses. If your shop was damaged and you had to close for a while, would your cash flow get you through?
Business interruption insurance can give you peace of mind by covering your lost income – as well as taking care of ongoing costs such as rent and electricity until you're back up and running.
Check your workers compensation obligations
If you employ anyone – including casuals – you'll need workers comp insurance. It's designed to cover staff for injuries or illnesses sustained at work. Laws are different from state to state, so check the requirements in your area.
Machinery could be worth protecting too
If your retail store has machinery or equipment, for example, fridges or freezers, a breakdown could cause serious problems.
Cover your work vehicle
Your work car or van is an important asset in your business, so make sure you have the right cover. Most insurers, including QBE, offer commercial car insurance separately, so be sure to add that too.
Top 3 insurance claims for retailers*
What are the top three claims for retailers and how much is the average loss?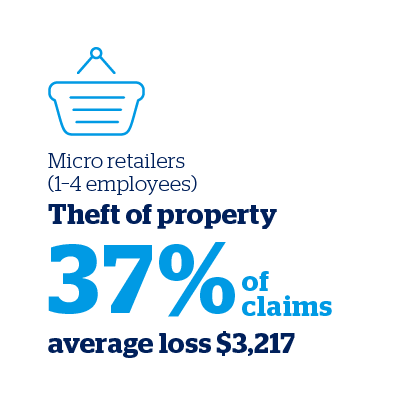 Micro retailers
Theft of property (37% of claims, average loss $3,217), followed by storm damage (19% of claims, average loss $10,230), then mechanical/equipment breakdown (16% of claims, average loss $3,567).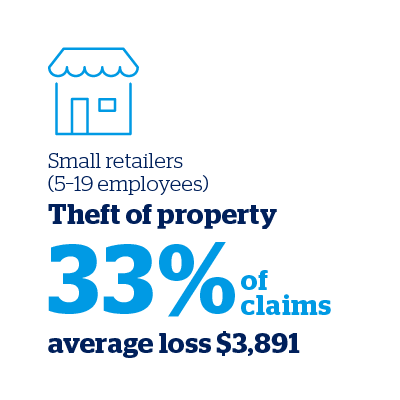 Small retailers
Theft of property (33% of claims, average loss $3,891), followed by mechanical equipment/breakdown (22% of claims, average loss $4,966), then storm damage (17% of claims, average loss $14,242).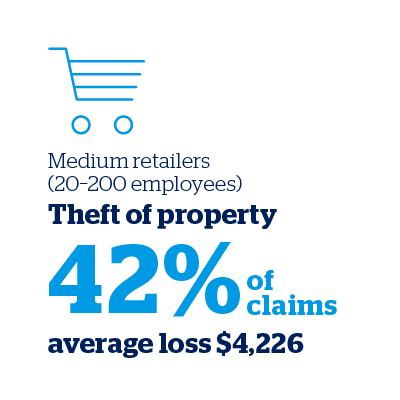 Medium retailers
Theft of property (42% of claims, average loss $4,226), followed by storm damage (18% of claims, average loss $26,845), then mechanical/equipment breakdown (10% of claims, average loss $5,636).
These events could happen at any time. But when you shop for the right small business insurance you can focus on your customers, knowing your business is protected.
---
* QBE Industry Verticals Retail research, September 2022. Data including incurred losses and percentage of reported insured losses are representative of QBE policyholders from 2015-2019.
This Small Business Insurance Pack is issued and underwritten by QBE Insurance (Australia) Limited (ABN 78 003 191 035, AFSL 239545). Any advice provided is general only and has been prepared without taking into account your objectives, financial situation or needs and may not be right for you. To decide if this product is right for you, please read the QBE Small Business Insurance Policy Wording.