Article
Insurance for tradies – make sure your insurance is up to the job
Whatever trade you work in, there are plenty of ever-present risks
Public liability insurance is a must-have for every tradie
Make sure your business is covered by following this insurance checklist.
Whether you're a sparky, chippy or brickie, you've got to be tooled up when it comes to looking after your business. If something goes wrong on the job – or your ute gets ransacked – you need to know you're covered.
Here's a few tips to help you build your insurance toolbox.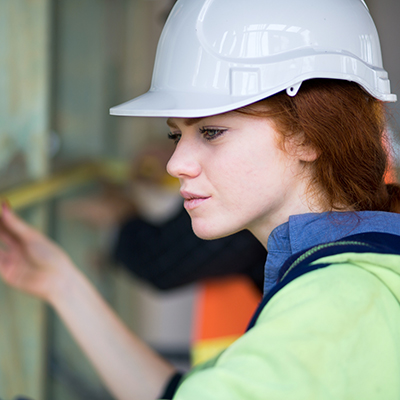 Buy your public liability insurance
So, what is public liability insurance? Think of it as a safety harness for your business. If someone gets injured due to your work, you're covered. Or if you accidentally cause damage to the property you're working on, same deal.
Public liability is often needed to get on site and can help cover any legal expenses of a claim. A minimum of $5 million coverage is usually required, but depending on the job, you may need more.
Get your certificate of currency
Your certificate of currency is your ticket to work on site. It proves you have current public liability insurance, and in most cases, the site manager will ask for a copy before you get cracking.
Cover your tools
If you don't have your tools you can't get the job done – and getting them ripped off is always a risk. Research shows theft of property was the most common claim for carpenters and electricians. So tool insurance for tradies could be a worthwhile investment.
Accidents happen too – who hasn't driven off with something valuable on their roof? That's where Portable Items cover comes in. You can add it to your policy, and it takes care of loss or damage anywhere in Australia.
Check your workers comp obligations
If you employ anyone else, you'll need workers' compensation insurance, which covers employees for physical and mental injuries suffered through work. Laws differ from state to state, so look into your local obligations.
Make sure your subbies are insured
If you use subcontractors, check they have their own public liability insurance. Otherwise, you could find yourself forking out for any mistakes they make.
Cover your work ute
Your ute is vital to your business, so make sure you have the right cover. Most insurers, including QBE, offer commercial car insurance separately, so be sure to add that too.
Top 3 claims for tradies
To help you understand the common risks for your industry, here are the top three claims over four years for a range of trades*.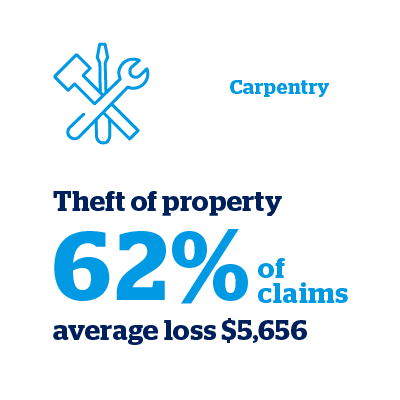 Carpentry
Theft of property (62% of claims, average loss $5,656), followed by accidental damage to third-party property (13% of claims, average loss $10,549), then accidental damage to own property (11% of claims, average loss $3,430).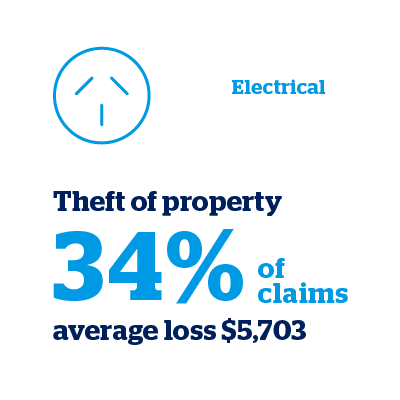 Electrical
Theft of property (34% of claims, average loss $5,703), followed by accidental damage to third-party property (28% of claims, average loss $5,364), then faulty workmanship (11% of claims, average loss $8,175).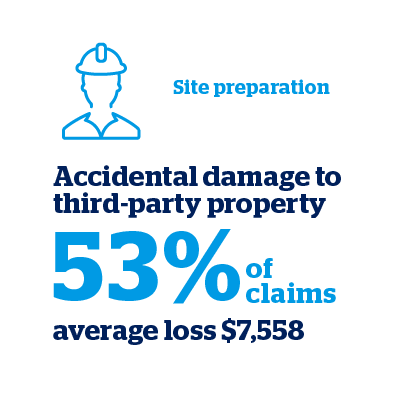 Site preparation
Accidental damage to third-party property (53% of claims, average loss $7,558), followed by theft of property (19% of claims, average loss $5,616), then accidental damage to own property (14% of claims, average loss, $,3632).
These events could happen at any time. But with the right small business insurance, you can jump on the tools knowing your business is protected.
---
* QBE Industry Verticals Construction research, September 2022. Data including incurred losses and percentage of reported insured losses are representative of QBE policyholders from 2015-2019.
This advice is general in nature and has been prepared without taking into account your objectives, financial situation or needs and may not be right for you. You must decide whether or not it is appropriate, in light of your own circumstances, to act on this advice. To decide if this products is right for you, please read the QBE Small Business Insurance Policy Wording. Insurance issued and underwritten by QBE Insurance (Australia) Limited (ABN 78 003 191 035, AFSL 239545).