Article
Lauren Parker - Update from Yokohama World Para-triathlon Series, Japan
Since my last race (Devonport World Cup) I underwent further spinal surgery with the aim to relieve the chronic back pain I'd been experiencing for a few months prior to Devonport (this pain is different to the constant nerve pain I experience throughout my body). While this was partially successful I still continue to experience the pain and was forced to have a couple of weeks of no training as I recovered.
The decision was made to skip a big World Series race in Milan I had previously planned to do, to allow further time for recovery and to build the training back up.
So my next race became the Yokohama World Para-triathlon Series (WPS) in Japan on Saturday 18 May. Last year I finished 2nd in this race in what was my first international para-triathlon.
Having lost those couple of weeks of training due to the spinal surgery, I knew my fitness and condition would be affected but I was still determined to give the race a good crack and see where I was at.
I flew out of Sydney Airport on the Tuesday before the race. It was good to get on the ground early and settle into the race hotel and surrounds.
The following few days consisted mainly of training, checking out the course and resting. It was good to see other members of the Aussie team rolling in during the week.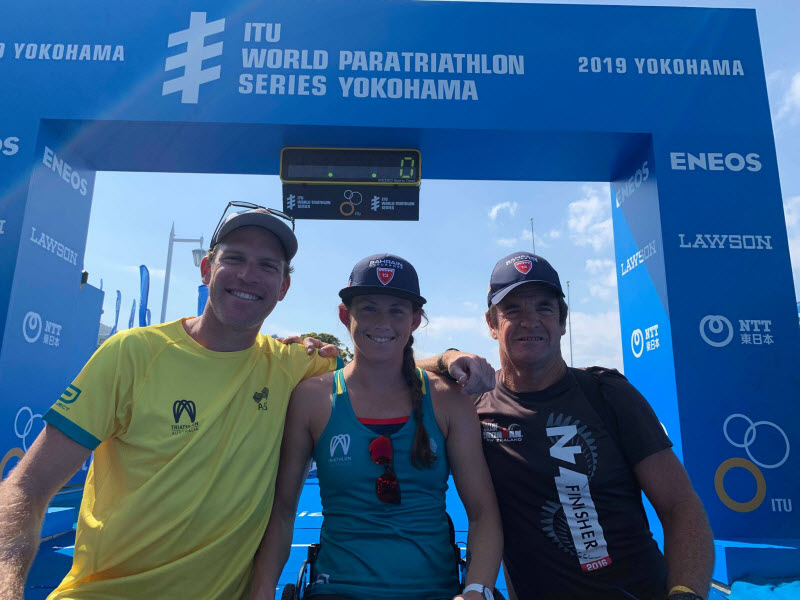 On Friday morning we lined up for the usual bike familiarisation. The bike and run courses are fairly technical winding around the streets of Yokohama. I'm happy to have raced the year before so I know what to expect.
Friday afternoon is bike/race chair check-in before the swim familiarisation, followed by race briefing, an early dinner, then bed.
Race day
I roll over to the race precinct from the hotel, literally straight across the road which is very handy.
The sun gets up super early in Japan at this time of year and Yokohama is already sparkling in beautiful clear Spring conditions.
We check in with the officials. Race numbers and timing chips on. My wave start is 7.30am.
My coach Dan (Atkins) and handler Robbo (Dave Robertson) help me set up my transition area...pumping up the bike/chair tyres, and filling my drink bottles.
I start my usual warm up with a spin on my hand-cycle, fixed to a stationary roller.
The other para-triathlon category athletics are introduced and start their races. 30 minutes to go.
I get into my wetsuit and roll towards the swim start as the commentator (plus good friend and supporter) Greg Welch introduces me and my fellow competitors.
Robbo drops me at the swim start pontoon and after a few final stretches I'm in the water ready to rock n roll!
Swim (750 m, 1 loop course)
The starter hooter goes and we're away! There are 7 athletes in my race (Women PTWC) including current World Champion Emily Tapp (AUS), the current Commonwealth Games Champion Jade Hall (GBR), and winner in Yokohama last year Wakako Tsuchida (JAP).
As I finish the swim I'm in 2nd place, about 1 minute behind the swim specialist Margret Ijdema (NED).
Our first transition goes smoothly and before long I'm out on the road chasing Margret down.
Bike (20 km, 4 laps)
I settle in quickly to the bike and push hard as I know my best chance of winning will be to build up a good lead going into the run leg. It takes me until the 3rd lap to catch Margret; she is having a good race. Now in the lead, I know I have to keep pushing hard to keep the chasers at bay.
By the end of the bike I've got the lead out to just over a minute.
The second transition again goes well and I'm soon back on the road in the racing chair.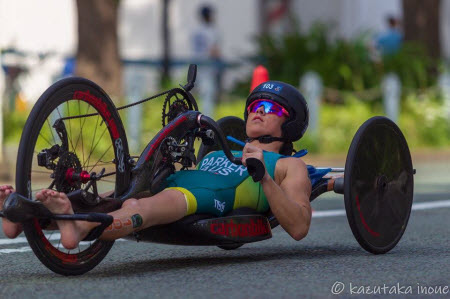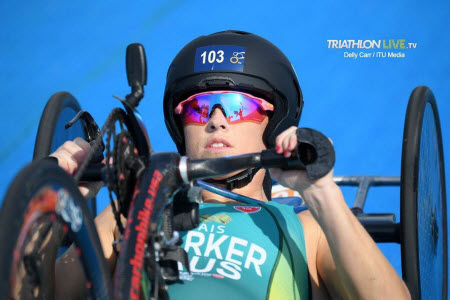 Run (5 km, 1 lap)
Knowing the quality of the other athlete's run legs I know they will be hungry to chase me down. This thought is driving me to keep pumping the arms and give it everything.
Just like at the Commonwealth Games, British athlete Jade Jones, who has a para-athletics background, gets to me inside the final 1.5 km. She is impressive on the run and I'm no match for her today.
Still I keep pushing. American athlete Kendall Gretcsh is also having a great race and she comes past me in the late stages of the run.
I come into the long finish chute, careful not to miss the final turn like I did last year!
I can see Jade and Kendall not too far ahead but as I cross the finish line I will have to settle with 3rd place today.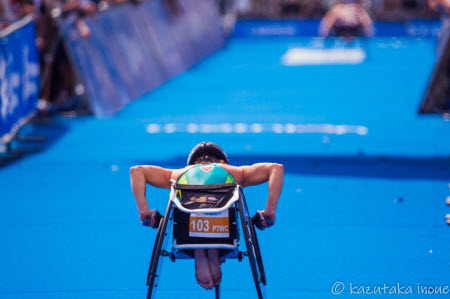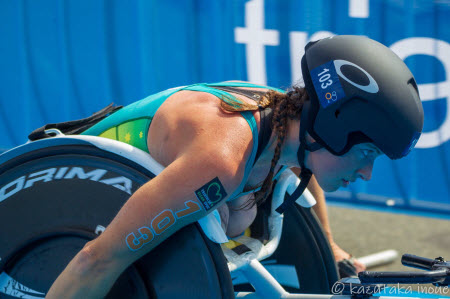 Finishing behind me in 4th is local favourite Wakako Tsuchida. She has the fastest run split of the day and I'm happy to have held her off this year.
Jade Hall 1:09:01

Kendall

Gretsch

1:09:33

Lauren

Parker !:09:55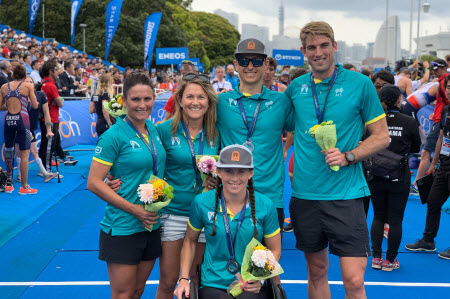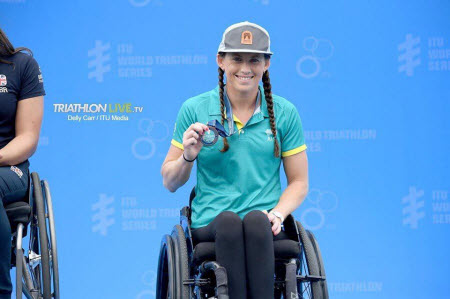 While initially disappointed not to get the win, which was my aim coming into this race, I'm really happy to get another podium finish and be right in the race, especially after the interrupted preparation due to the spinal surgery.
I manage to achieve a 5 minute PB from the same race last year, with improvements across all areas which is very encouraging.
Before getting home after Yokohama we had a training and development camp for the Aussie Para-triathlon team in the AIS in Canberra. This was a good opportunity to spend some time with various experts across a number of fields to find ways to further increase my performance in training and racing. Spending time training and testing in a specialised heat chamber to stimulate race conditions for the Tokyo Paralympics race was one of the highlights.
Looking ahead...
Following the AIS camp I will have a short training block at home in Newcastle.
My next race will be the Montreal WPS on June 29. Following this I will have another 5-6 week training block at home before the climax to the season which will come in the form of a training camp in Japan, the Tokyo 2020 test event, followed by the World Championship race in Lausanne, Switzerland.
I just want to say a massive thanks once again for all the incredible support especially over the period of my recent surgery and then again over the Yokohama race weekend.
I'm looking forward to a busy and exciting few months ahead and I'll be sure to keep you updated as the journey continues.
Lauren