Article
Lauren Parker - 2023 so far
2023 started off great with a couple of race wins. The first was the Oceania Championships in my home town of Newcastle, where I scored my fourth consecutive win at the event.
The second win was in March at Devonport, Tasmania at the World Triathlon Series. The world series races earn more points for your world ranking as the higher calibre races. After Devonport, I returned home for training, focusing on my handcycling.
I'm aiming to race in paracycling as well as paratriathlon events with the ultimate goal of qualifying for both disciplines at the Paralympics in Paris next year.
In April, I trained with my coach and the squad for a week on the Gold Coast. After that, my coach and I drove to Brisbane for the Oceania Championships in handcycling. I raced the 20km time trial and the 40km road race events. I became Oceania Champion for the second year in a road in both events. The main goal of racing there was to get more results on the board for handcycling and show Cycling Australia management where I was at.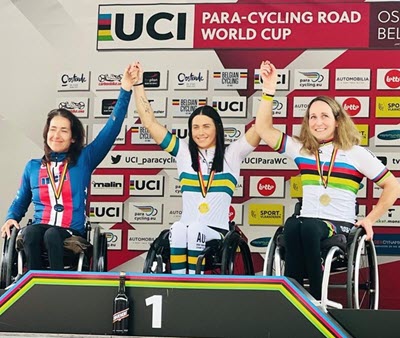 In May I headed off for my first international paracycling World Cup event in Belgium. I was really looking forward to going away with the Australian Cycling team for the first time. I was also eager to race the international girls for the first time. I had no idea where I was at against the rest of my competition, so I was looking forward to being the underdog. My events were a 20km time trial and a 56km road race.
In the time trial, athletes one minute apart. You wear an earpiece so the coach can talk to you about positioning or any hazards on the course. That was a huge benefit.
I was third starter out of 18 athletes. I felt really strong throughout the time-trial and, to my surprise, when my coach gave me a time split after the first lap, I was in the lead by at least 20 seconds. I really pushed the second lap hard and finished in a good time. I had to wait until all the riders had finished to know where I placed. To my surprise, I won by one minute and 20 seconds, beating the current world champion and paralympic champion!
I was ecstatic that I could prove to Cycling Australia that I was able to be successful on the international stage in paracycling. I knew I was strong on the bike, but I didn't expect to win my first ever international event. I was so happy with my performance.
Two days later I raced my first road race which is very different to the time-trial event. All the athletes start together, and you can draft off each other, meaning you can sit on each other wheels and take turns at leading the pack. It's so dangerous, and the bikes hit each other all the time. It's like dodgem cars!
The course was eight laps through town which had cobblestones. The race is very tactical, and you need to stay focused on the next move. At any second an athlete could make a sprint to separate the group, so you need to be ready to jump out and try to stick on their wheel. I ended up being the one to do that and break up the group.
With three laps to go I made a break, and the current world champion went with me. It was just us out in front with the next pack about a minute behind. When we were coming up to the last left-hand corner before the finish straight, the world champ snuck on the inside and got in front. It came down to a sprint finish and she just got me on the line. I finished second, but I was so happy given it was my first road race.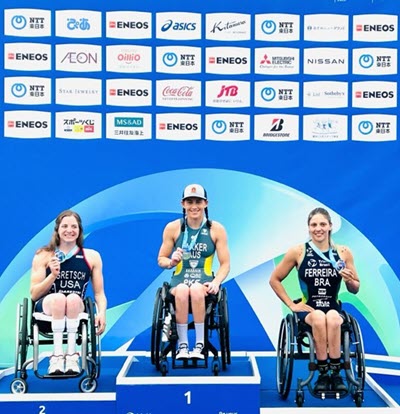 I learned a lot about racing and will take that to my next paracycling event which will hopefully be the Paracycling World Championships in August in Glasgow. I find out in June if I have made that World Championship Australian Team. After those results, qualifying for the Paralympics looks even more promising.
A week after Belgium, I flew straight to Tokyo, Japan for the second race of the World Series triathlon events. Race day was absolutely pouring. This can sometimes be difficult because on the race chair I use for the run leg, rain normally makes the gloves slip on the push rims, so you need to use a special glue that allows them to grip a little bit better. I managed to get through the race and scored another World Series race win!
The qualification period for the Paralympics starts 1 July 2023 through to 1 July 2024, so every race counts. The first race of qualification for the paratriathlon is in Montreal. Then I go straight to the UK and Europe and will be away training and racing for 12 weeks.
I'm looking forward to going away but it's really hectic at the moment as I'm trying to sell my house. Thankfully, I have some good support at home who can help with that.
If you'd like to follow my Europe races and updates on social media, my schedule is below.
9/07/23 – Montreal World Paratriathlon Series Race 3, Canada
15/07/23 – World Triathlon Para Series Race 4, Swansea, Wales
16/07/23 – Ironman 70.3, Swansea, Wales
9-13/08/23 – Para-Cycling World Championships, Glasgow, Scotland
12-13/08/23 – Para Triathlon World Cup, Paris, France
23/09/23 – World Para-Triathlon Championships, Pontevedra, Spain
As always, thank you for your support.