Article
Tap and go: Portable customer payment options for small businesses
Accept customer payments anywhere that has internet access
Get a compact device with minimal outlay and setup time
Access extra features to help you manage your business.
When it comes to customer payments the world is changing. Cash is no longer king, and business owners aren't tied to their shopfront or office. Contactless payments have become the norm.
As we become more flexible in the way we work, mobile payment systems have increased in popularity. Customers are also driving change.
Digital wallets like Apple Pay and Samsung Pay are replacing physical cards. Phones are fast becoming the default payment gateway, driving the need for mobile technology. A significant 92 per cent of Australians own a smartphone1, which is often the all-in-one tool for researching, online shopping and in-store payments.
Why go mobile?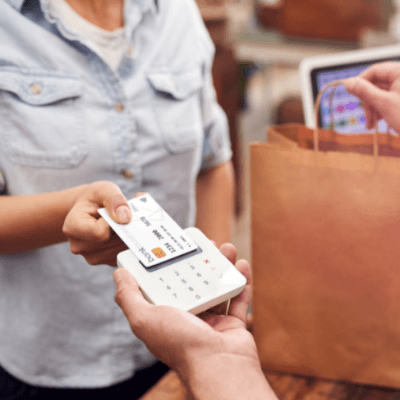 A portable payment system could be a good fit if your business is mobile or just starting out. There's minimal outlay and most providers give you the option to scale up as your business grows.
If you already have a smartphone or tablet, you're half way there. When you sign up with a mobile payment company, they'll usually give you a reader that's connected to an app, powered by the technology in your device.
Once you're set up, you can accept card payments from anywhere you can access Wi-Fi or a 3G/4G/5G network. Customers simply tap their card or phone on the reader to pay2.
Portable payment systems can be used in a multitude of places:
On the road
Market stalls
Job sites
Food trucks
Trade shows
Home deliveries
Dining tables.
The technology is so accessible, even The Big Issue street vendors are equipped with mobile payment devices3.
Related article: How to protect your business from cyber crime
Choosing your technology
So, what is the best portable card payment machine for small business?
Choosing a payment system comes down to how your business operates, your existing technology, and your budget and security needs.
Most mobile payment systems take up very little room, so they're great for small spaces like a market stall. There's no need for a bulky cash register and a point of sale terminal. Bricks and mortar businesses will have more flexibility and may prefer a larger, full-featured setup.
To get started you'll need a payment gateway, accessed through a reader connected to your phone. Some providers offer a card reader free of charge, with additional readers available at an added cost.
Many systems come with handy features for small businesses4, including:
The ability to capture signatures on your phone or tablet
Barcode scanning
Integration with your eCommerce platform
Tools to email or SMS receipts
Access to sales data and reports
Marketing tools to promote your business
Calendars to schedule customer appointments
Inbuilt security features and offerings including data encryption, alerts to suspicious behaviour and dispute management support.
Selecting your provider
Choosing a mobile payment provider is no different to finding a phone or internet network. It's a matter of defining your business needs and choosing a service within your budget and security requirements.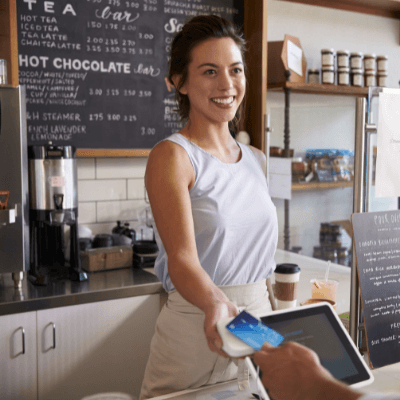 It could also come down to service. A payment system is the lifeblood of your business, so do you need 24/7 support or are business hours adequate? What is their security offering, and do they comply with Australian security standards? Before you sign a contract, check customer reviews for pros and cons and speak to business owners in your industry.
Here's a brief overview of three mobile payment providers.
Square
The Square system comes in a variety of options, from a minimalist pocket-sized reader to a full-featured terminal. Square meets Australian security standards and has a number of security features including encryption and monitoring to keep payments secure and customer data safe.
See how it works
PayPal Here
PayPal has expanded into mobile payments with a compact hand-held system. If you already use PayPal for your eCommerce site, you may appreciate the ability to see all your sales in one familiar interface. Pay Pal boasts compliance with the highest security standards and offers end-to-end encryption, while it's chip and PIN technology is backed by risk and fraud management systems.
See how it works
Albert
Operated by CommBank, Albert was one of the first mobile payment systems on the market in Australia. Albert meets all required Australian Security Standards and has a 'guard dog' security feature that constantly scans for threats.
See how it works
There are many more providers to choose from, so it's best to do your research. Once you've narrowed down a shortlist, check their websites to ensure your phone or tablet is compatible. Then once you're set up, you can accept customer payments wherever your business takes you.
Related article: How to create a business continuity plan
Protecting your business
If something were to happen and your business couldn't operate on site, a mobile payment facility may be an important part of your business continuity plan. It could help keep the payments coming in, until you're back up and running.
When it comes to calculating your small business insurance, remember to include your business technology and hardware in your sum insured.
Learn more about QBE Business Insurance
---
1 https://digitalready.tas.gov.au/resources/mobile-payment-options/
2 https://digitalready.tas.gov.au/resources/mobile-payment-options/
3 https://www.thebigissue.org.au/news/2020/06/22/a-big-return-to-selling-for-the-big-issue-vendors/
4 https://digitalready.tas.gov.au/resources/mobile-payment-options/#section-2