Article
Why it pays to turn the water off before heading away on holiday
Burst pipes or blocked gutters can create serious damage for a home when you're away on holiday
Turning off the water at the mains and cleaning gutters before you head off is a sensible precaution
Check that your home and contents cover is up to date to be sure you're fully protected against water damage.
Mention 'water damage' and flooding often comes to mind. But it's certainly not the only way our homes and belongings can be ruined by water.
Imagine if you could peel back the walls of your home. You'd find a network of pipes connecting water from the mains to the bathroom, kitchen, laundry plus a range of individual appliances.
Most plumbing pipes are made of long-lasting copper or durable PVC. Others are not – and they can be a culprit for water damage.
The risk of water damage from flexi hose
Flexi hoses – essentially a rubber inner tube wrapped in metal braiding – supply water to taps in kitchens and bathrooms and to toilets.
Not only can flexi hoses deteriorate over time, the pipe is also pressurized. Regular use prevents water pressure building, but if you head off for an extended period, the pressure can mount up. If the pipe bursts, thousands of litres of water can escape into your home.
Taking a 'she'll be right' approach can be costly. In 2018, Australians made over 30,000 claims for interior water damage caused by the failure of braided flexible hoses1.
Blocked gutters can cause blockbuster damage
Water damage isn't just about failed pipes. Gutters may become clogged by leaf debris. When that happens, heavy rainfall can create a bank-up of water. With no place to go, the gutters can overflow and rainwater can start seeping through walls.
Happily, there are simple ways to help protect your home from water damage while you're away.
Related article: Why cleaning your gutters should be on the top pf your to-do list
Turn off water at the mains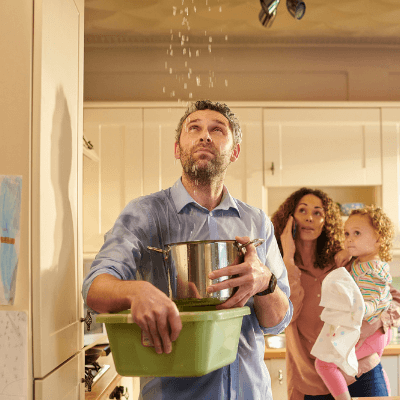 An important first step is to turn the water off at the main connection.
If you're in a house, typically you can find the water main connection at the front boundary adjacent to the street. Or, if you're an apartment dweller, check in one of your wet areas – the bathroom, laundry or kitchen and look for a lone tap which should turn off the water to your apartment.
When you turn the water off, turn on a tap to release any remaining pressure and check the water is no longer flowing.
When you return home, remember to turn the water back on by turning the meter valve in the opposite direction.
Look for drainage issues
Before leaving, take a few minutes to check window seals are tight. That way water can't seep in if a storm hits.
Check the drainage around your home too. Tell-tale signs to look for include showers and toilets that drain slowly, unpleasant odours and dirty water seeping up in parts of the garden2. They can all point to damaged pipes, and that means it's time to call in a plumber.
Your home and contents insurance can help
The good news is that water damage to your house or contents, including from burst pipes, can be covered by QBE Home Insurance.
If your home is an apartment, or if you're renting, QBE Contents Insurance covers contents for strata owner occupiers and tenants.
Always check your policy documents and the Product Disclosure Statement (PDS) to understand exactly what you are – and are not – covered for, and any excess that applies if you need to make a claim3.
Keep your home and contents cover up to date to reflect renovations to your home or an increase in the value of your contents. That could be the case right now, if you've invested in furniture or equipment to work from home during COVID.
Prevention is better than cure
Insurance can protect you financially. But it can't replace sentimental items, and prevention is always worth a tonne of cure.
Taking a few precautions to prevent water damage can help you enjoy a well-deserved break without concerns about returning to a waterlogged home.
---
1 https://understandinsurance.com.au/assets/Understand%20Insurance/250620%20Taking%20a%20local%20holiday%20-%20Here's%20how%20to%20protect%20yourself%20.pdf
2 https://www.cityofsydney.nsw.gov.au/property-tree-maintenance/get-help-drainage-problems
3 https://www.qbe.com/au/news/how-to-save-home-from-water-damage