Article
Protecting your business through bushfire season: How to check your cover and prepare
For any business, understanding your margins, the supply chain and your path to market is second nature. Your days are spent controlling what can be controlled. But, as the past 12 months have shown us only too well, events that are out of our control – including bushfires – can happen all too easily.
Businesses can grasp some control over catastrophic events by having the right insurances in place – and as we fast approach summer, now's the perfect time to check you've got everything your business needs to ride out whatever the coming months have in store.
The issue of underinsurance
The insurance claims that arose from last summer's bushfires revealed that up to 40 per cent of people were underinsured , according to the Insurance Council of Australia – meaning they had insurance but didn't have enough cover to replace everything they'd lost.
"We see different examples of underinsurance," says Dave Burnage, Underwriting Manager, SME at QBE. "In some instances, clients have not had their business premises valued for a while, or genuinely underestimate what the replacement costs may be for their property. Customers might also insure for a lower value in order to save money on their premiums."
Additional costs of rebuilding business premises, such as demolition and clearance, as well as rebuilding to new construction code, depending on your location's Bushfire Activity Level, are often overlooked and need to be taken into account.
Speak with your broker to ensure everything you use for your business is covered – don't assume, for example, that outbuildings and fences are included in your building policy.
It's essential machinery and vehicles are all adequately covered, too.
"A lot of businesses and farms are affected by bushfires," says Burnage. "Some customers take out machinery cover of, for example, $10,000, thinking that at any one time only one item would be stolen or damaged, but they lost everything."
As well as having the correct levels of building, stock and contents insurance, as well as motor insurance, it's also important to have business interruption cover to help you get through many unforeseen disruptions.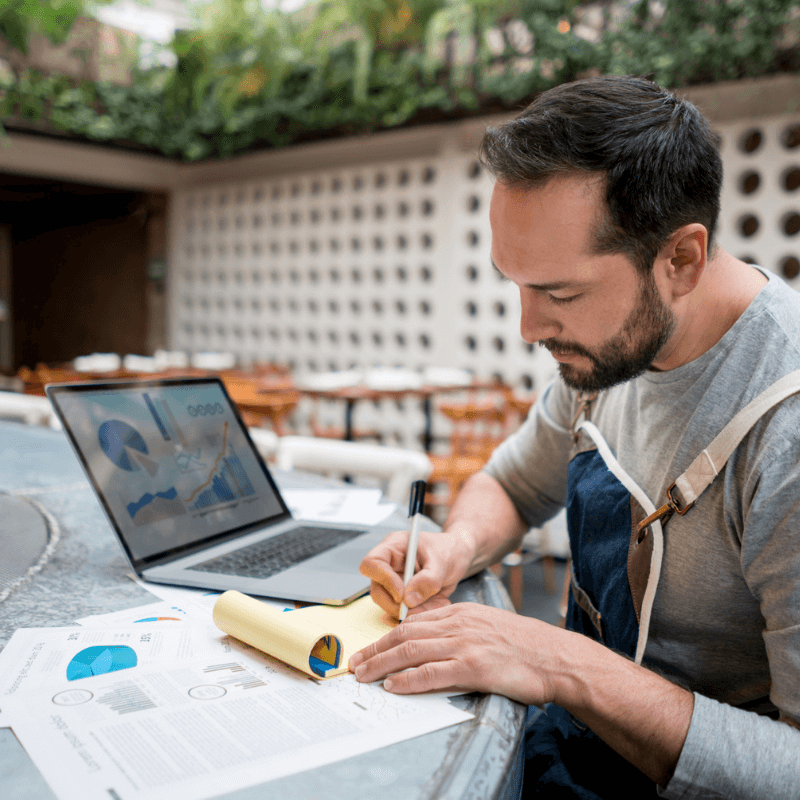 When you think of the impact of a bushfire, for example, you can naturally focus on the immediate, tangible loss. But the time it can take to get a business up and running again after a bushfire can be significant.
"We saw people with 12 months' business interruption insurance, and the reality was that wasn't long enough for some who wanted to rebuild on the same site," says Laura Nelson, Head of SME Digital Engagement at QBE.
"You might need to wait for access to the site, get the debris cleared and then – if you're in an area that's been badly affected – the local builders and tradespeople may also have been impacted – and they'll all have a lot of work on, which can lead to a delay in getting your premises rebuilt."
In reality, if a bushfire is headed your way, there's little you can do to stop it. You can, however, take several steps to delay any impact on property and possessions, as well as protecting your business.
Mitigating the risk: premises
When it comes to maintenance, it's good practice to keep roofs and gutters clear of natural debris, which can be extremely flammable. Keep combustible materials in flameproof containers away from the building and ensure any gaps in floors and roofs are filled to prevent burning embers finding a way through.
Installing fireproof window shutters, non-combustible window frames and doors, and toughened glass can be effective in delaying a fire taking hold of your building – and those five or ten minutes can be enough time for the Rural Fire Service to arrive.
Ensure all emergency exits are accessible and in working order and have a bushfire action plan – that's tailored to your business and communicated regularly to staff – to ensure you and everyone else knows how to respond in case of an emergency.
Mitigating the risk: business
Regardless of whether your business premises are directly affected by a bushfire, your business can also suffer indirect damage as a consequence of bushfire activity.
Creating a business continuity plan is vital, as this will help identify weaknesses in your business's ability to carry on should you be affected in any way.
"Every business should have a business continuity plan," says Nelson. "Identify the risks you face and work out what you need to do to either mitigate that risk or what you'll do in the event of that risk occurring.
"That way, when something does happen, you don't have to think on your feet – you've already thought about it, and you know what you're going to do."
Risks that could arise from a bushfire that should be captured in your business continuity plan include the path to market – if you operate from a physical store, can you quickly move your business online? If not, consider building a presence – and a customer base – online. Or what happens if your supplier is affected by bushfires? Identify alternative providers and make sure all of your business information is stored securely in the cloud, or similar, so you can access it from any location.
Preparing for summer
Last summer showed that bushfires can happen almost anywhere. We saw fire rampaging through towns that were significant distances away from bushland. By taking these preventative measures you can ensure that, should you be affected by bushfires, your business is in a strong position to continue.
More information
Take a look at our Before bushfire season checklist for a simple list of steps you can take to prepare your business now.
Find out more about QBE's Small Business Insurance