Article
Motorcycle safety: 5 tips for street riding
This article was originally published in May 2018 and updated in July 2023.
When you ride a motorbike in busy traffic, it's vital to stay on guard and assume you're invisible
Defensive rider courses and advanced training could help to improve your skills
We've put together five key riding tips to help keep you safe on the road
1. Get the right motorcycle training
When it comes to motorbike riding, learning doesn't stop after passing the skills test to get your motorcycle licence. It's a good idea to continue learning new safety tactics and not overestimate your skill level, no matter how long you've been riding.
To further your training, check out this state-by-state list of intermediate and advanced motorcycle courses.
2. Wear approved motorcycle safety gear
Riders wearing protective clothing are less likely to be injured in an accident, while those who are injured are less likely to need hospitalisation.1 That's why it's crucial to wear protective gear on every ride.
Buy a helmet that fits your head snugly, and make sure it meets the Australian Standard AS/NZS 1698 or UNECE2205.
The sheer volume of bike gear available can be overwhelming, which is why the Motorcycle Clothing Assessment Program (MotoCAP) was developed.
The MotoCAP website serves up a range of helmets, jackets, pants and gloves to compare – along with safety ratings – to help you choose the gear with the best protection.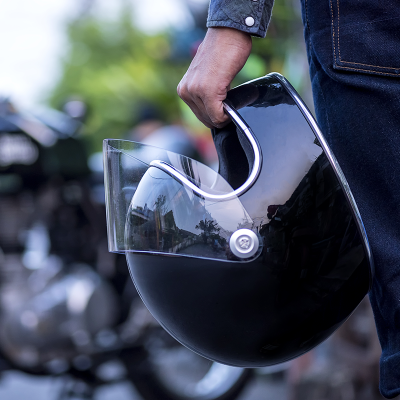 3. Always assume you're invisible
As a motorbike rider, it's important to know you can be practically invisible to other drivers on the road.
Motorcycles can be easily hidden by things like telegraph poles, signs, trucks, buses and cars, so look out for drivers who change lanes or pull out in front of you, when they clearly haven't seen you.
Car drivers may not know any motorbike riders, or have never ridden one themselves, so, in many cases they won't have much knowledge about the dangers of road riding.
They also may not be as alert to motorcyclists as they would be for drivers of cars, trucks and buses – especially in blind spots.
4. Take a defensive riding approach
Maintaining a buffer zone can allow for driver and rider mistakes and help improve your safety.
Defensive riding is about making assertive decisions, including braking and maintaining the correct speed in constantly changing traffic conditions, to ensure there's a safe distance between you and other vehicles.
5. Check your tyre pressure
If your daily commute is on a bike, it's important to have the correct tyre pressure. Under-inflated tyres may reduce the performance of the motorcycle, which can cause heavy steering, slow handling, reduced traction and/or extended braking distances, which all affect your safety.
If you ride your motorbike every day, it's a good idea to check your tyre pressure at a petrol station once a week.
This can also save you money in the long term. When tyres aren't properly inflated and ridden frequently on the road, they deteriorate quickly and will have a shorter lifespan.
With all these points in mind, you can jump on your bike with a safe ride ahead, wherever the road takes you. Before you head off, remember to protect your pride and joy with comprehensive motorcycle insurance.
---
1 https://roadsafety.transport.nsw.gov.au/stayingsafe/motorcyclists/ridinggear.html