Article
Make safe: the temporary solution that could save your property
A make safe is a temporary measure to prevent further loss or damage to a damaged building
If a make safe is necessary, it will be performed soon after advising QBE of the incident
Although it may be tempting to carry out a make safe yourself, it's far safer to leave it to the experts.
When a property has been significantly damaged, it can sometimes take a bit of time until the full repair work can be completed. In the interim, a make safe is vitally important.
We caught up with QBE's Head of Property Supply Chain, Dean Pracy and Head of Property Claims, Chad Vigar to get the lowdown.
What is a make safe?
A make safe is a quick, temporary fix to make a property safe and prevent further loss or damage after an event has occurred.
"The first consideration is always safety," says Pracy. "We need to make sure the property is safe, so customers and the public don't get hurt."
While extreme weather events, fires and water damage will usually require a make safe to be put in place, incidents such as malicious damage and burst pipes may too.
In some cases, a make safe can mean a home remains habitable. In extreme scenarios, it can secure a property prior to demolition.
Make safes can include roof wrapping, roof tarping, securing damaged windows and doors and reinstatement of essential services. Plus electrical isolation and testing of circuits, plumbing isolation, temporary fencing of potentially hazardous areas, structural intervention after building impact, securing of collapsed ceilings, tree removal and asbestos containment and removal.
Getting a make safe
When a building sustains damage, it's important to let your insurance company know as soon as possible. That way, not only can the claim be assessed, and repairs authorised, but a make safe can begin.
"We operate a triage system, to ensure our home and contents insurance customers who are in need get a make safe in place as soon as possible," says Vigar.
Once you call QBE to inform us of the damage, help will be on its way.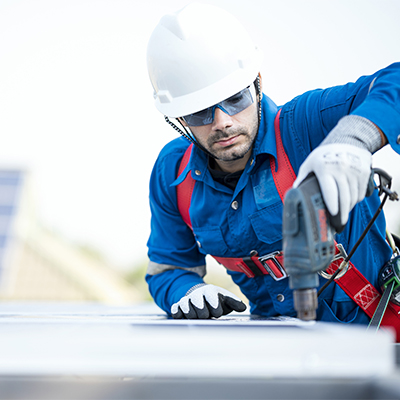 "If it's urgent, the required trades from our panel of suppliers will usually be there that same day, even if it's out of hours, otherwise it'll generally be the next day," says Vigar.
Of course, natural disasters are part and parcel of life in Australia and can cause significant damage to many buildings. When cyclones, storms and earthquakes hit, make safes are carried out every day.
"After the Melbourne earthquake in September 2021, we had a customer who had experienced cracking in some brickwork above a garage door," says Pracy.
"The tradesman came in to create a timber frame prop to hold it up until the engineers could get to the property to repair it fully."
During recent cyclones, meanwhile, roof tarps were commonly used to make safe roofs that had lost tiles.
Vigar adds, "In some cases this was adequate, in others we may need to engage engineers because of requirements to make sure the building complied to code – we might put on a product called Storm Seal, a wrapover A-section of the roof, which is a longer-term temporary repair."
Don't DIY your make safe
While it may be a natural reaction to attempt a make safe yourself to minimise any further damage to your property, it's not advisable – remember, the safety of you and your family is the number one priority, so let the experts do their job.
"The professionals have all the right equipment and the experience to assess the damage and take the necessary steps," says Pracy. "We can assess the situation and get our experts there quickly – it's simply not worth taking a risk."
Sometimes, a make safe just isn't possible
In some cases, it's not possible to create a make safe – the damage to the property may be too great – and at that point plan B springs into action.
"If we can't make the property safe for the customer to live in, or to operate their business from, we'll get a call from the tradesman to inform us that temporary accommodation is needed and it might be at that point we engage a loss adjuster," says Vigar.
When a make safe is quickly administered to a property before a full repair can take place, it can be the difference between being able to continue living – or working – in a property and not.
"A home and its contents are the most valuable asset most of us have, and when an incident occurs we want to do whatever we can to minimise that damage," says Pracy.
"Anything we can do to show our customers that we care, we've got their interests and their assets at the forefront of our attention, and we're here to help them get back to where they were before, we'll do – and a make safe is often the first step in that process."
Do you have the correct levels of home and contents insurance in place? It's smart to re-evaluate to ensure that, if an incident did occur, you'd be correctly covered.
---
QBE Home and Contents Insurance is issued and underwritten by QBE Insurance (Australia) Limited (ABN 78 003 191 035, AFSL 239545). Any advice provided is general only and has been prepared without taking into account your objectives, financial situation or needs and may not be right for you. To decide if this product is right for you, please read the relevant Home Insurance or Contents Insurance Product Disclosure Statement and Target Market Determination, available online at QBE.com/au.