In April 2021, Ex-tropical Cyclone Seroja (Cyclone Seroja) tore through a 1,000 kilometre stretch of Western Australia's mid-west devastating properties, belongings, crops and vehicles.
QBE's Head of Property Supply Chain, Chad Vigar and his team were on the ground in the immediate aftermath to support affected customers, including home insurance policy holder Ian.
A uniquely challenging event
The damage to Ian's home was catastrophic.
"Seroja made landfall on the coast further south than would be typically expected for a cyclone event of its kind. This meant the region was caught by surprise and properties without cyclone protection measures were severely damaged", says Vigar.
The team faced a number of additional challenges in their response to the event, he added.
The vast geographic footprint and remote location of the impacted areas, alongside material supply, resourcing challenges and property upgrade requirements were among these challenges.
"Material shortages and resourcing complexities fuelled by a continued response to bushfire impacts on both the west and east coasts, the COVID-19 environment and the building boom have made things challenging. Getting enough trades, engineers and materials to these regional locations has also been complex."
Many damaged properties were constructed before modern building codes and standards, so in many cases upgrades and engineering services are also required, says Vigar. Safe removal of asbestos, found in many properties, has also been a key complexity.
A customer focused response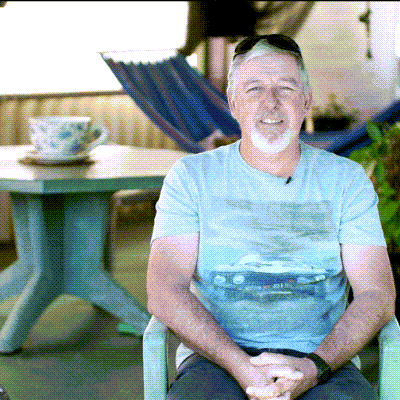 Working closely with customers, collaborating with partners and thinking outside the box has been key to seeing Ian and other QBE customers supported, says Vigar.
"Every event is unique, every claim is unique and the first thing you've got to do is actually understand your customers."
"It became obvious very quickly we needed to do some things differently. We worked closely with both our loss adjusting and our building partners to get properties into repair very quickly and Ian's was one of the properties prioritised due to the extent of damage."
Today Ian and thousands of other customers are back on their feet.
Our continued response
Despite this progress, the severity and complexity of the event means the recovery process continues for many and QBE remains focused on supporting our customers.
The team have established a semi-permanent base in Geraldton to help manage the recovery journey of open claims and tackle any issues, says Vigar.
"We've been working closely with our network of partners to understand and manage any issues or constraints. We're here to support customers and brokers face-to-face as needed, manage quality checks and are looking to expedite claims wherever possible."
"I'm really proud to see the progress we've made and the work all our teams have done to get customers lives back on track."
Please contact your Business Relationship Manager if you or your customers need any face-to-face or additional claims support from the QBE team on the ground, adds Vigar.