NIBA is the peak body of the insurance broking profession in Australia and represents around 450 member firms and more than 15,000 individual intermediaries. NIBA represents well over 90% of all insurance brokers in Australia. We work with NIBA regularly and are a long-time supporter of a number of their events and initiatives.
NIBA Broker of the Year Award, sponsored by QBE
NIBA's awards are a highly regarded program celebrating the best of broking, underwriting and insuring in Australia. The program has been highlighting industry excellence for more than 30 years.
As part of QBE's commitment to our broker partners success and development, QBE is proud to sponsor the annual Broker of the Year Award for Insurance Broker of the Year.
The prestigious award honours the late Stephen Ball and his tremendous contribution to the insurance broking industry as a former JLT Australia Chairman and NIBA President.
Stephen had an extraordinary commitment to excellence, integrity, mentoring and professional development. Fittingly, the prestigious Stephen Ball Broker of the Year Award goes to individuals who also bring these attributes to life. It goes to brokers who:
Make outstanding contributions to the industry and profession
Are raising the bar by showing us what's possible
Are making a mark on customers and their communities every day
Are deemed an inspirational role model for the broking community
Demonstrate excellence in broking practice and client advocacy.
Each year we're proud to present the winner with a professional development prize package. For full details, visit the NIBA website.
2022 National Broker of the Year – National winner
Congratulations to Sally Coulton from Willis Towers Watson (WTW) in Queensland!
Sally has worked in the insurance industry for 20 years, and is currently an Account Director and one of the Corporate Team Leaders in the Brisbane office of Willis Towers Watson (WTW).
Among an impressive pool of finalists, she was recognized for her outstanding contribution to the industry.
The range of strategies Sally demonstrated to prepare for, and get the best for her clients was impressive. Combined with her dedication to the mentoring and development of colleagues, it made her stand out. It's brokers like Sally who help raise the bar across the industry.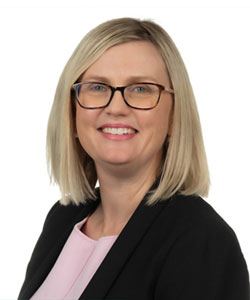 2022 Broker of the Year – State winners