We understand that conducting multinational business can be complex and that your clients' needs, and the environments they operate within, are constantly changing. We also know addressing these needs for your clients is key to fostering valuable and long-term partnerships with them.
Our dedicated Multinational underwriters are on-hand to design agile cover that meets your clients' needs, providing protection against the global business risks they face and ensuring compliance with local regulatory and fiscal requirements.
A bespoke approach
Each client is assigned an experienced, hand-picked team that includes a senior dedicated underwriter, claims manager, client manager, senior case handler and a member from the risk solutions team. This bespoke team is built around your client's needs, with a relationship manager taking overall responsibility for the day-to-day running of the program.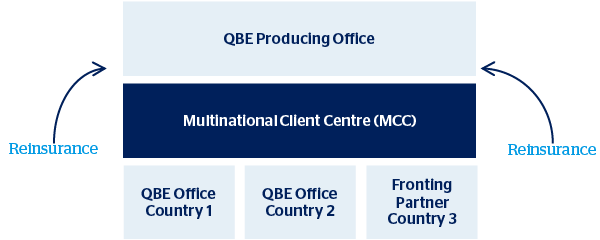 Our Multinational Client Centre is the backbone of our offering and is responsible for the co-ordination and delivery of all aspects of our multinational programs, including:
Proactive communication and management of programs with all stakeholders
Guidance on program structures
Regulatory and fiscal information and support
Day-to-day local servicing through interaction with local brokers and network partners
Proactive monitoring of service levels to ensure local policies are issued, premiums are collected and claims are managed according to agreed standards.
A vast, trusted network
We leverage our global network of QBE offices and trusted partners, which extends to over 170 countries. Our network's local expertise allows us to provide:
Local policy administration, wording, credit control and claims (within pre-agreed claims parameters)
Local regulatory returns, compliance and tax payments
Pricing and claims control through a sophisticated reinsurance model (subject to local regulatory requirements)
A dedicated claims offering with global expertise
Claims management and control is a key part of our Multinational offering. Our global claims approach ensures that a complete overview of your client's claims activity is provided, regardless of the geography of the policy.

Should your global clients need to make a claim, they will have their own Claims Relationship Manager who'll proactively manage their service whilst minimising the claims life cycle and limiting disruption to business. Our Claims Relationship Managers do this by:
Providing instructions and decision making authority to the local office
Monitoring active claims in your clients' best interests
Escalating claims when necessary
Facilitating access to local loss adjusters.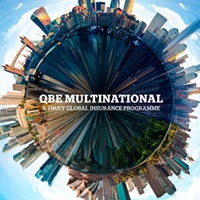 Our global reach is based around three centres of service excellence and a geographical footprint that makes us one of only a handful of truly worldwide insurance companies. Our relationships are long-term and personal.
Read more about QBE Multinational: A truly global insurance programme
Features of decentralised and centralised insurance
Benefits of a multinational programme
Setting up a global insurance programme
Challenges for the multinational buyer