Our application and recruitment process is comprehensive and seeks to provide you the best possible experience so we can get to know you, your experience and what drives you to achieve your ambitions for your career.
We conduct our graduate program intake each year and the types of graduate experience streams streams we recruit for are decided by our strategic priorities. That means every year we have a diverse amount of graduate experience, and ensures when you start the program, the work you do contributes to QBE's success.
We get a lot of questions such as "what type of degrees would I need to be a graduate at QBE?" To answer that question and others, let's hear from our previous graduates:
Application and recruitment timeline
The application timeline can vary depending on the type of graduate we are looking for.
Actuarial graduates: If you are an actuarial graduate our typical intake period can vary. If you require more information about our Actuarial Graduate Program please email recruitment@qbe.com
The below journey map provides a timeline of when we start applications for our general graduate program, what you can expect during the recruitment process, when applications close and when the graduate program begins: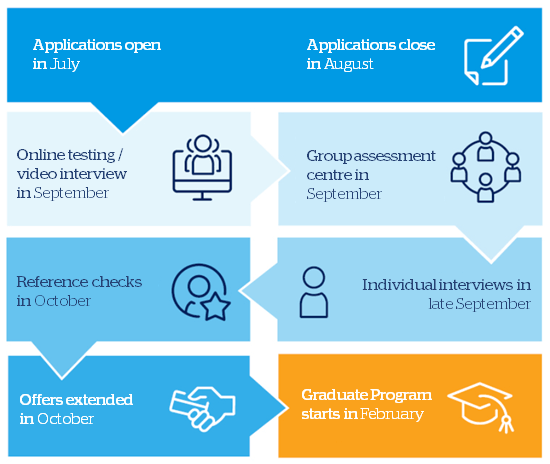 FAQs
What is the academic results requirement?
To be eligible for the Graduate Program you need a Grade Point Average (GPA) or a credit average (65) or higher.
What level of education is required?
A bachelor degree or a postgraduate degree consisting of three years study as a minimum is needed prior to the commencement of the program.
What will I need to apply?
Your resume, a covering letter, proof of citizenship or residency, as well as a copy of your academic transcript.
What is the application process?
To apply, you'll need to complete an online application form (coming soon once applications are open). If you're successful we'll ask you to complete some online assessments followed by a video interview. You may then be asked to join us at one of our virtual assessment centres where you'll have the chance to meet our team and some of our current graduates.
How many graduates will you be hiring this year?
The number of graduates we hire is determined by our strategic priorities and this can vary year to year.