We're now accepting applications for our 2023 Graduate Program
We are looking for a diverse group of graduates to help us deliver QBE's purpose - enabling a more resilient future.

Our 2023 program streams include:
Technology
Data & Analytics
Risk Management
Finance
Project Management
Insurance Underwriting
Actuarial*
Please complete our online form to submit your application.
To learn more about each of these streams, visit the 'Our Teams' section of our website.
*Actuarial graduates
We've completed recruitment for our 2023 actuarial graduates. Please check back to apply for our 2024 cohort in March/April 2023.
The application process
Our application and recruitment process is comprehensive and is designed to deliver the best possible experience for all applicants. We take time to get to know you and what motivates you to help us identify the applicants that are the best fit for the program and each stream.

Here's the process you can expect during the recruitment process: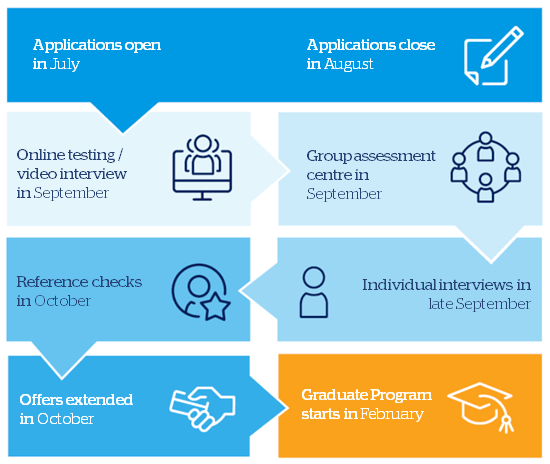 Hear from our existing graduates…
We get a lot of questions such as "what type of degrees would I need to be a graduate at QBE?" To answer that question and others, let's hear from some of our previous graduates.
FAQs
What level of education is required?
A completed bachelor or postgraduate degree is required within the two years prior to the commencement of the program.

What is the academic results requirement?
Having a diverse workforce is important to QBE and we encourage all graduates to apply. However, we do consider your academic achievements in the application process, and this consideration is more heavily weighted in technical program streams.

How do I choose which program stream is right for me?
You can choose up to three program streams of interest. It's worth noting some of our program streams are niche and require a specific filed of study. For example, the Actuarial stream is highly technical and requires a relevant field of study. For other program streams, your degree discipline isn't as important. We are confident that our recruitment process helps identify the best fit for you and QBE.

What will I need to apply?
Your resume, a covering letter, a copy of your academic transcript, and proof of your unrestricted Australian working rights.

What is the application process?
To apply, you'll need to complete an online application form. If you're successful we'll ask you to complete some online assessments followed by a video interview. We may then ask you to join us at one of our virtual assessment centres where you'll have the chance to meet our team and some of our current graduates.

How many graduates will you be hiring this year?
The number of graduates we hire is based on our business needs - this can vary from year to year.