We're now accepting expressions of interest for our 2023 Graduate Program
For 2023 we are looking for a diverse range of graduates to shape QBE's future.
We're looking for graduates to complete rotations in the following areas of our business:
Technology
Date & Analytics
Insurance (Underwriting, Claims, Customer Experience and Sales)
Risk
Finance
Strategy & Transformation
People & Culture
Legal
To learn more about each of these streams, visit the 'Our Teams' section of our website.
Please complete our online form if you'd like to submit your expression of interest for our 2023 graduate program.
Actuarial graduates
We have completed recruitment for our 2023 actuarial graduates. We will look to promote applications for our 2024 cohort in March/April 2023.
The application process
Our application and recruitment process is comprehensive and seeks to provide you the best possible experience so we can get to know you, your experience and what drives you to achieve your ambitions for your career.
The below journey map provides a timeline of when we start applications for our general graduate program and what you can expect during the recruitment process, when applications close and when the graduate program begins: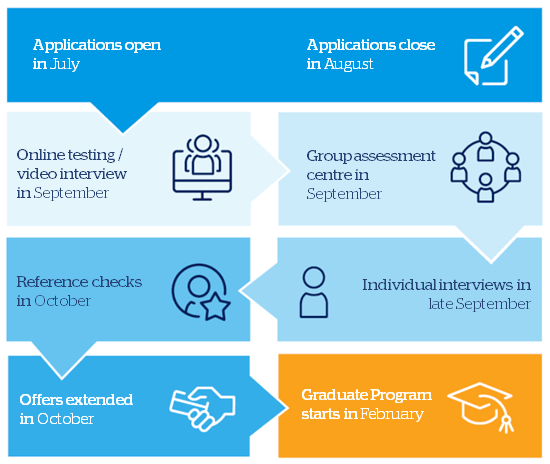 Hear from our existing graduates…
We get a lot of questions such as "what type of degrees would I need to be a graduate at QBE?" To answer that question and others, let's hear from some of our previous graduates.
FAQs
What is the academic results requirement?
To be eligible for the Graduate Program you need a Grade Point Average (GPA) or a credit average (65) or higher.
What level of education is required?
A bachelor degree or a postgraduate degree consisting of three years study as a minimum is needed prior to the commencement of the program.
What will I need to apply?
Your resume, a covering letter, proof of citizenship or residency, as well as a copy of your academic transcript.
What is the application process?
To apply, you'll need to complete an online application form. If you're successful we'll ask you to complete some online assessments followed by a video interview. You may then be asked to join us at one of our virtual assessment centres where you'll have the chance to meet our team and some of our current graduates.
How many graduates will you be hiring this year?
The number of graduates we hire is determined by our strategic priorities and this can vary year to year.