Press Release
QBE and Sydney Swans kick Goals for Good
The QBE Foundation hosted its annual Goals for Good event at Saturday's AFL clash between the Sydney Swans and West Coast Eagles, with a $93,000 donation made following the fourth-biggest win in AFL history.
The initiative saw the QBE Foundation donate $3,000 for each of the 31 goals the Swans scored during the game at the SCG, with funds raised to be split between QBE's community partners and the Sydney Swans Foundation.
Jon Fox, QBE Foundation Co-Chair, said the initiative is a fun way for QBE to continue its support of community partners and their work in helping create strong, resilient and inclusive communities.
"Joining forces with the Sydney Swans throughout our nearly four-decade long partnership has been an incredible way to support the communities and causes closest to both our organisations. We're proud to have continued this important work through this year's QBE Foundation Goals for Good initiative.
"The funds raised through this year's Goals for Good will go towards QBE's community partners, Save the Children Australia, Stars Foundation, Australian Red Cross, Orange Sky, Foodbank Australia and R U OK?, as well as the Sydney Swans Foundation, to help make a positive difference to our local communities."
Mr. Fox said that the match also provided an opportunity to celebrate those who work so hard for our communities, with volunteers from Australian Red Cross, Orange Sky and R U OK? given the opportunity to do the game's match ball delivery and Guard of Honour.
"The community spirit shown by our community partners is inspiring, and QBE is proud to support them in their endeavours as we all work together to create positive change."
"We were delighted to invite our community partners and their volunteers and families to the clubroom on Saturday to enjoy the game and an afternoon of entertainment, as a small thank-you for continually going above and beyond to help create strong, resilient and inclusive communities."
Sydney Swans CEO Tom Harley said the initiative was a great opportunity to come together and celebrate the work of the organisations involved.
"QBE Foundation's Goals for Good initiative highlights our shared commitment to our communities, and we are so proud to have been involved this weekend. For the team to have equalled the second-highest goal tally in our club's history is incredible and we're thrilled to see a huge $93,000 going to charity.
"On behalf of the club and the Sydney Swans Foundation, I would like to thank QBE for their ongoing support and generosity."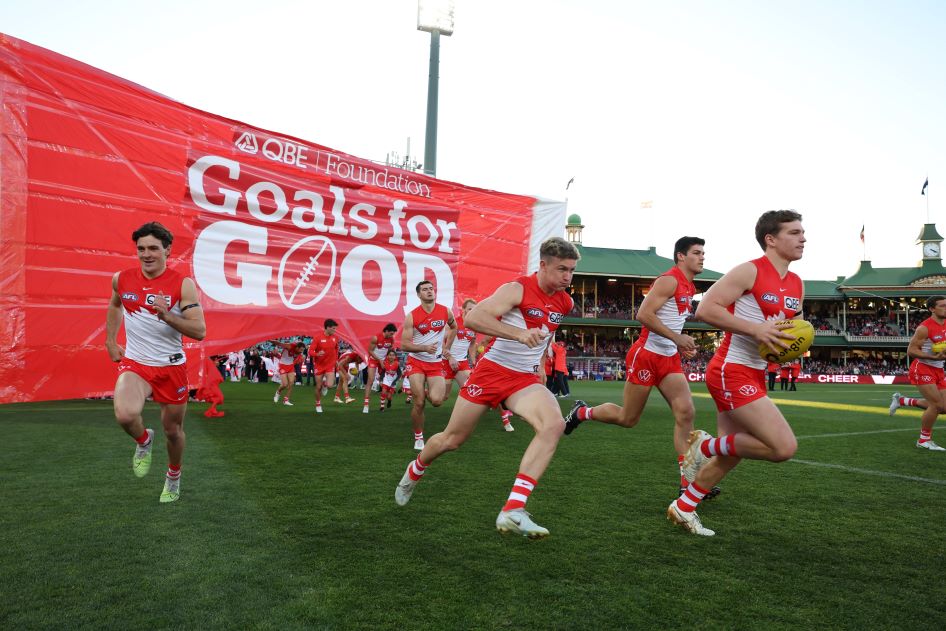 About the Australia Pacific QBE Foundation
The QBE Foundation operates globally to support the communities QBE operates within. QBE's Australia Pacific Foundation works across Australia, New Zealand and the Pacific and works closely with our community partners to create long-term, sustained impact in the community. In addition to funding, we work in collaboration with our charity partners to support events, fundraising, advocacy, volunteering and to seek out other ways to support their work.
Our partnerships are guided by our global strategy, which articulates our vision of creating strong, resilient and inclusive communities focusing investment and efforts on two key areas where we believe we can have the greatest impact – climate resilience and inclusion.
Find out more at: Australia Pacific QBE Foundation
For more information
Emily Connell
Senior External Communications Specialist
QBE Australia
+61 422 907 484
Email: emily.connell@qbe.com