Press Release
QBE leaders hit the streets to support The Big Issue
Two of QBE Insurance Australia's leaders donned the high vis and hit the streets on Friday to shine a light on homelessness and disadvantage in the community, as part of The Big Issue's CEO Selling campaign.
Sally Kincaid, Chair of the QBE Foundation and Phil White CEO QBE LMI, joined vendors David at Parramatta and Marcus at Park St in the Sydney CBD, to sell magazines outside their busy office buildings.
Earlier this week the QBE Foundation announced The Big Issue as one of six charity partners for 2017.
The CEO Selling initiative is part of International Vendor Week, which recognises the work of 10,000 people selling street papers around the world. The week is run by the International Network of Street Papers, which supports 110 street publications in 35 countries.
Following his morning shift, White said: "It was certainly not the way my Fridays usually begin. It was eye-opening to stand side by side with Marcus in my Big Issue vest and approaching members of the public. It's pretty confronting so I have a new appreciation for the hard graft these vendors put in to help themselves build a better life.
"We're proud supporters of The Big Issue and this is a brilliant initiative, so I'm grateful for the opportunity to do my bit to help. I was also pretty relieved many of my QBE colleagues came by to purchase magazines."
Over at Parramatta, Kincaid said her second time participating in the campaign wasn't as daunting and reinforced the values of the QBE Foundation.
"It still pushed me out of my comfort zone, but I really loved spending that time with David and hearing his story.
"I have such a huge respect for the attitude taken by The Big Issue vendors. Homelessness and disadvantage are key themes we look to address as part of our Foundation values, so we really do feel there is a great alignment with The Big Issue.
"We're thrilled to again be working with The Big Issue as a partner of the QBE Foundation in 2017. This was a timely initiative to kick off our partnership for the year and look forward to working with them on other initiatives throughout the year."
Kincaid and White were amongst more than 100 business and government leaders across Australia showing their support for Vendor Week by taking to the streets to sell copies of The Big Issue from 6-10 February.
The Big Issue hopes to boost sales to put $100,000 into vendors' pockets for the edition coinciding with Vendor Week. Vendors buy copies of street papers for half the cover price, keeping the proceeds from sales to the public.
The Big Issue CEO Steven Persson said: "Buying a copy of The Big Issue supports a vendor's efforts to make positive changes in their life: it's a hand up, not a hand out. We hope selling The Big Issue alongside prominent business and government leaders will help vendors forge new connections in their community and encourage the public to support their local vendor."
The Big Issue is a QBE Foundation charity partner for 2016. Our charity partners are provided with a one-off donation between $50,000 and $100,000, and a 12-month commitment of support from the Foundation. They also offer QBE employees volunteering opportunities throughout the year, allowing our people to provide more than just financial support to those in need.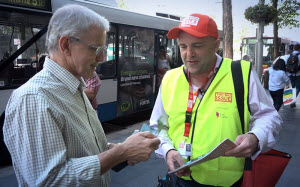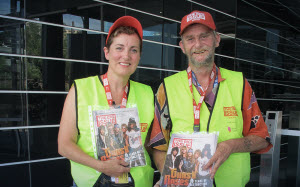 For further information please contact:
Kate Sinclair
Senior Communications Specialist
QBE Australia & New Zealand
Mobile: 0435 688 785
Email: kate.sinclair@qbe.com
About the QBE Foundation
The QBE Foundation supports charities that help people overcome disadvantage, strengthen their abilities and live more independently, successfully and productively. Launched in 2011 to coincide with its 125th anniversary, the Foundation formalises QBE's long history of supporting communities.
The objectives of the Foundation are:
To make a difference in key areas that align with QBE's vision and values.
To drive employee engagement by developing networking and a strong team-based culture.
To maximise the return and impact for any collection, distribution and allocation of philanthropic resources.
QBE's corporate responsibility mirrors our insurance role in the community where we are uniquely placed to assist people when they find themselves in need through accident or misadventure.
For more information visit https://www.qbe.com/au/about/sponsorship-community/the-QBE-foundation