Article
How to avoid online shopping scams
This article was first published in December 2020 and has been updated.
If an online deal seems too good to be true, it probably is
Shop on reputable sites with a secure payment method
Do your research and look for customer reviews.
41% of Australians planned on ticking off their online Christmas purchases by November in 20211 - and that trend is likely to continue. But sadly, this increase in online shopping has led to an increase in scams2. That's why it's important to take precautions.
Scam season is upon us
Scamwatch received over 12,000 reports of online shopping scams from January to November 2020, with almost $7 million in reported losses3.
"Scammers create fake websites that look like genuine online stores, offering products at very low prices, and victims will either receive a fake item or nothing at all," said ACCC Deputy Chair, Delia Rickard.

"Losses on classified sites, such as Facebook Marketplace and Gumtree, have increased by 60 per cent this year, to $4.5 million4."

The lead-up to Christmas is boom time for online scammers, who take advantage of people buying presents.

So, what are the scams, and how can you avoid them?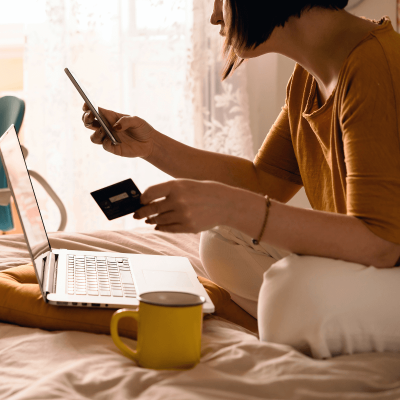 Shop on trusted sites
It can be easy to mistake a fake site for a genuine store. Slick designs and familiar logos give a realistic appearance, and promotions on social media enhance their authenticity.
Prices might even be heavily discounted, so if the deal appears too good to be true, it probably is.
If you haven't dealt with the company before, check their contact details, refund policies and terms and conditions of sale. Once you've clicked through, check the web address – does it look weird? Have you been redirected away from the main page? A secure site will have a padlock and an https: at the start of the address.
If you're in doubt, a quick search for customer reviews may unearth any dodgy interactions.
Check social media accounts
With the widespread reach of social media, retailers are using it as a sales platform. But before you click 'Buy Now', it's worth doing a quick check.
When you're shopping on Facebook, look for the blue tick next to the page's profile name. This indicates it's been verified by Facebook. If you're shopping on Instagram, make sure the page is public. A genuine seller won't make their page private.
Use traditional payment methods
A request to pay by direct deposit, a pre-loaded money card or a cryptocurrency is a major red flag, which can almost guarantee you'll never see a product in return. It's a good idea to use a secure payment method like PayPal or BPAY.
If you use PayPal, choosing the 'payment for goods' option rather than 'family and friends' will validate your Buyer Protection if there's an issue with your purchase. For BPAY, it's a good idea to use a biller code and customer reference number rather than a direct transfer to a bank account.
Never send your bank or credit card details by email or SMS. And don't make payments through a public WiFi service.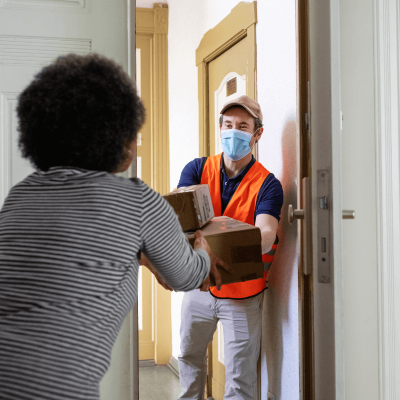 Beware of parcel delivery scams
Cyber criminals are also sending fake delivery notifications, to trick you into giving your personal details or downloading malware to hack your accounts.
Typically delivered through an email or SMS, notification messages are designed to come from a legitimate delivery service like Australia Post, DHL or FedEx. They'll claim you have an undelivered package, which will pique the interest of anyone who's ordered goods online.
So how do you distinguish between real and fake?
Real notifications will often address you personally and usually include a tracking number, along with details of the order and the seller.
Fake notifications may ask you to click on a link, and ask you to update or verify your personal information. They could even threaten to charge a fee for holding an undelivered item. A genuine delivery service will never do this.
Of course, if you're not sure, you can contact the seller.
Related article: How to protect your business from cyber crime
What if I've been scammed?
If you believe an online retailer has defrauded you, try contacting them – there might be a genuine reason for the problem. If that doesn't help, contact your bank, credit card provider or financial institution, and report the crime to the Australian Cyber Security Centre's ReportCyber.
For more information on how to get help, see the ACCC's Scamwatch guide.
Update your insurance
Splurged a little in the sales? Remember to add any large purchases or presents to your home contents insurance and include them in your sum insured.
Not insured? Check out QBE's home and contents insurance for homeowners. If you're renting, find out more about contents insurance for renters.
Find out more about QBE Home Insurance
---
1 https://auspost.com.au/content/dam/auspost_corp/media/documents/inside-australia-online-shopping-update-september-22.pdf
2 https://auspost.com.au/content/dam/auspost_corp/media/documents/inside-australia-online-shopping-update-september-22.pdf
3 https://www.scamwatch.gov.au/news-alerts/watch-out-for-online-shopping-scams-this-holiday-season
4 https://www.scamwatch.gov.au/news-alerts/watch-out-for-online-shopping-scams-this-holiday-season