Article
Car insurance claims: who should you contact after an accident?
If you've been in a car accident that wasn't your fault, you need to contact your car insurer – not the car insurance company of the at-fault driver
At the same time, the at-fault driver needs to contact their insurer to notify them of the incident
Here's who to contact if you're in an accident – irrespective of who's at fault
What happens if you're in a car accident that wasn't your fault?
You can make a claim against the responsible party's car insurance to cover damage to your car and/or injuries you've suffered.
What details do I need to get from the other driver?
If someone else is at fault, get their details at the scene of the accident.
You'll need:
their name and contact number
their registration and vehicle description
their car insurance details
If you're insured with QBE, you can start your claim online.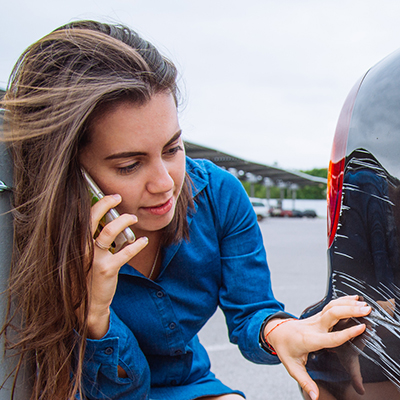 I've been in a car accident, and a QBE car insurance customer was at fault. Who should I contact?
To make a car insurance claim on another driver's car insurance, regardless of who they're insured with, you need to call your car insurance company, explain the situation and pass on the information of the driver responsible, including their insurance details.
What happens next?
Depending on the cover you have under your car insurance policy, your insurance company may provide you with a rental car.
In the meantime, they'll negotiate with the responsible driver's insurer to settle the claim. They'll assess the situation to understand where the fault lies and decide what a fair level of compensation is.
I've been in a car accident that was my fault. What should I do?
You need to contact your car insurer to start a claim, giving them the details of the incident and any other parties involved.
It's also a good idea to take photos on the scene and access dashcam footage.
What if I'm the at-fault driver and have damaged my own vehicle?
Firstly, report the incident to your car insurance company as soon as possible. Give them all the information on what happened, including the details of any other parties involved.
From there, your insurer will investigate the incident, assess the damages, and review your policy to figure out what you're entitled to.
You might need to provide estimates for repairs or replacement costs, as well as information, including photos and dashcam footage, receipts, or police reports.
Once your insurer processes the claim and it's approved, you'll get a settlement offer. In most cases, you'll need to contribute an amount towards the cost of any claims you make, which is called an excess.
No matter who's at fault, here a summary of steps to take
Stay safe – get off the road and keep calm
Check nobody is hurt, and if so, call 000 for help
Exchange details with the other driver
Contact your car insurer, even if you aren't at fault
Report the accident to the police if necessary
How does the claim process work after a car accident?
Let's say you're parked in a shopping centre car park. And while you're inside, another driver reverses into your car and causes damage. They leave a note with their contact details under your wipers.
Clearly, you're not at fault.
To make a claim – making a claim against another driver's car insurance policy – you would contact your insurer with details like photos, witness statements, and a description of the damages, plus the other driver's details.
The other driver's insurance company will then investigate the incident, determine who's at fault, and assess the extent of the damage to your car.
Once they've reviewed the information, they may offer you a settlement to cover the repair costs, or the insured value of your car if it's considered a total loss.
If you and the other driver's insurance company agree on the compensation amount, they'll pay you for the damages so you can get your car repaired.