Article
Digital licences: not an excuse to use your phone
Digital driver licences are popular in South Australia and New South Wales
Queensland is trialling digital licences and has passed the requisite legislation
Having a digital licence on your phone doesn't mean you can use your phone while driving.
It'll be no surprise to learn that, since their launch in South Australia and NSW, digital driver licences are proving very popular indeed.
South Australian drivers were the first in the country to have the option of accessing a digital version of their licence, through the mySA Gov app, and residents of NSW have been able to use a digital licence since late 2019.
The popularity of the digital option should come as no surprise – 92 per cent of Australians now have access to a smartphone1, and digital wallets containing bank cards, loyalty cards and event tickets, among other things, have become standard.
NSW Government figures show that three million people – more than half of NSW drivers – are now using the digital licence2, which is accessed via the Service NSW app. It's figures such as these that have prompted Queensland to follow suit; following a trial on the Fraser Coast in 2020, and a change in legislation to allow digital forms of licences, the state government is now considering the next steps as it moves towards launching Queensland's first digital licence.
The appeal is easy to understand – it's convenient and it's one less thing to remember when you're leaving the house. It's accepted for identification purposes just as the physical licence is, and it's also got added security benefits – for example, consider the ease of accessing your purse or wallet compared to accessing your phone.
A digital licence doesn't replace your physical licence, however. If your screen is cracked and obstructs the digital licence, or your phone battery runs out, you may need to be able to produce the physical version. While your digital licence should be accepted throughout Australia, Service NSW and mySA GOV advises people to carry their physical licence when travelling interstate and overseas as a backup.
Related article: Comprehensive v third party car insurance
How to get your SA digital driver licence
Create a mySA GOV account if you don't already have one.
Download the mySA GOV app.
Your current licence should automatically be added. You can add licences manually by pressing the + button in the top right corner.
How to get your NSW digital driver licence
Register for a MyServiceNSW account if you don't already have one.
Link your MyServiceNSW account to Roads.
Download the Service NSW app and log in. The app will walk you through the steps to access your digital driver licence.
Smartphones and digital licences on the road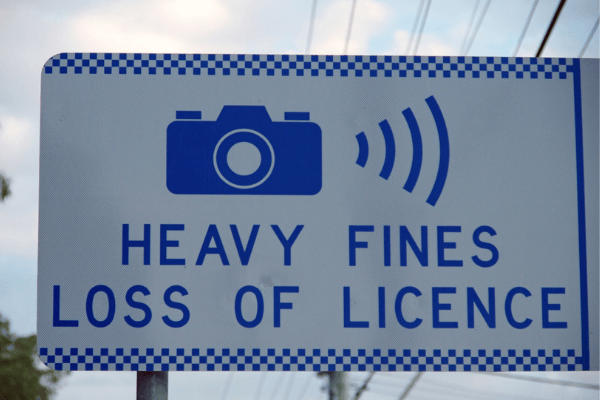 While having your driver licence on your smartphone may be convenient, it doesn't give you permission to use your phone when you're driving. It's very important you're aware of the state rules governing the use of your smartphone – and digital licence – when driving.
Here are the rules governing the use of digital licences and mobile phones in cars in NSW3:
You can only use your mobile phone when driving for making and receiving audio calls, playing music or for navigation if it's secured in a cradle fixed to your car or can be used without touching, ie connected to your car's hands-free software.
It is illegal to hold or touch a mobile phone when driving.
All other uses of a mobile phone are prohibited unless parked.
It is illegal to access your digital driver licence when driving, including when stationary – unless you're asked to by a police officer. It is illegal to touch your phone before an officer instructs you to do so.
Restricted licence holders including learner, P1 and P2 drivers and riders are not permitted to use their phone at all while driving or riding.
The fine for illegal mobile phone use while driving is $352 ($469 in a school zone) and five demerit points (remember, demerit points can affect the price of your car insurance).
Learner and provisional P1 licence holders will exceed their demerit point threshold and lose their licence if caught illegally using their mobile phone.
Transport for NSW has a full overview of the rules governing mobile phone and digital licences in vehicles on its website.
Here are the rules in South Australia4:
You cannot use your phone to create, send or look at a text message or video message – or access your digital licence – while driving.
You can use the phone to make or receive phone calls if the phone is secured in a mounting fixed to the vehicle, or it is remotely operated.
If the phone is fixed in a mounting, you can touch the phone to make and receive calls. You cannot touch the phone if it is not secured.
Learners and P1 licence drivers are banned from using any mobile phone function while driving.
Drivers found using their phone illegally will receive a fine and three demerit points.
The Department for Infrastructure and Transport has a full rundown of all laws in South Australia concerning the use of mobile phones when driving.
Here are the laws on mobile phone use when driving in Queensland5:
New rules brought in on 26 July 2021 enable drivers in Queensland to hold a phone when safely stopped to present their digital driver licence to police when requested

.

It is illegal to hold a mobile phone in your hand or have it resting on any part of your body when driving.
Open and P2 licence holders are allowed to use their phones hands-free while driving when the phone is in a cradle to accept calls, use navigation apps or skip songs.
Phones can be controlled by voice only if in a pocket or pouch.
You can be fined $1033 and receive four demerit points for using a mobile phone illegally while driving. This includes when you're stopped at traffic lights or stopped in traffic.
Related article: How to determine the value of your used car
Digital driver licences in other states
As yet, digital licences aren't available to residents of any other states or territories in Australia – and there's no official word on when they might be made available. However, given the way they are working in other states, it would be a surprise if the governments in Victoria, WA, Northern Territory and Tasmania didn't take a closer look at introducing digital driver licences in the not-too-distant future.
Having the latest driver licence is cool – but what's even better is getting a great deal on your car insurance.
---
1 https://images.content.deloitte.com.au/Web/DELOITTEAUSTRALIA/%7B0a975e55-6f49-4aec-b76f-d8317706363b%7D_Digital_Consumer_Trends_2020_Final_0121.pdf
2 https://www.nsw.gov.au/media-releases/half-of-drivers-using-a-digital-driver-licence
3 https://www.service.nsw.gov.au/campaign/nsw-digital-driver-licence/licence-holders-and-nsw-digital-driver-licence
4 https://roadsafety.transport.nsw.gov.au/stayingsafe/mobilephones/know-the-rules.html
5 https://www.qld.gov.au/transport/safety/road-safety/mobile-phones



QBE Comprehensive Car Insurance is issued and underwritten by QBE Insurance (Australia) Limited (ABN 78 003 191 035, AFSL 239545). Any advice provided is general only and has been prepared without taking into account your objectives, financial situation or needs and may not be right for you. To decide if this product is right for you, please read the relevant Product Disclosure Statement (PDS) and Target Market Determination (TMD).