Article
The five best motorcycle rides in Australia
This article was originally published in June 2018 and has been updated.
Many roads in Australia feel purpose built for motorcycle riding - but there are some that stand out more than others. From scenic winding bends across mountain ranges, journeys through rainforests and rides next to the ocean, these trips are our top picks and include some of our nation's best tracks and motorcycling roads.
1. The Oxley Highway from Wauchope to Walcha - NSW
This 163km stretch takes motorcyclists up and over the famous Great Dividing Range via hairpin turns and through thick rainforest and tall trees entwined in vines.
The ride not only offers breathtaking scenery including mountain views, it offers a variety of corners making it a truly enjoyable ride.
Late spring or early summer is likely to offer ideal riding weather for most looking to take this bucket-list trip. This timing usually not only offers a comfortable warm temperature but is also likely to be early enough to beat the start of the rainy season.
2. The Great Ocean Road – VIC
Our team thinks this is one of the most beautiful and famed roads in Australia with roughly 120km of smooth asphalt stretching from Torquay to Glanaire, past the Twelve Apostles.
While beautiful, it can be challenging for some riders. Look out for congested convoys of tourists stopping and starting along the way for the many photo opportunities. It's also worth noting the roads are narrow, and the buses can be wide – so riding extra carefully and staying alert to other vehicles is key.
Related article: The state of motorcycle theft in Australia and how to prevent it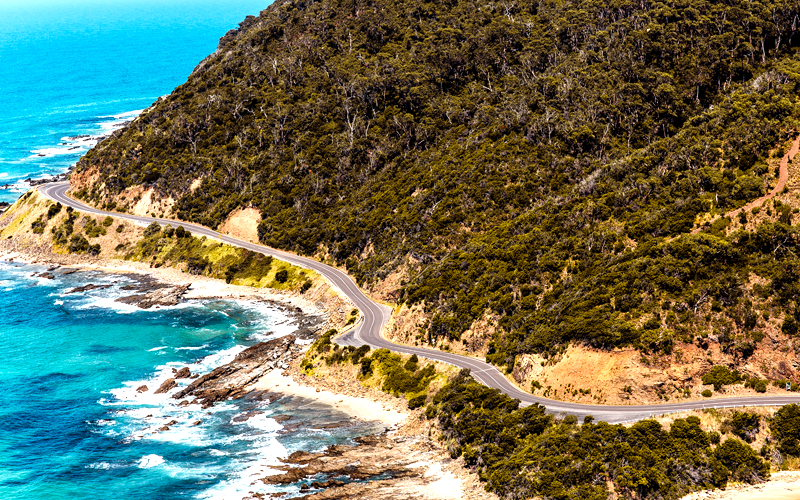 3. The Black Spur – VIC
Famed for its lush tall rainforests and giant ferns lining the way, this 30km road lies between the towns of Healesville and Narbethong and is part of the Maroondah Highway.
Sweeping corners and thick surrounding foliage offer an unforgettable ride for motorcycle riders looking for a unique experience. On this road, riders navigate directly through the middle of a rainforest and underneath a canopy.
This can be a popular spot though and attract more drivers on long weekends and during the summer months. So stay especially wary on the tight turns if you're riding at these peak times.
4. Kangaroo Valley – Southern Highlands, NSW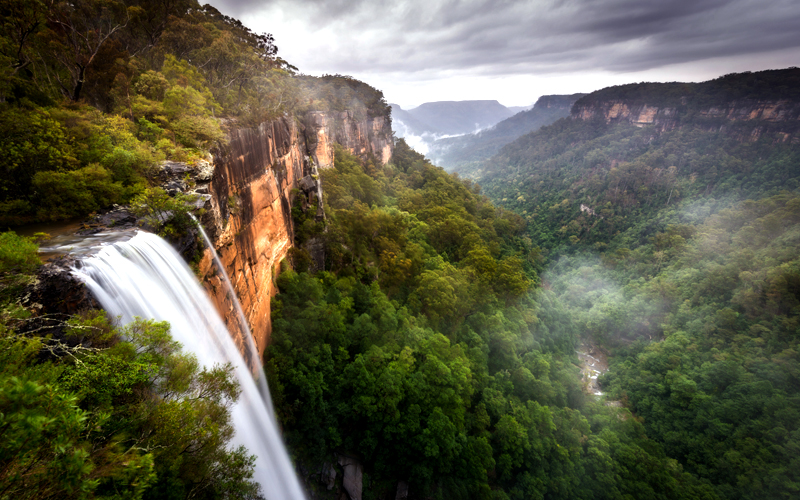 There's a couple of pretty routes to Kangaroo Valley that are also fun to ride on a motorcycle, but riding via the Macquarie Pass will offer riders a view of an 822m waterfall that can add a truly special highlight to your trip.
The 8km section of the Illawarra Highway is a climb up a single-lane, twisty road that takes riders to the lookout at Fitzroy Falls.
Related article: Four motorcycle safety tips for street riding
5. The Lions Road - Scenic Rim, QLD
The Lions Road is a stunning 96km link from Beaudesert to Kyogle in the Scenic Rim region of the Queensland hinterlands and it's famous in the motorcycling world.
This trip is an ideal for adventure seekers. It takes riders through local towns, the rainforests of Border Ranges National Park and Running Creek and Grady's Creek.
Consider your insurance before your next adventure
Comprehensive motorcycle insurance can provide protection if things don't go to plan on the road. It can cover damage to your bike and other people's property. It typically includes cover for accidental damage, theft, fire, legal liability and more.
Find out about QBE Motorcycle Insurance