Article
Your Q&A guide to fire safety at home
When you think about house fires, bushfires might come to mind. But in reality, it's everyday things like appliances that are the leading cause fires at home1. Here are some of the answers to some commonly asked fire safety questions and tips to keep you and your home safe.
Can piggybacking power boards cause a fire?
Yes, poor maintenance and incorrect usage of power boards, including overloading them, can cause home and office fires2. Only place one plug into each outlet and don't use double adaptors on a power board. Keep them tidy and clean, paying special attention to dust build-up in the sockets. The fire service recommends using power boards with safety switches or circuit breakers3. Importantly, check all electrical equipment has an Australian Standard or Regulatory Compliance Mark4.
Can phone chargers cause a fire?
Yes. Phones and chargers come with a risk if they malfunction or aren't used in line with manufacturer guidelines. To help prevent overheating, only use approved charging devices from the manufacturer and charge items on surfaces that won't burn and away from blankets or flammable materials. Most manufacturers and authorities also recommend devices are unplugged as soon as possible after they're charged5.
Related article: 7 fire safety tips for the holidays
Is it safe to run a clothes dryer if you're not home?
It may be convenient but running a clothes dryer if you aren't home can pose a serious fire risk. Fire authorities recommend they're supervised while in use and encourage regular maintenance to manage risk6. Lint filters should be cleaned before every use to prevent the drum from overheating. A dryer's vent pipe should also be cleaned of lint every three months or even more regularly if a dryer is used daily. It's also a good idea to avoid overloading your dryer with too many clothes and let the cool-down cycle finish to reduce the risk of hot clothes igniting.
Can dishwashers cause a fire?
Yes, fire investigators have reported fires caused by dishwashers, usually due to an electrical fault7. Things like a small fault with a wire connector, or a cracked circuit board can lead to high heat and melting of soldering material and spark a fire. As with most electrical appliances, it's best not to run dishwashers overnight or when you are sleeping just in case something goes wrong.
Can a hair dryer or straightener start a fire?
Yes, particularly if they're used on surfaces that can burn8. When you're using heated hair appliances, make sure they're not placed on surfaces that could burn and ensure they're not heating by flammable materials like clothes, curtains or paper. Turn them off if you leave the room and don't leave them on for extended periods.
What can cause a fire in an oven or microwave?
Placing metallic items in a microwave could cause sparks that ignite. That includes recycled paper towels which can contain tiny metal specks. A build-up of grease can also ignite a fire, so keep your oven, rangehood and stove nice and clean9. And of course, never leave cooking unattended. Leaving cooking unattended is the leading cause of home fires in NSW10.
Can candles, incense and oil burners cause a fire?
Yes. Keep candles, incense and oil burners on a stable surface away from curtains, and never leave them unattended. Importantly, always remember to put them out when you go out or to bed. Hide matches and lighters from curious children and consider using child-proof lighters.
Related article: Four risks to your home, and how to combat them
Can heaters cause a fire?
Yes. Heaters that are used unsafely or malfunction are a major cause of fires, especially during winter11. Check for damaged cords and keep all household items at least one metre away from heaters. Place outdoor heaters in an area that's flat, well ventilated and away from flammable items. And never use an outdoor heater indoors.
Can electric blankets catch fire?
Yes12. Electric blankets can cause bedding to overheat and ignite if left heating for extended periods or if they malfunction. Try using a lower setting and be sure to turn the power off before you go to bed or leave the house.
Can wheat bags cause a fire?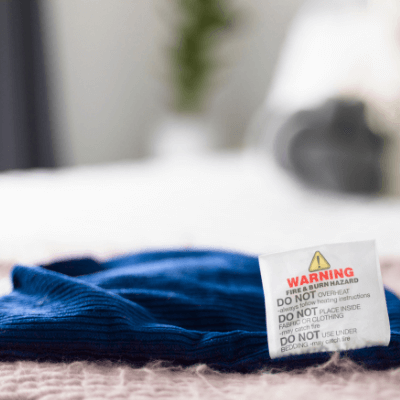 Yes. Fires have been caused by wheat bags overheating in the microwave or spontaneously combusting under blankets in beds14. They're designed to be used directly on the body and not as hot water bottle replacements to warm beds. Follow manufacturer heating instructions carefully and wait until they're cool before storing. As wheat bags get older, the filling dries out and becomes more flammable so consider replacing them regularly too.
Can solar panels cause a fire?
Yes. Fire and Rescue NSW has warned residents with solar panels to protect their homes after a spate of fires in August 202013. It was found that short-circuiting of solar power boxes and isolating switch failures were the cause. That's why it's important to ensure your solar panels comply with Australian standards and are installed by a licenced contractor. You can do a licence check with Fair Trading protection agency in your area.
Can smoke cause a fire?
Yes. Smoke contains flammable compounds, and with increased oxygen it can ignite through open flames or its own temperature15. Smoke also limits visibility, making it difficult to evacuate or fight a fire. Stay safe by installing smoke alarms at home and testing them regularly.
Does home insurance cover fire?
Yes. Look for an insurance policy that includes fire, such as QBE Home and Contents Insurance. For added protection, you may want to consider accidental damage cover which can be added as extra cover on most home insurance policies.
Learn more about QBE Home Insurance
---
1 https://www.fire.nsw.gov.au/page.php?id=9216
2 https://www.fire.nsw.gov.au/page.php?id=630
3 https://www.fire.nsw.gov.au/page.php?id=630
4 https://www.cfa.vic.gov.au/ArticleDocuments/371/MFB3594-FRV_Home_Fire_Safety_Booklet_FA_WEB.PDF.aspx
5 https://www.cfa.vic.gov.au/ArticleDocuments/371/MFB3594-FRV_Home_Fire_Safety_Booklet_FA_WEB.PDF.aspx
6 https://www.fire.nsw.gov.au/page.php?id=9216
7 https://www.fire.nsw.gov.au/news.php?news=790
8 https://www.cfa.vic.gov.au/ArticleDocuments/371/MFB3594-FRV_Home_Fire_Safety_Booklet_FA_WEB.PDF.aspx
9 https://www.fire.nsw.gov.au/page.php?id=296
10 https://www.fire.nsw.gov.au/page.php?id=9269
11 https://www.cfa.vic.gov.au/ArticleDocuments/371/MFB3594-FRV_Home_Fire_Safety_Booklet_FA_WEB.PDF.aspx
12 https://www.fire.nsw.gov.au/news.php?news=2408
13 https://www.fire.nsw.gov.au/news.php?news=2420
14 https://www.fire.nsw.gov.au/page.php?id=9047
15 https://www.sciencelearn.org.nz/resources/748-what-is-smoke#:~:text=Another%20danger%20is%20that%20smoke,a%20backdraught%20or%20flashover%20effect