Article
How to drive safely with pets
There are 28.7 million pets in Australia, and many people like to take them for drives
Most government and welfare bodies recommend securing pets – in some states it's law
See the rules in your state, along with tips for keeping your pet safe on the road
With 28.7 million1 pets in Australia, it's clear to say we love our furry friends. It's always nice to have them by your side, whether it's on the lounge, a trip to the park, or a well-deserved road trip.
But did you know there are laws for driving with pets? This article takes you through them - and gives you a few tips on keeping your four-legged friends happy and safe on your travels.
Prepare for the journey ahead
If you're driving with a pet, remember to bring some water, along with a bowl, to keep them nice and hydrated. There's a great range of collapsible pet bowls available – ideal for popping into the car or a bag. It's also a good idea to pack their favourite toy, along with some kibble or a few snacks. And don't forget the poo bags!
Secure them in a dog seatbelt
When it comes to driving, the safety of you and your passengers should be top priority. While we automatically pop on our seatbelts when we jump in the car, rules around pets aren't as clear.
A common misconception is that it's fine for a dog to stick its head out the window. A furry friend with wind through its hair might be a nostalgic picture, but it's also extremely dangerous. As is a pet roaming around the cabin, distracting the driver.
Just like us, pets should be restrained with a seatbelt harness or pet carrier to protect them in case of an accident. In some states, it's law (see below for details).
Place them safely in the back seat
It may be nice to have your buddy sitting beside you, but did you know the force of a deployed airbag could cause serious injury to a pet? That's why it's a good idea to pop them on the back seat – ideally diagonally opposite you so they can see you.
If the worst were to happen and you do have an accident, it's always reassuring to have pet insurance and car insurance in place.
Related article: Three simple ways to stay safer on the road
What are the rules in your state?
Rules around driving with pets vary across Australia. Refer to the guidelines that apply in your state.
New South Wales
You must not drive with an animal in your lap or tied to the outside of a vehicle, including the back of a ute.2
Victoria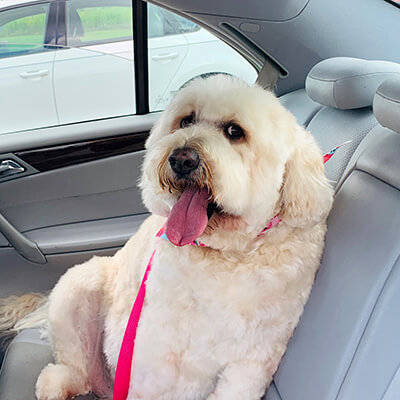 Pets can travel in the cabin of the car, behind a cargo barrier in the back of a wagon of an SUV, but not in a boot. Dogs must not travel in a metal tray of a ute without insulation if the outside temperature is 28 degrees or over.3 It's best practice to keep dogs restrained inside a vehicle.
Queensland
It's an offence to drive with an animal in your lap. The Queensland Government recommends animals be restrained in a vehicle.4 If you're travelling with a dog on the tray of a vehicle or trailer, it must be secured.5
South Australia
The rule here is simple: you must not drive with an animal on your lap.
Western Australia
Pets must not be in a position where they could distract or obstruct the view of a driver, including travelling in the driver's lap. The RSPCA can also issue fines of up to $5,500 if an animal is injured because it was unrestrained, so restraining your pet with a seatbelt harness or in a carrier is a must.7
Australian Capital Territory
Under the Animal Welfare Act 1992 (ACT), there are requirements when driving with a dog, including having a pet restrained in an adequate manner.8 The ACT Government also recommends this practice.
Northern Territory
To minimise driver distractions, the NT Government recommends pets be restrained using a secured carry box or pet seatbelt.9
Tasmania
The Tasmanian Dog Control Act states a dog must be restrained while travelling in a vehicle. And Tasmanian Road Rules specify a driver must not drive with an animal on their lap. And if a dog is travelling on the back of a ute or trailer, they must be tethered according to Animal Welfare (Dogs) Regulations.
Related article: 8 DIY safety checks to do before a road trip
Take regular breaks on longer trips
If you're heading off on a long drive, you'll need a toilet break from time to time, as will your pet. Take the opportunity to stretch your legs and get some fresh air, and enjoy your time together before you get back on the road.
Never leave your pet alone in the car
In the summer months, Australia can get very, very hot. In a locked car, those temperatures can skyrocket. Leaving your pet in a car, even for a short period, can lead to heatstroke or even worse. It's also cruel – and illegal – and simply not worth the risk.
In summary, driving with pets can be a wonderful experience. They're a part of the family, after all. Following these simple guidelines can help keep them happy and safe, and ensure you have many happy journeys together.
Before you hit the road, it's a good idea to make sure your car insurance is up to date.
Learn about QBE Car Insurance and get a quote
---
1
https://www.petfoodindustry.com/news-newsletters/pet-food-news/article/15469415/national-survey-reveals-australians-spending-on-pets#:~:text=From%202020%20to%202022%2C%20Australia's,or%2069%25%20of%20Australian%20households
2
https://www.nsw.gov.au/driving-boating-and-transport/roads-safety-and-rules/warnings-and-hazards/driving-distractions#Animalsinyourvehicle
3
Travelling with dogs | Legal requirements for dog owners | Dogs | Animal Welfare Victoria | Livestock and animals | Agriculture Victoria
4
Other common road rules | Transport and motoring | Queensland Government (www.qld.gov.au)
5
Transporting dogs in vehicles | Business Queensland
6
https://mylicence.sa.gov.au/road-rules/the-drivers-handbook/mischttps://mylicence.sa.gov.au/road-rules/the-drivers-handbook/misc
7
https://rac.com.au/travel-touring/info/how-to-road-trip-with-your-dog
8
https://lawpath.com.au/blog/is-it-illegal-to-drive-with-a-dog-in-the-car#:~:text=In%20the%20ACT%2C%20you%20are,restraint%20in%20an%20adequate%20manner.
9
https://nt.gov.au/driving/safety/driving-safety-checklist