Article
Seven ways to improve efficiency when you're working from home
For many of us, working from home can be challenge. There's no workplace banter, it's harder to ask a quick question and you're working in an environment that's usually reserved for family and friends.
To help you balance work and home life when you're working remotely, we've put together a few tips on working more effectively in an at home workspace.
1. Manage partners, pets and kids
Working from home can be a challenge when you have partners and kids vying for your attention. Add a dog or cat and it can be even harder to focus. So, you need to be assertive and set a few boundaries.
It can be as simple as locking yourself in a room – uninterrupted – for a set period of time. Then you can break up the day with home schooling, playtime or cuddles. Nominate specific hours to separate work and family time.
You can also set tasks that need quiet concentration. A jigsaw, a DIY project or a big chewy bone could do the trick. And if you're stuck on ideas for the kids, the Office of the AYCP has put together a series of online activities called Digital Lunchbreak, which can keep them occupied for hours.
2. Prioritise your workload
If you're having unproductive days, you're not alone. When you don't have the buzz of your colleagues around, it can be hard to get motivated. But rather than feeling guilty, set yourself a plan to tackle those inevitable days.
Start by writing a to-do list and put each task into three categories: high, medium and low priority. Then pull out the high priority jobs that must be done that day. Consider work that people are relying on, or tasks that impact your KPIs. Focus on those jobs first, ideally first thing in the morning.
Next, start on the medium priority work. Get through as much as you can, but if it requires brainpower you simply don't have, switch over to the low priority jobs (hello admin!)
When you find yourself procrastinating, it's a great time to motor through the admin jobs that have been weighing you down. Then you'll be nice and fresh to tackle more important work the following day.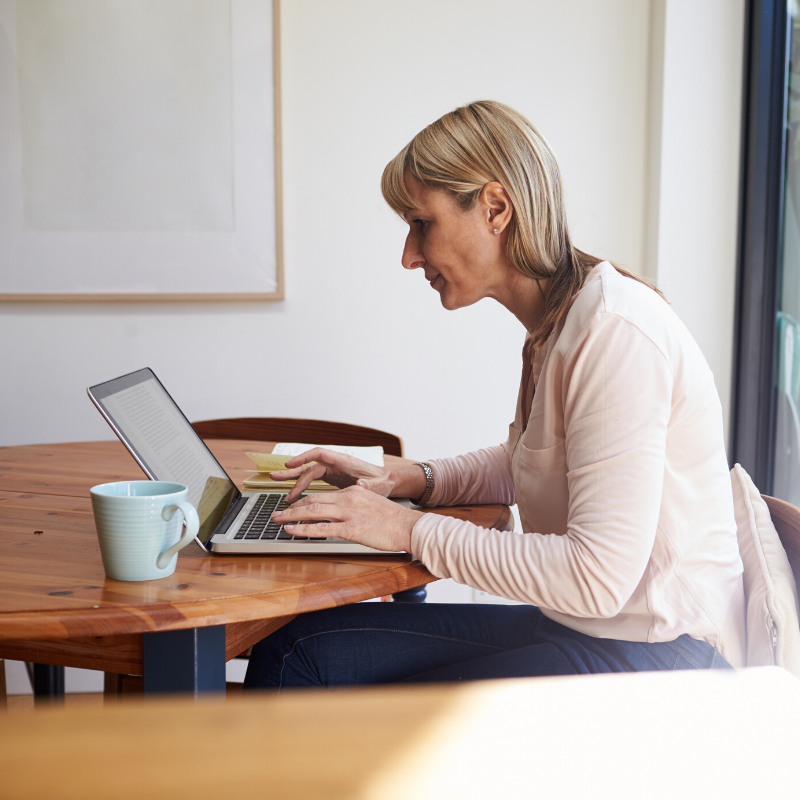 3. Set expectations on hours
We all have different lifestyles and family units, and a good employer will respect that by promoting flexible hours. Some people will be better off working outside home schooling time, or when the home is free from distractions. Others will be comfortable sticking to their normal 9-5 schedule.
Let your team know the hours that work best for you and be available for online meetings where possible.
4. Take regular breaks
While it may seem counter-productive to spend time away from your desk, getting out and about can do wonders for our grey matter. Go for a walk, do a few stretches or even a spot of gardening. Then you'll have a clear mind to tackle the work ahead.
5. Stay connected
We are social creatures that crave connection, so it's only natural to feel stressed when you're not getting the workplace interaction you're used to. That's why it's important to stay connected through phone calls or video tools like Zoom, and Skype when you're not able to talk face to face.
6. Get physical
It's no secret that physical activity releases feel-good chemicals like serotonin to help reduce stress levels. That's why it's important to keep up your exercise.
Walking the dog or going for a run are great ways to get outside and enjoy some fresh air. You can also do online classes for workouts, yoga, meditation and more. Choose a class you enjoy and set a reminder to go regularly, just like you would for the gym. If you're on a budget, you'll find hundreds of free classes on YouTube.
7. Look to the future
With COVID-19 restrictions starting to lift, we'll be back at work in no time. The good news is, if your workplace has a flexible working policy, you'll know if working from home is right for you.
Read more useful articles from QBE to help you work from home: