Article
Juggling kids and work while staying indoors? Here's how to do it
Your family is social distancing at home and the novelty has quickly worn off. The kids need to blow off some steam (and you might too) but you're running out of ideas and need to balance other priorities. A harmonious home is even more important now that it's your workplace too. Here's how to keep the kids happy and entertained while you are all indoors.
Keep a routine going
It's important to establish a simple routine for your kids, as this gives them the predictability, structure and stability they're used to at school and day care.
Keep their snacks, lunch, breaks and exercise periods around the same time as usual and get their input about the rest of the routine. You could even do some work while the kids are having screen time.
Create a loose timetable and pin it somewhere everyone can see, but realise your kids won't be learning for 5-6 hours a day like they do at school.
It's also a good idea to build in quiet time too, which is just as important for you as it is for them. They don't need to nap, it's just some uninterrupted alone time in a safe space (little kids can rest in their cots – hopefully they will nap) so that everyone can regroup.
Here are our five favourite indoor activities to help to keep kids busy and happy when they're stuck inside.
Favourite five for indoor play
1. Sloshing in the tub
Kids love water and who doesn't love a bubble bath? They don't even need to wash, just let them play. They can wear goggles and be underwater adventurers, or they can sail the seven seas or sing pirate songs. This activity is great for kids of all ages, just make sure to supervise any little ones in the tub.
2. Building a fort
How awesome is it to push some chairs together, drape a blanket over the top and spread the cushions under it? Get the kids to construct a fort that they can hang out in for hours. They can also spend time designing a paper flag for the fort!
3. Baking
As well as being fun, baking is about teaching kids patience, following instructions, measuring and maths, and life skills. Let them have fun with cookie cutters, different coloured cake mixture and icing, sprinkles and licking the spoon. There are all sorts of tasty, easy baking recipes online, including things like allergy-free muffins and gingerbread. Make sure kids are supervised around a hot oven.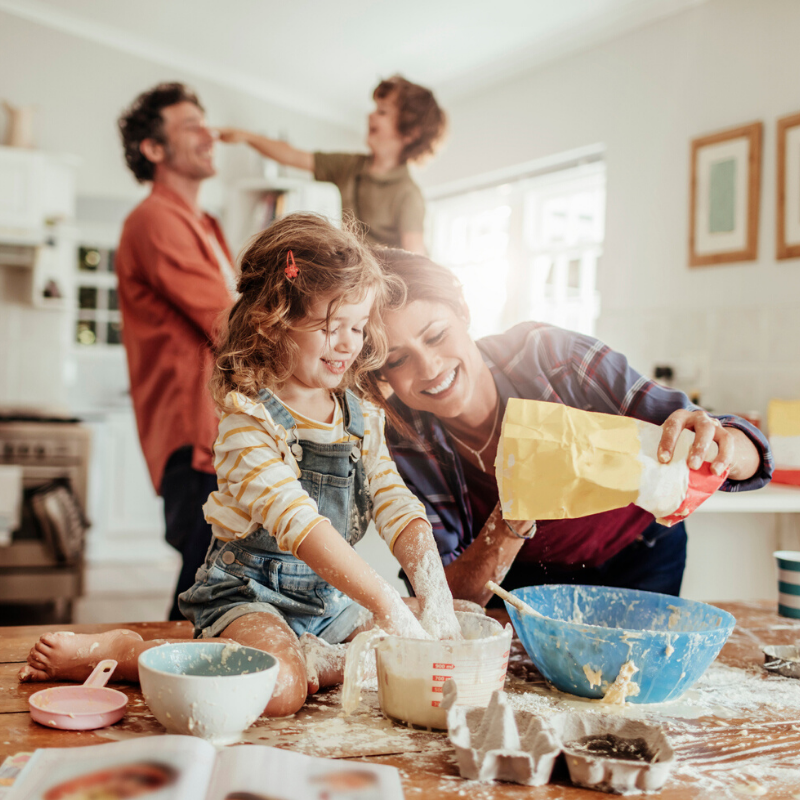 4. Playing dress ups
Anything can be a costume, from Dad's old shirt to Mum's old shoes, cheap costume jewellery, and old makeup. You can award a prize for best costume and let kids take selfies to send their friends. Bonus prizes for making fabulous masks!
5. Disco at home
Put up the holiday lights indoors, crank up your family's favourite tunes and dance, dance, dance. You might even want to join in, too!
More ways to entertain kids at home
Coming up with ideas for things to do on in the afternoons or weekends is one thing, though it can be tough when you have to be Chief Entertainment Officer for days on end while trying to stay productive. Here is a collection of excellent ideas to help you through: