Article
Keeping our customers safe
QBE customer Vanessa D'Silva was thankful for the support she received from QBE after her car was damaged.

QBE put her in touch with Advantage Panel & Paint in Perth, a member of our Accredited Smash Repairer (ASR) network. Our ASR network consists of high quality smash repairers who meet QBE's high standards of technical expertise and customer service.


Ms D'Silva says she was guided by Advantage Paint & Panel's owner and director Rodger Martin.

"My experience only got better when I arrived as I was informed by Rodger, who was wonderful, that I shouldn't be driving my vehicle because of the damage," Ms D'Silva said.

She was particularly impressed by Advantage Panel & Paint's office administrator Shelby who "went beyond what was required" to organise alternate transport while her car was being repaired.

"As I had to get back to work, Shelby kept me informed over the course of the next few hours with phone calls of her progress. Even though she wasn't successful in getting me a hire car, she did help me out with taxi vouchers.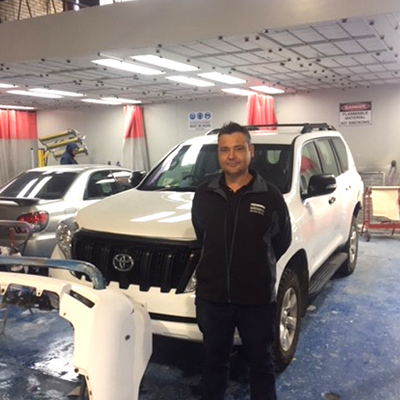 Advantage Panel & Paint owner and director Rodger Martin said it was "fantastic to get this positive feedback from a customer".

"Our number one priority is keeping our customers safe and getting them back on the road as quickly as we can."

QBE Executive General Manager – Claims, Jon Fox said Ms D'Silva's experience and the excellent work by the Advantage Panel & Paint team was a great example of the ASR network delivering on its customer promise.

"We're proud of our ASR network and the outstanding customer experiences it delivers. Our network of repairers share our commitment to exceptional customer service and high-quality, cost-effective repairs."

Find out more about QBE's Accredited Smash Repairer Network.