Article
10 essential safety features to look for in family cars
These high-tech safety features are already being widely used and, according to Mike Sinclair, Editor-in-Chief at Car Sales, should be on your checklist when buying a new family car.
1. Stability control and anti-lock brakes
"Both these are now mandated under Australian design rules for passenger cars and are the top two things to look for," Mike advises. "The federal government made stability control mandatory for all passenger cars from 2011 with all new vehicles requiring the life-saving technology from 2013." He adds, "Anti-lock brakes are particularly important if you are looking to buy a cheaper car for a younger family member."
2. Reversing camera
"As of 2017 we will not be recommending cars that do not have a reversing camera," Mike says. "Also now available are 360-degree cameras, which use multiple cameras to give you a clear representation of the area all around the car. Reversing sensors obviously give you a degree of additional security but there's nothing like actually being able to see what's behind you. Particularly for families with little kids."
3. Autonomous emergency brakes (AEB)
"If you're driving under 50-60km per hour and a car suddenly stops in front of you, AEB technology will stop you from hitting that car. This is especially helpful if you are distracted, and is available now as standard on some new cars that cost less than $18, 000," says Mike.
4. Automatic/adaptive cruise control
"This allows you to set your speed but if there's a car going slower in front of you, your car will automatically slow to match that speed and keep a safe distance," Mike explains. "This means that in heavy traffic and, particularly where there are strict speed limits, you can pay more attention to what's going on around you rather than having to focus on staying 1km under the limit or worrying about the distance between you and the car in front."
5. Auto parking
"Auto parking systems vary greatly but the best systems help with both parallel and perp parking," Mike says. "They are usually activated with just the touch of a button. The system will sense when there's a space big enough for your car, then ask you to stop and put the car in reverse. Typically, you are required only to operate the accelerator and the brake while it takes care of the steering."
6. Rear-cross-traffic alert
"This is another safety feature available on many cars already and will become increasingly standard," Mike advises. "Imagine you've 90-degree parked and you have big cars either side of you and can't see out at all. This system uses either visual or audio warnings to alert you that a car, pedestrian or cyclist is approaching, and that you may be backing into a dangerous spot."
7. Blind-spot assist
"A noise will sound or a light will appear on your rear-vision mirrors that tells you there's a vehicle in your blind spot. For example, if you're driving in the centre lane and want to change to the outside lane and you don't see anything but there's a motorcyclist there, this system will warn you," says Mike.
8. Lane departure warning system
"This is an allied system that uses the same sort of sensors as lane departure warnings. If you are changing lanes but haven't indicated, the car believes you are drifting out of your lane and will give you either an oral or light-display warning. In some cases, it will shake the steering wheel or seat," Mike explains.
9. Driver fatigue
"A number of cars have a driver fatigue system but Mercedes have one of the best, which senses the changes that occur in eye movement when people get tired," Mike reveals. "It gives you a warning that says 'You are not as alert as you should be and should consider stopping'. Many cars, however, have a simpler system which, after two hours, will give you a warning that it's time to have a rest."
10. Seat belts and child safety
"Some older cars only have lap belts in the centre of the back seat rather lap sash belts, which I would advise against," Mike says. Finally, if you need a family car with child seat or baby capsule fittings, Mike advises parents to look for Isofix technology. "Isofix is by far the safest option for child seats," he says. "It's a system where the seats actually clip into fixed placements rather than Mum or Dad fighting with the seat belt to get the child seat or capsule in the right spot."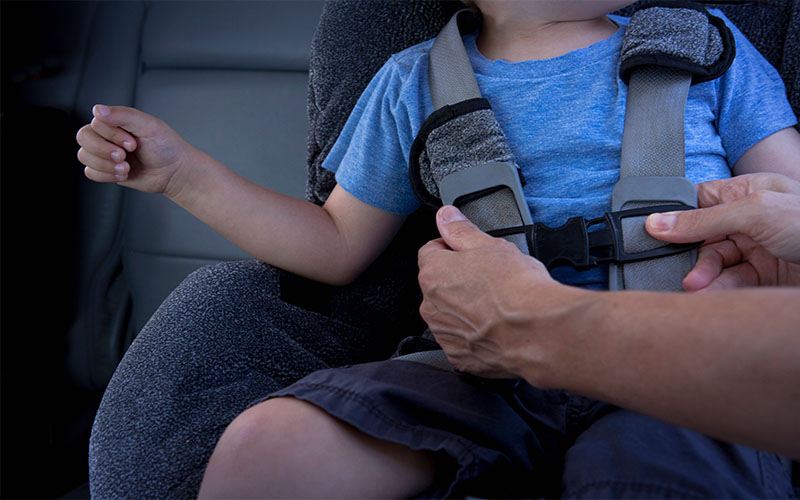 Whichever family car you choose, contact us to find out about our car insurance options and protect you and your family.