Article
Meet the Accredited Smash Repairer: Todd Richards customer service approach
13 Aug 2019
---
Watch video now
Todd Richards was born into panel beating.
His father started the eponymous business Geoff Richards Panel Beating in 1974 and Todd took over in 2010 as co-owner with wife Tracey (pictured with a customer below).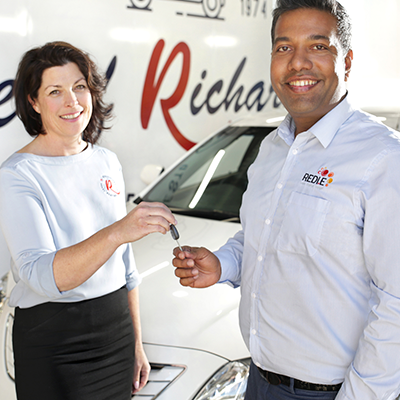 Now his business, based in Dubbo in central western NSW, has grown into bigger premises and recently became one of QBE's Accredited Smash Repairers.
"We've worked hard to get our business to a level where QBE wants us to represent them," explains Richards.
"We feel very strongly that we have an obligation to service QBE's clients in the way that we service our own clients. Part of that is because we share the values of quality and service."
As a QBE Accredited Smash Repairer, Geoff Richards Panel Beating is where QBE customers bring their cars after an accident.
"QBE and our customers know that they've got a repairer that is doing repairs to the manufacturers' standards.
"We've also got our own warranty systems in place and our own quality tracking in place so everyone knows the repair will be done correctly."
Customer service is central to the way Richards runs his business.
"We're country people and we're not here to turn over a job and never see it again," he says. "We're about the whole relationship with the client. We want to be able to see them in the street and say g'day and look them in the eye knowing we've done an excellent job on their repair.
"QBE allows us to do that in the way they authorise their repairs and the systems they have in place for us to go ahead and use our knowledge to repair a vehicle to our high standards."
Richards has invested heavily in his business.
"We have our own quality tracking system that goes right from head office, from the initial contact with the client, right through to the detailing on the car and delivery of the vehicle to the customer."
He's installed a top-of-the-line car aligner digital measuring system which sends measurements back to a computer detailing the location of chassis damage and then tracks the point of impact back to where it should be.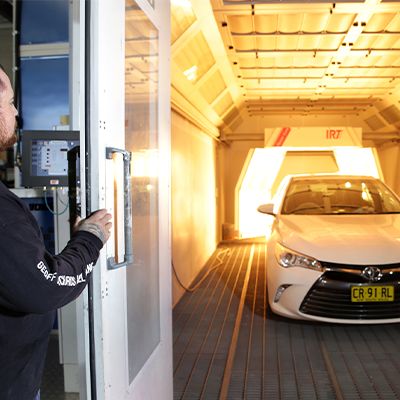 A particular jewel in the crown at Geoff Richards Panel Beating is the state of the art infra-red drying arch, which cuts down a post-spray painting 40 minute baking process to just 13 minutes.
"On top of that we're also one of the only green stamped Motor Traders Association repairers in western New South Wales."
Peter Farrugia, QBE's Supplier Relationship Manager, says Geoff Richards Panel Beating is typical of the standard QBE seeks out when it comes to Accredited Smash Repairers.
"We're very proud to have this shop as one of our Accredited Smash Repairers, it's a particularly great facility," he says.
"At QBE we know that our customers want things to be simple. That's why we go to great lengths to make sure our Accredited Smash Repairers are of the highest standard."
Setting up QBE's Accredited Smash Repairer network, Farrugia and his team visited every repairer personally to assess whether they would meet our customer service and quality standards.
"We looked at things like the way they greeted us, the way the offices were set up," says Farrugia. "And then we went into the shops and inspected all the tooling to make sure they had the correct equipment and skills to deliver the best service."
"We also wanted to make the repair process easy for customers," he says.
"That's why we provide taxi vouchers – one to get you home after dropping off your car at our repairer and another so you can pick it up.
"We'll also wash and vacuum your car before it's handed back.
"On top of that, all work authorised by QBE has a lifetime repair guarantee and if your car's still under the manufacturer's warranty the repairer will only use manufacturer-approved parts," Farrugia says.
In addition, we've built in systems to make this process as prompt as possible for our customers. "Our Accredited Smash Repairers have the authority to start repairs straight away for those claims that meet our self-assessing criteria and this helps to speed things up for our customers," Farrugia says.
"We consider our Accredited Smash Repairers to be our partners, so we trust them to get the job done and our customers back on the road on our behalf."
Read more about our Accredited Smash Repairer network.